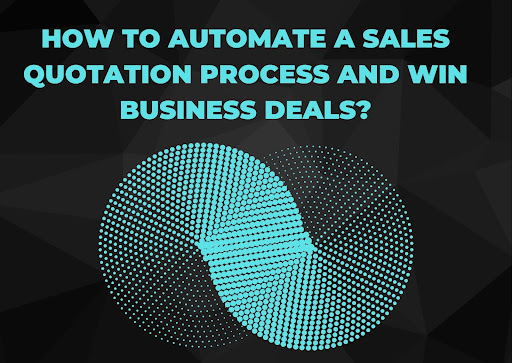 How to Automate a Sales Quotation Process and Win Business Deals?
Wouldn't it be great if you could simply ping someone and close a deal? It doesn't matter what industry you operate in. Consumers need to know what they will pay before making a purchase.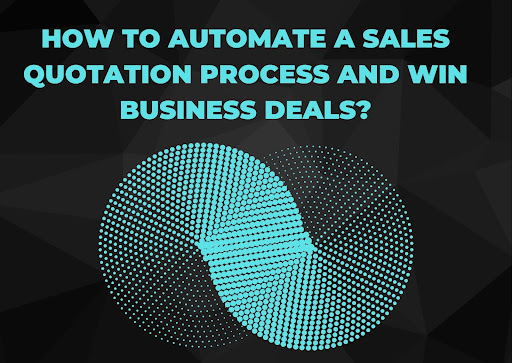 The quote process is a core component of any sales-focused business. At any time, the firm anticipates lead generation, for which quotations and proposals are essential. While it appears simple, there are multiple places to introduce errors into the process, primarily if your business uses manual procedures. You can lose a deal you've worked hard to secure if you make mistakes, delay, or fail to account for your client's needs.
Each company seeks financial brilliance that solely relies on its service quality. Did you know that after receiving positive customer service, 89% of consumers are more likely to purchase again? It's a known fact that you'll need to provide quotes before closing any deals.
What are your options for getting one?
The answer is – "automated quote system."
Yes, you heard it right. In today's tech verse and B2B space, we ought to excel in paradigms like – how to be quick in removing bottlenecks, customizing based on lead's preferences & invest precious time in our venture's growth. To manage all this, you need a quality mechanism which is automation.
In B2B business, streamlining quotation preparation is vital to be on par with your competitors. You should aim for customer-friendly numbers when quoting a potential client, without leaving room for loopholes.
So, are you ready to elevate your quoting process?
If yes, keep reading.
This blog will give you a detailed solution on how to automate your sales quotation process and close more deals for your business.
What is a sales quotation? What are the elements of a sales quote?
A sales quotation, also known as a business sale quote, is a document that enables your prospective buyer or client to assess the price & payment arrangements of your product items and services. It initiates a professional/contractual arrangement by suppliers/companies to win business deals. A sales quotation is generated when prospective customers request detailed pricing for any product or service.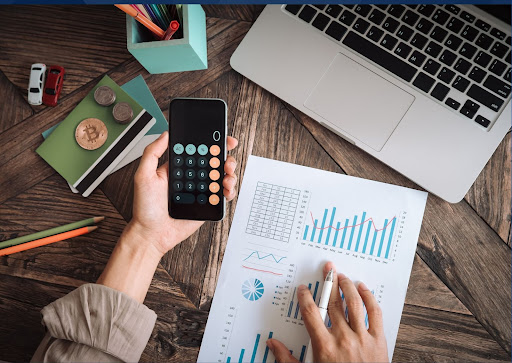 A sales quote is a document representing a common understanding between the seller and the buyer that is not legally enforceable but a joint statement to enter into a business cycle.
A quoting process is an essential part of your sales funnel that entails the following steps:
Acknowledgment of the quotation request
Generation of the quote
Administrative verification of the quote
Quotation acceptance by the customer
Conversion of the quote to an order or contract
While these procedures sound simple, difficulties might arise in a quote request answer if many responses are generated manually, as they can face inconsistencies. A simple technique to automate quotes and proposals is to utilize templates, so you don't have to create documents from scratch every time you pitch a customer.
For most businesses, this process is determined by their inbound channels and the precise information required by the potential client. It may include product specification entries, such as inventory allocation and customer location visits.
Purpose of sales quotation
A quotation informs the buyer of the price you will charge for the goods or service, along with your terms and conditions.
Producing sales quotations can help you build trust and plan for future manufacturing demands.
Closing a deal is an important element of every salesperson's work, but it requires the opening documents and introduction procedure to be carried out successfully. A sales quotation helps introduce your company to a prospective customer or lead while providing a brief reference to your product or service rates.
Elements Of Sales Quote
Here is a format to create a sales quotation that will garner your business:
Title page – It includes basic information about the vendor and buyer, such as the seller's logo and name, the customer's name, and the quotation's name.
Customer profile – Client's name and contact information
Details about the company – A brief description of the vendor and contact information
The sales quote's issuing date and validity period
A quotation number
Specifics details of the seller, such as the price of each product or service
A precise explanation of pricing information, including appropriate taxes, discounts, additional offers, etc.
Payment terms and regulations of use
Signatures of the seller/company
Include notes and add optional details
The purpose of the quotation is to grow your product's reach and boost the size of your enterprise. All of the elements listed above contribute to your concise offer. You must include every possible detail in your quotations.
Importance Of Sales Quoting
Sales quotations are significant as they help create a rough guide for goods and services. It can assist a customer in reviewing their budget and project requirements to choose which price perfectly suits their expectations. Sales quoting also enables the company to issue sales quotes to plan for incoming orders.
Here are some advantages of a good sales quote:
Creates new customer relationships
Allows sales planning and shortens the sales cycle
Boosts the efficiency of a sales funnel
Reduces pricing discrepancies
Improves a company's relationship with its consumers.
Identifies price volatility quickly
Types Of Sales Quotations
There are several types of sales quotations. In general, there are three categories of sales quotations, each serving a specific purpose:
Estimate – provide clients with an estimate of the cost of a project without committing to anything. They are subject to vary dependent on the demands of the customer and the project, allowing for flexibility while still alerting the client of your broad pricing range.
Fixed price breakdown – show your client the amount they'll pay, and they're not susceptible to change.
Request for quotation (RFQs) – are extremely specified, rigidly prepared bids you provide in response to a client's RFQ. They assist the buyer in cracking the best deal for their business.
What is a sales quotation process?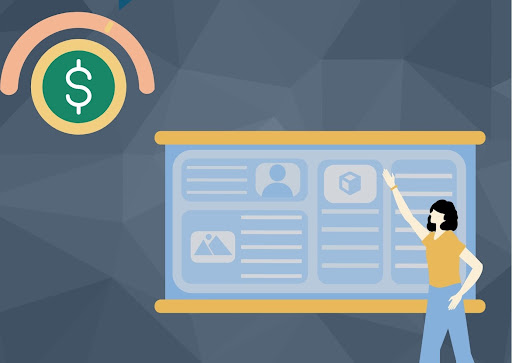 The quotation process begins when a prospective buyer expresses interest in your offerings and requests a price. Depending on the scope of your offers and the type of organization, a sales quote process might be simple or complicated.
Let's look at the manual sales quotation process:
i) Acquire product or service information – To begin, a salesperson will collect the latest product or service information from various sources, including updated records, meetings with departments, checking emails for product changes, and more.
ii) Set up a price table – You must create a pricing table and line items in spreadsheets, copy/paste details, and manually conduct computations.
iii) Make a quotation document – You will need to copy/paste the table from an Excel sheet into a Word document, compose the quote, and save it as a PDF.
iv) Send the quote for internal approvals – The sales rep will forward the quote for approval to the manager/CEO.v) Follow-up – After the manager has approved the quotation, the sales rep will send it through email for signatures and do a follow-up with clients.
Challenges of Manual Sales Quotation Process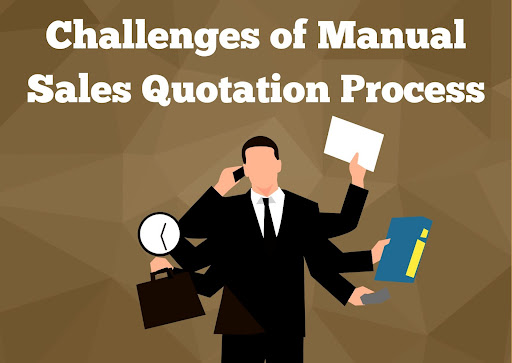 Lengthy Review Process
Reviews and approvals are an integral part of quoting process. Still, they can be lengthy & complex if your company relies on traditional communication methods. However, with an automated tool, you can track revisions and incorporate them into the quotation system, making the final review process more efficient and organized.
Trouble Managing your Pricing
B2B pricing systems are complicated because not all B2B buyers create the same number of sales. There are various factors that sellers consider when setting prices in the market, including the size of the client company, the estimated sales volume, customer lifetime value, loyalty, etc.
Time-Consuming Process
Some independent variables and obstacles result in a time-consuming quotation creation procedure. Prospects may immediately locate someone else, resulting in missed possibilities. This will mount up and eventually impact your bottom line and reputation.
Errors in Quotations
Erroneous quotations can cost your company a lot of money, and you may lose a lot of money because of things like redundant pricing, wrong goods mentioned in bids, etc. All of this may result in missed chances.
How to automate the sales quoting process?
Because quotations play an important part in establishing a strong link between customers and businesses, it is essential to choose one that can convert a potential client into a customer. Here are some helpful ways to create an effective and efficient automated quotes process.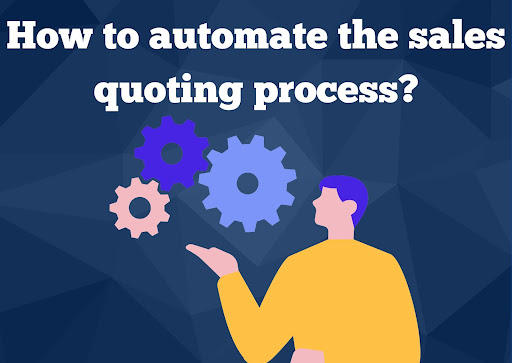 Use forms for automated quotes
To automate the sales quote process, online forms are a great solution because they don't require much input from your staff. Online forms are questionnaire documents covering areas that require explicit information. When you share forms, your potential clients and customers fill in all the needed information. This way, you can automate quotes quickly based on their demands and use shared details to appeal to your consumers.
Streamline The Approval Process
When it comes to an approval process, your objective should be to reduce quotation response time and free up your workforce to cross-sell or upsell to your present clientele. To make the quoting process more accessible, you should use a quote management system that allows you to incorporate approval protocols or make changes to your quotations.
Provide collaborative tools for teams to use
Collaborative tools allow the integration of various departments, teams, and employees in one go. Such technologies assist in eradicating traditional processes such as error-prone files or the same document circulation around the firm.
Signing The Contract
A quotation is a long process that concludes with the signing of a contract between two parties. However, obtaining payment is usually challenging. An outdated quoting system makes it difficult for organizations to go through the sales cycle from offering bids to signing contracts. Quotation generation software can help you streamline the process, get automated quotes, and then choose to alter them for a quicker turnout by the sales team.
How Orgzit automates and boosts your sales quotation process?
Optimize sales quotations – Orgzit extracts and automatically discovers sensitive data points, assisting in the reduction of bottlenecks, facilitating seamless processes, and winning deals.
Develop professional & shareable quotes – Create personalized & automated quotes for your clients and promote your brand. By automatically exchanging quotations with prospects, you can standardize your quoting process and minimize inaccuracies.
A data store of quotations – Orgzit offers cloud-based quotation storage, which implies structured quotations, a uniform searchable place, minimal restoration efforts, simple storage and retrieval, and no risk of losing quotations.
Safeguard sales templates – Using configurable user management, you can protect your templates from unwarranted alterations and illegal access.
Dynamic pricing – Implement dynamic pricing models for different customer segments, regions, and more.
Get detailed conversion reports – Capture reports for every metric percentage quotations won, average discount per product or customer type, and more.
Automated reminders – With Orgzit's Quote Management Software, you'll never miss a quotation follow-up or leave a quote open unattended.
Integrate with CRM and other apps – Using Quote Management Software, you can easily convert quotations to invoices or send your sales data into accounting or other software tools.Manage the entire customer lifecycle – With our CRM, you can look at the entire customer lifecycle from lead tracking to quotation to order to customer support.
Make An Impact With Automation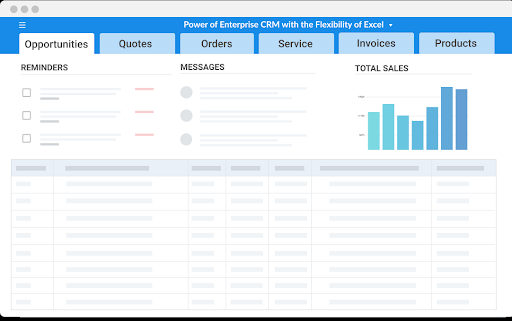 Manually getting quotes is the old way because quoting software is much faster than anything else. The only way to overcome this challenge is to automate the process and invest in reliable quote software.
Use an all-in-one quote management solution to get automated quotes, streamline your process, make fewer mistakes, and receive notifications of modifications or changes.
An advanced software solution like Orgzit will help you overcome many sales quotation challenges that B2B businesses face. In addition, it will eliminate a lot of the manual work that your sales staff have to do.
Discover the benefits of automation for your business by starting a free 14-day trial.
A touch of automation can make a world of difference for your business. Try it today!
Don't forget to share this article.
Share your comments below.