Top 6 Sales Closing Techniques to Win More Deals
What is the most tricky part of the sales cycle?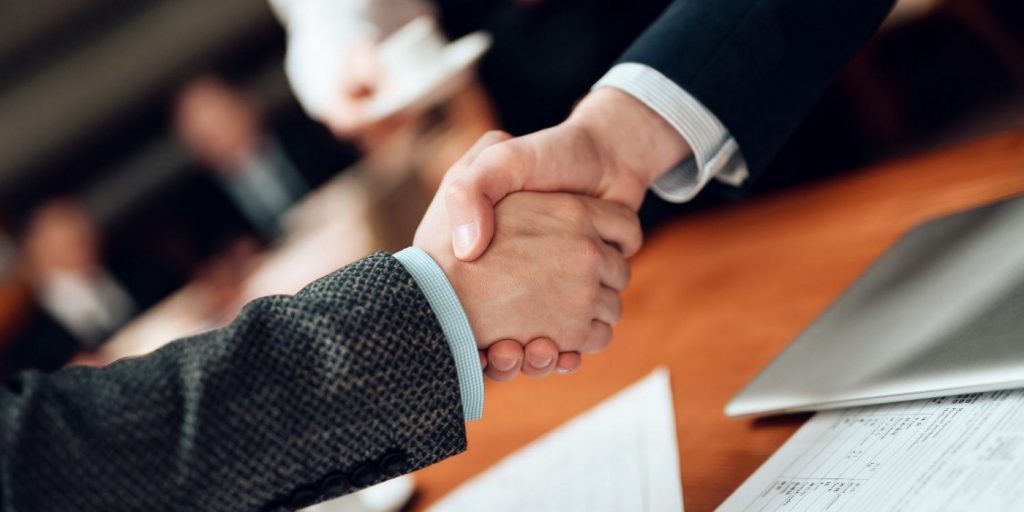 If you know sales, you would say closing! Even though it is considered the last part of the sales funnel, it is where all the wins and losses come to play. You owe it to be top-notch in convincing your prospect to avail of your services which is why closing is the most challenging part of sales.
You have executed a robust sales pipeline to keep leads in the sales funnel, and still, you are unable to crack the deal – well, welcome to sales!
36% of salespeople say closing is the most challenging part of the sales process. Choosing the right person and technique is pivotal to sealing the deal, as it reflects the success you managed to attain through your sales strategies.
No matter if your prospect is stale, as a sales rep, you must be thorough and rigorous at solving their business problem through your product/service. It adds value to buyers' journeys, and they can decide what to do next!
So if your leads aren't reaching the end of the sales funnel, then it may be time to update your sales strategies. The good news is with the right techniques, you can potentially increase your sales and revenue. But which should you put to the test?
It might sound hazy, but your sales rep can take the closing sales graph to new heights using the right prospecting tools and a strong sales strategy. Here are our tried and tested closing skills that will help you engage more prospects and potentially scale your revenue!
In this post:
Top 6 Sales Closing Techniques To Close More Deals
Now or Never Close
Question Close
Assumptive Close
Empathy Close
Puppy Dog Close
Analytics Close
Some Psychological Methods To Close Deals
Top 6 Sales Closing Techniques To Close More Deals
1. Now or Never Close
Now or never close is one of the traditional types of sales closing based on "extra nudging." Popularly known as Urgency Close, this technique focuses on luring the prospect to turn into a customer through a psychological process – where you attract them through valuable and time bounded benefits.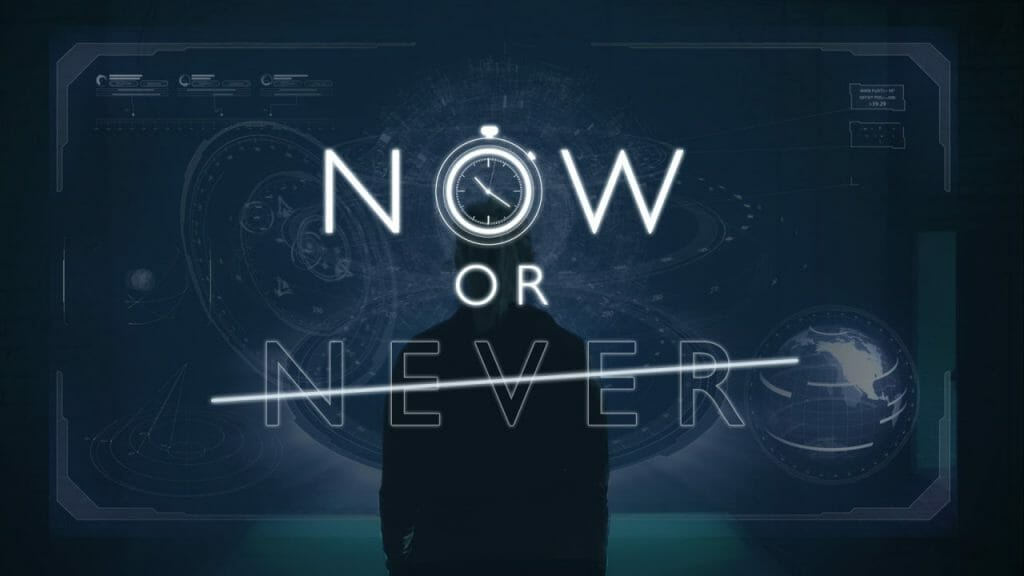 Your salesperson tries to create a fear of missing out on a special offer (be it a discount/freebie/bonus). Here are a few examples of how Now or Never close would sound:
"Hurry up! Buy today and avail yourself of a special discount of 30%."
"We are offering an exclusive 25% discount to customers who sign up today."
For this technique to work, the timing has to be just right. It is best to use this technique when your prospect is considering purchasing your product. Make your prospects feel valued, lure them with attractive discounts and prompt them to take action!
2. Question Close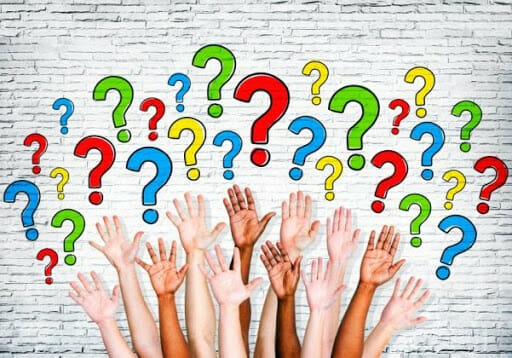 Question close refers to asking insightful questions by your sales rep to understand the leads' requirements and their status in the sales funnel. With this technique, the sales rep can recognize the objections and prospects' purchasing issues; to finally drive them to close the deal.
For instance, Question Close would sound like this-
"According to you, does our offer meet your company's requirements and solves your problem?"
"Are we heading in the right direction?"
Such questions provide a fair chance to discover if the potential customer is satisfied with your product while keeping the door open for selling further. Take their feedback and change your sales strategy if the answer is negative. If the answer is positive, give them the closing details & seal the deal.
Either way, it's a win-win situation! You will be well acquainted with the dos and don'ts for the upcoming negotiations!
3. Assumptive Close
Assumptive Close is a powerful technique that relies on assertive phrases to close a deal. Your faith in your product's ability to help potential clients is all that matters in a sales closing tactic like this.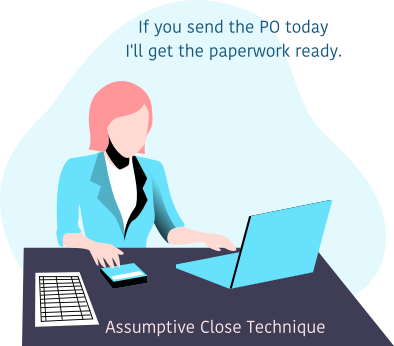 Here is an Assumptive Close example –
When would you like us to deliver your order?
The philosophy behind such sale closures is clear.
"If you think you can do it, you will get it done."
This mindset is an essential part of the assumptive technique where your confidence confides in closing a deal. You should trust your product/service strongly and assume the potential lead will close the deal (most probably).
Pro tip: 60% of customers reject offers four times before making a purchasing decision.
4. Empathy Close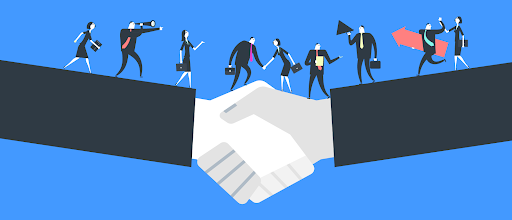 Not every deal is to be closed through follow-up calls and sales pushing. One of the most promising B2B sales closing techniques allows you to use compassion and empathy to convert & close.
Yes, it is possible!
Empathy Close is a subtle approach where your sales reps use emotions to comprehend buyers' positions. When your prospect is in a dilemma, you empathize and give them leverage to think and take action. It helps develop special connections beyond technicalities & provides multifold benefits, including sales closing skills.
For example – "If I were in your position, I bet I'd have the same concerns."
I'm so glad you contacted us about that; we must get it fixed.
5. Puppy Dog Close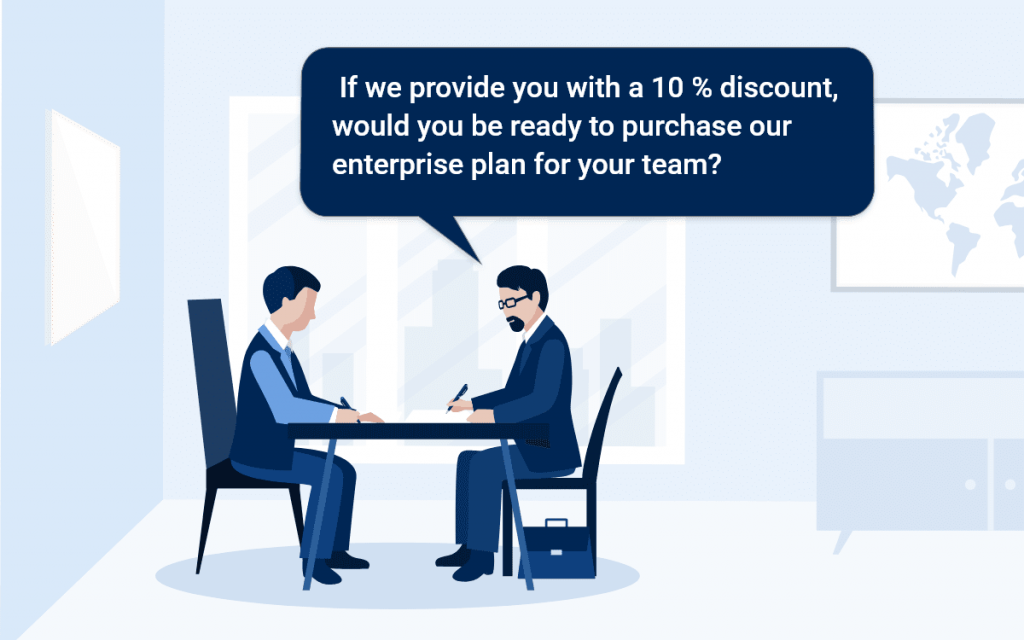 Puppy Dog close is a technique where you prove your credibility by enabling prospects to take the test of your product or services. When using this method, you let the product/services speak for itself to gain the trust and persuade them to purchase it.
This technique draws inspiration from how pet stores sell puppies – the concept of tried and tested psychology where when any individual got a puppy, they eventually kept it. It is effective and simple because when your customers feel satisfied and happy with the product, they will want to buy it from you.
Here is an instance:
Would you like to try our CRM? As a valued customer, we would like to provide you with a free 7 days trial. Experience before you buy is what we believe!
6. Analytics Close
Benjamin Franklin was a strong statesman, political philosopher, and visionary inventor. In the B2B world, Franklin is known for his famous technique, in which he lists down the pros and cons of any situation to solve a dilemma. This method works well in closing sales.
When you find your prospect is confused or hesitant to come to a decision, you can use Analytics Close, also known as Ben Franklin Close. You can improve the sales funnel by listing the pros and cons of your product and equipping prospects to decide. This tactic can clear up buyers' confusion when your product has more pros than cons, allowing you to close the sale.
Some psychological methods to close deals.
One of the best ways to instantly optimize your sales and crack a deal is to use consumer psychology. Use these sales pitch tips to walk away with a closed deal!
Equip yourself with actionable sales closing techniques in advance
Provide expertise on your product to create FOMO(fear of missing out)
Be proactive and surprise your customers with value offers
Be exclusive and customer-oriented
Use the right tools to surpass your competition
Final Word
The more you close, the better your sales process becomes.
There's no quick fix for mastering the art of closing. It takes the best closing techniques, discipline, and repeated practice to make it work. Start by designing an optimal sales process with the right sales automation software. With an effective sales process, you can predict your sales, increase sales efficiency, know when to follow up with potential prospects and how to nudge them, and more.
We are sure our listed types of sales closing will prepare you to "Always Be Closing." To stay in touch regularly with prospects, you should use a flexible CRM with excellent communication capabilities. With Orgzit, you can track conversations with prospects, create automated sequences to move the conversation forward, and close more deals.
Pro tip: Always take sales closing as a bottom line in the sales process. Don't be pushy. Observe and act according to your customers for long-term sales success!
Looking to generate leads for your business? Let us help!
Get in touch with an Orgzit representative today and hit your sales goals!
What are you waiting for? GET, SET AND CLOSE!
Stay updated with the latest ideas here.