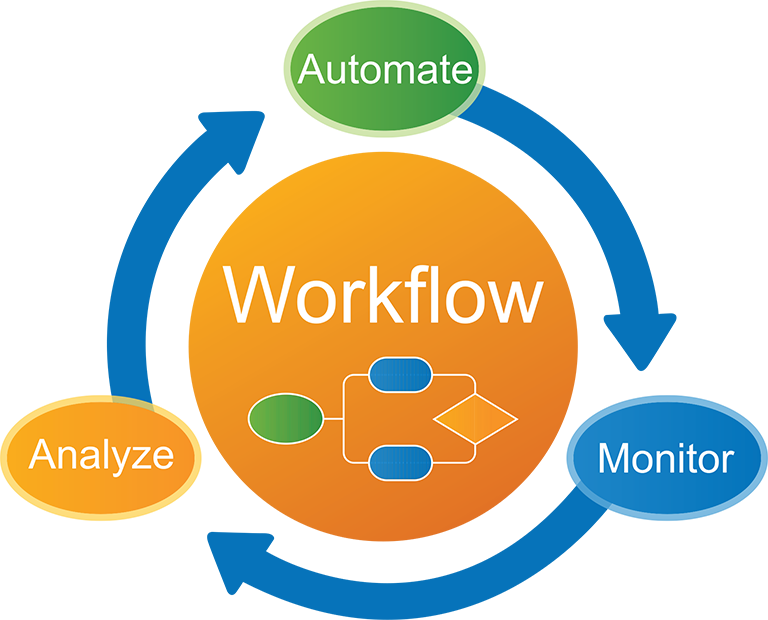 Workflow Automation Software in 2022
What is Workflow Automation?
Defined as a series of tasks accomplished to complete a process, Workflow Automation removes all the manual steps. The process includes designing, executing, and process automation based on the workflow rules. It's like witnessing dominos fall in a harmonious pattern.
How does Workflow Automation help?
Improves Communication

Workflow automation streamlines communication, and it reduces employee turnover as it eradicates one of the primary reasons employees drop out – lack of clarity and meaning in the work they are expected to do.

Workflow Automation automates communication as no one has to keep track of other people's tasks. The best way to streamline communication is to bring everyone to the same place, so as to avoid lags if there are any!

Creates accountability

Workflow automation makes one person responsible for every step of the process. This way, you would have created an accountable system where every individual is cleared about their tasks.

This will also provide a bright outlook for which tasks take more time to accomplish and which ones can be achieved within a short period. Overall, we can say workflow automation helps in making informed decisions.

Reduces costs and error

Workflow automation eradicates the probability of error-making as it keeps the mandatory tasks from going unnoticed. Since everybody is made accountable for their roles, no one can make any sorts of excuses.

The process saves organizations from unnecessary expenses like administrative labor.

Gives the Bigger Picture

Workflow automation increases accountability and which also gives the management a complete outlook of the picture.

If the tasks aren't timely completed, then the supervisors wouldn't have to spend time checking every nook and corner to find the loophole. They can just pick up on the person responsible for the process.

Increases Efficiency

Increased accountability, a bigger outlook, and seamless communication increase the efficiency of the organization's workflow. Improved efficiency has a direct impact on better ROI (Return on Investment).
Step-by-Step Guide for Workflow Automation
The process of workflow automation begins with a crystal clear purpose and ends with process evaluation.

Overall, the process comprises of 5 steps-
Find out the recurring process

The first step is to identify the recurring process, i.e., to know whether a task is matured enough to be automated or not? Does your team insist or approve its automation?

Define your Business Goals

Workflow automation brings a lot of benefits with itself- faster time-to-market, better ROI, and higher productivity. First things first, clearly identify your business goals that can match your team's expectations.

Focus on Employee Training

Workflow automation success majorly depends on the willingness of its stakeholders. Convey its benefits and encourage their reviews and feedback.

Design your Workflow

The next important step in building the process is designing workflows. Use a robust workflow management tool to create a form, define the workflow, and assign permissions for every stakeholder.

Measure KPIs

The purpose of any process isn't wholly accomplished unless your business compares the progress it's made via workflow automation by comparing the key metrics.
What are the features of good workflow automation software?
There are many options available out there and to look for a perfectly tailored solution, you need to have major tick-offs-
Easy-to-Use

The work of "Workflow Automation" is to make things easier. What is the point of having a solution that is complicated and extremely technical to use? Choose a UI-friendly, drag-and-drop, feature-rich workflow management software for your organization.

Cloud-Based System

Any software that has a cloud-based system would be easier to maintain and will have wider accessibility.

Custom Functionality

Every organization is unique in its way, and so are the processes. Make sure the software you buy can easily handle complicated cases.

Cross-System Integration

Another vital aspect to be looked at while finding a perfect solution is its interoperability with other apps. Don't overlook it.

Mobile Compatibility

Today's work on mobile, and your selected workflow automation system must be compatible with mobile devices. From approvals to notifications, people must be able to do everything.

No-Skyrocketed Prices

Vendors charge thousands of dollars for the product installation without taking consulting and implementation into account. Make sure you're on the list of those buyers who have not checked the market before landing upon the right product.

Reporting & Analytics

There is no way to succeed without looking at the facts and figures. A powerful workflow automation software offers built-in reporting and analytics features.
Read More about the Features of Workflow Management Software here!
Top 5 Workflow Automation Softwares
Having discussed various tips and pointers to be taken into consideration while choosing a workflow management system, here we are enlisting the top 5 workflow automation software present in the market-
1. Flokzu
Icon-based flowchart for outlining your business processes without any coding knowledge.
Task-oriented workflows and interfaces that can be integrated with more than 700 existing apps.
Equipped with workflow templates for beginning the setup.
Ensures information security via end-to-end encryption techniques.
Statistical tools for facilitating analysis and processing improvements.
2. Zapier
The workflow automation tool is powered by a simple interface.
Build the entire workflow using 500 integrations.
Integrations include document sharing, email marketing, social media, and project management.
Notification alerts when the workflow is completed, or you can even opt for silent mode.
Offers various plans for Starters, Team, Professional, and Companies.
3. Kissflow
Drag-and-drop workflow visualizations make this software quite easy to learn.
The right customizations help in setting different levels of permissions for different types of users.
The responsive design helps in supporting e-commerce companies.
A reasonable and straightforward pricing module makes it one of the most popular tools in the market.
Various integrations connect all your tools in a centralized place and help keep track of all the processes.
4. Integrify
A service-based approach that includes support and consulting for process improvements.
The drag-and-drop editor eases the automation of workflows.
Provides a complete knowledge-base for the users.
Enterprises upgrades are there for companies with different needs.
5. Orgzit
Powered with easy-to-use setup to configure simple to complex sales-related workflows.
Configure checklists for each activity, so that the users don't miss any critical deadlines.
From one-step to multi-stage- the robust tool supports all the cases for managing end-to-end sales processes.
It has numerous collaboration features that allow sales and other teams within an organization to operate as a single unit with a clear focus on the client requirements.
Custom reports for drawing insights into your customer relationships and sales, order fulfillment, or service workflows.
Supports role-based access and controls
Sign-Up for a free trial today!
Got what you came looking for? If yes, then don't forget to share it with your network.
Till then, Happy Automating!