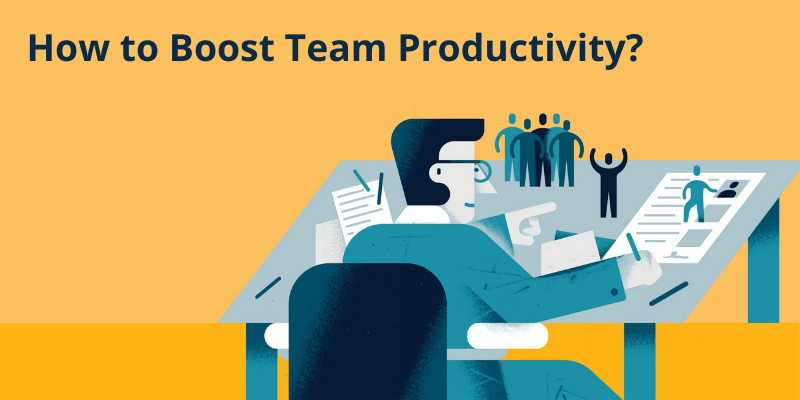 How to Boost Team Productivity
As I am comfortably settled into my workplace with the books of Jean Sasson, John Green, David Allen, Preeti Shenoy, and Tim Ferriss staring back at me, I can't help but reimagine how typical a 9 to 5 job routine is like!
Rainy weather, chilly winds, water-dripping leaves, and a beautiful rainbow – the last thing I want to do amidst this to stay cooped inside the four walls of the office and work in an atmosphere which is not even friendly.
As per Statista, 30% of the adults who work around 41-50 hours in a week feel extremely stressed. On the other hand, 25% of the workforce feel emotionally and physically drained.
In a survey conducted between October 2017 and September 2018, around 3% of the employees take leaves because of health issues.
All these figures point in one direction- An unproductive and replenishing work atmosphere!
Employee productivity and the company's revenue go hand in hand. One cannot survive without the other. And even if we keep monetary issues aside, a healthy and productive environment is required in every aspect of life, not just professional. When a newbie or experienced individual steps into the company premises physically or virtually, they not only expect learning and money but a nurturing environment.
So how do you achieve that balance? What converts a high-performing individual into an unhealthy person? What does it take to make your organization a powerhouse of productivity?
Are you facing the same questions? No worries!
Here is the list of 14 pointers that can help in boosting your team productivity.
How to Boost Team Productivity- A step by step guide
1. Try Flexible Scheduling
Obviously, it's not recommended to disrupt your whole system, but a little flexibility goes a long way. Employ a flexible schedule for your team. Instead of making your teamwork five days a week from the office, allow them to operate remotely on Fridays.
During this corona pandemic, everybody is already working from home. So you can allow them to join late on Fridays and not attend any calls after 4 pm. Flexible working hours will boost productivity and improvise work-life balance.
Apart from a flexible schedule, relax your team with a comfortable dress code.
2. Focus on Employee Training
As per the Workplace Learning Report from LinkedIn, around 25% of surveyed professionals estimated an increase in budget for development and learning programs. Training your employees will equip them with the required skills to handle job tasks.
Training raises the work quality bars, which, in turn, leads to higher productivity and autonomy.
Proper training will strive for your company's culture and establish your brand's value in the market.
3. Micromanaging is a Big No-No!
One of the best ways of boosting creativity is to create a fantastic team.
Define their responsibilities and state your expectations clearly.
Now just let your team breathe.
Get out of their way and allow them to operate flexibly.
When your team feels less constrained, they can produce better results. They can prioritize the tasks as per members' availability. Don't Micromanage. Employees tend to lose interest at the moment they are micromanaged. Trust your team with the utmost confidence. Also, be available whenever they need any guidance.
According to Susan Heathfield, Employment Expert for TheBalanceCareers.com says, "a company has the responsibility of creating a work atmosphere that empowers employees' abilities."
4. Be Okay with Scheduled Blackouts
An employee is also an individual with some personal responsibilities. From preparing meals for guests to virtual learning, kids' dates, and taking care of sick parents, employees are often stretched extra-thin. Attending a slack meet during these busy hours makes it much more difficult.
Encourage a healthy work-life balance by allowing scheduled blackouts. A popular instance in this category is Intel allowing their employees to work offline every Friday afternoon. The objective is to respect some solid hours of focused thinking on projects instead of virtual meets, or mails.
5. Don't Forget to Analyze Data
Data is a new power. For succeeding in this digital age, it is essential to slice and dice data for gaining insights. Agile technologies enable organizations to use the information obtained for understanding the manner their workforce is operating.
From the best productivity timings to space, your workforce tends to occupy most; data can reveal everything. It can also determine how specific changes affect the overall productivity of the workplace, such as change of office, meeting frequency, mixing teams, schedule changes, etc.
6. Attractive Perks go Long!
Giants like Facebook and Google have understood the relevance of job satisfaction. And if these giants pay attention to it, then why should you lag!
As per a survey by Glassdoor, 80% of employees prefer perks over a raise. You needn't be a silicon valley powerhouse for supplementing your employees' morale. Consider enriching their lives using the following instances-
Burton gives free ski passes to their employees
Google and Facebook offer nap pods, massage rooms, and complimentary haircuts to their workforce.
Twilio offers Kindle and monthly stipends for purchasing books.
REI gives their employees two days off to enjoy their time.
NutraClick offers gym memberships subscriptions
eMarketer provides free business books.
Tesla employees can save around 35% on cinema tickets.
7. Productivity Breaks are Important
Protect your staff from burnouts and fatigues by allowing them power productivity breaks. Your team doesn't have to be busy every second of the working day. Occasional breaks, power naps help in recharging the employees' energy and refresh their approach.
Several tech companies have power-break halls with Ping-Pong tables in their office for adding the fun factor.
8. Avoid Pointless Meetings
As per studies, meetings are considered to be one of the worst company rituals. And yet, they are inevitable.
Though they can't be completely avoided, it's possible to eliminate the redundancies and make it efficient. Clearly define the goals of meetings and send out the meeting material in advance for better collaboration.
Take feedback on what they have accomplished throughout the week. Also, eliminate pointless meetings and only involve the people directly related to tasks, else just drop them!
The key here is to respect everybody's time.
9. Get Rid of the Toxic Employees
Nothing destroys workplace productivity more than the negative atmosphere.
Toxic employees form the core of this atmosphere. They are poison to companies. A report by Cornerstone showcases the impact a toxic employee has on company culture-
Hiring a toxic person costs around $12,800 into a 20-person team while hiring non-toxic ones will reduce it to $4000.
Finely performing employees are 54% likely to quit when they are to collaborate with a toxic person.
Self-proclaimed rule followers are 33% likely to contribute to the toxic culture.
So, try getting rid of these kinds of individuals before they ruin the whole atmosphere. But, first, let us understand the signs of toxic employees.
An employee can be termed toxic if he or she possesses these characteristics-
Acts like a dictator,
Has low attendance and dependability score,
Has low accountability,
Has a history of sabotaging and bullying coworkers,
Hammers leader for dumb decisions,
And quick to gossip.
Get rid of the employee who is identified with the above-traits.
10. Reward Creativity & Hard Work
Recognition is important; Rewarding great work is essential for higher productivity. But stay cautious!
Dishing out rewards when your team has just met the deadline isn't recommended. Only reward when the employees have accomplished something extraordinary. It's not like that you shouldn't reward ever but celebrate when your employee operates in testing situations or does something additional.
11. Two-way Feedback Mechanism
Develop a culture that is healthy and provide meaningful feedback to your team on various issues. For instance,
Ask your employees about the resources required,
Challenges they are facing in day-to-day tasks,
Is it possible to achieve workload,
Do they like the work atmosphere,
And how can you assist them better?
Also, feedback is never a single-way street. Try to gather views from the management about employees' work and behaviour, to better the decision-making processes.
12. Practice Team Building Exercise
Team productivity comes from the team itself. If the members are aware of one another's weaknesses and strengths, then the atmosphere automatically becomes positive.
If the members are happy, then the efficiency will eventually shoot-up. But, in a team, it is quite possible that everyone is not getting along well. For eradicating the animosity, incorporate fun activities. These team-building exercises will promote gay culture and wash away any grudges if they exist.
13. Launch Employee Wellness Program
Low energy, depressed coffee breaks, stressed mornings- these are the signs of a not-so-happy employee.
While you can't persuade your staff to diet, exercise, and have a balanced sleep routine, it's possible to launch employee wellness programs for encouraging a healthy culture.
Promote preventive care, launch health conferences, offer nutritious snacks during office breaks. Other options would be instituting a smoke-free workplace, offer unlimited vacations, and host walking meetings instead of traditional office meetings.
During this remote culture, employees can feel disoriented all the time. Maybe they are getting depressed because of staying home most of the time. You can schedule weekly check-ups via Team Collaboration Tools to gain insights into their work-life balance.
Also, encourage your employees for virtual appointments with doctors to discuss their health conditions. You can also offer a free quarterly or half-yearly checkup for promoting improved health.
Productivity hits the sky when the right technical tools are employed. As per studies, 90% of the CEOs in the UK vote for digital technology as a vital aspect of raising productivity standards.
Also, Read:  Top 15 cloud-based tools to collaborate remotely during the coronavirus pandemic
The potential to instantly message colleagues, assign work, share files and documents, and collaborate on shared projects reduces the reliance on emails and calls, which are huge productivity killers. In such cases, the right project management software is a major help.
There is an App for Everything!
Get a powerful and feature-rich project management software that significantly reduces the amount of time consumed in sending files forth and back via divided routes. The tool keeps all the project work in a centralized place and eliminates the time wastage in meetings. It brings all your team members, clients, and projects in one place and improves collaboration.
Interested? Start 30 days free trial.
Liked what you read? Or got some suggestions to improvise?
Shoot your views in the comment box below!
Don't forget to rate and share the article?
Happy Working!
Tags In
Keerti Chandnani
Even in an obscured atmosphere, Keerti glowed like someone who starts her morning with green smoothies and sets of yoga asanas with the intent to do much more than wrangling commas. Driven by the art of storytelling, this Engineer-Turned-Marketer explores every nook and cranny of the product before penning her heart.