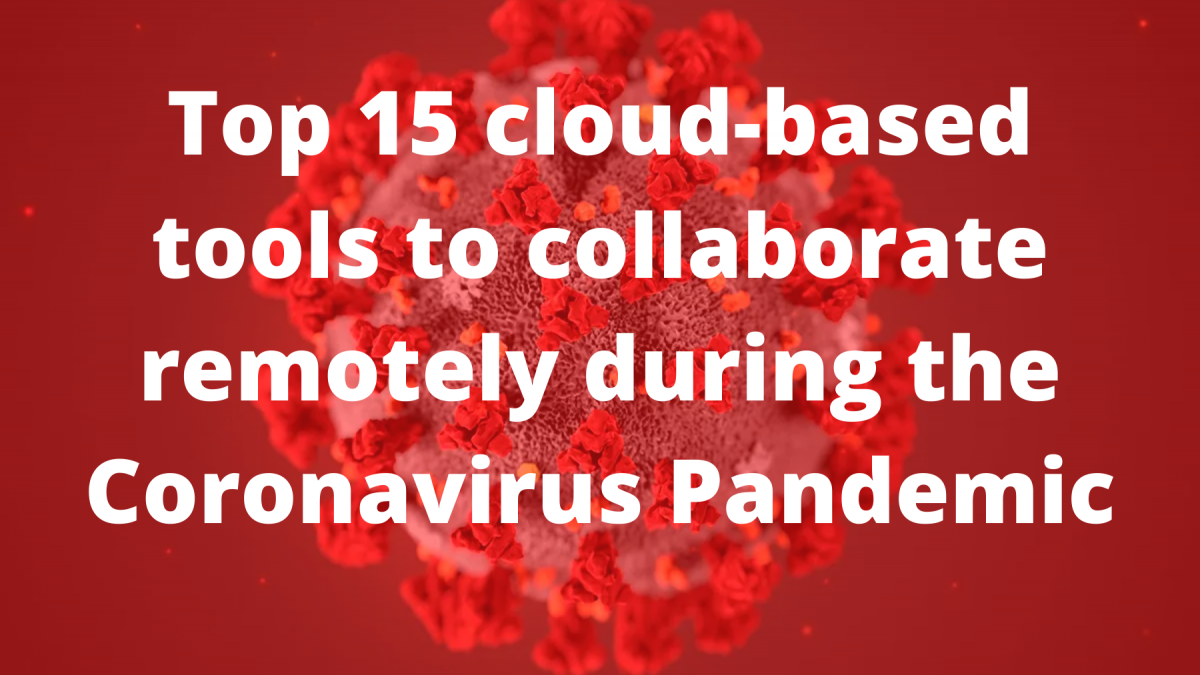 Top 15 cloud-based tools to collaborate remotely during the coronavirus pandemic
Introduction
The Earth needs healing, it needs a break. Our ears were hearing this from decades. But we ignored it. Now the earth is ignoring our appeal, we are in this pandemic paying a big cost for our deeds. We are losing our close ones, we lost our freedom, we are losing the economic stability which means we are losing our business!!!
According to the world meter created for corona, cases in the whole world by now are 24 lakhs 84 thousand 3 hundred and 14. The earth is clearly upset with us.
All we have to do to make up for our deeds is sit at home. Let us sit at home and make it productive.

It is not compulsory to sit in office and work, the tools these days have made work from home easier and simpler.
There are many sites who have given more than 100+ tools to help you, like https://www.entrepreneur.com/article/347840 and Capterra but I have listed out the best 15 from them.

Best tools for various categories
In-office business becomes easy, you have your team in one place.
But working from home is not so easy.
There are many businesses that are not able to work remotely or are facing problems.

In this article, I have sorted out some of the categories of software that may be helpful for you and your team to work efficiently during coronavirus pandemic from home.
Relevant software categories for remote working during Coronavirus
1.Online meetings (substitute for physical meetings)
Meetings that were a crucial part of running our team and business and effectively are now not possible physically. But, there are some tools that provide the facility of meeting online and even presenting or sharing your screen with other team members so they can see what you exactly want them to see!

1. Zoom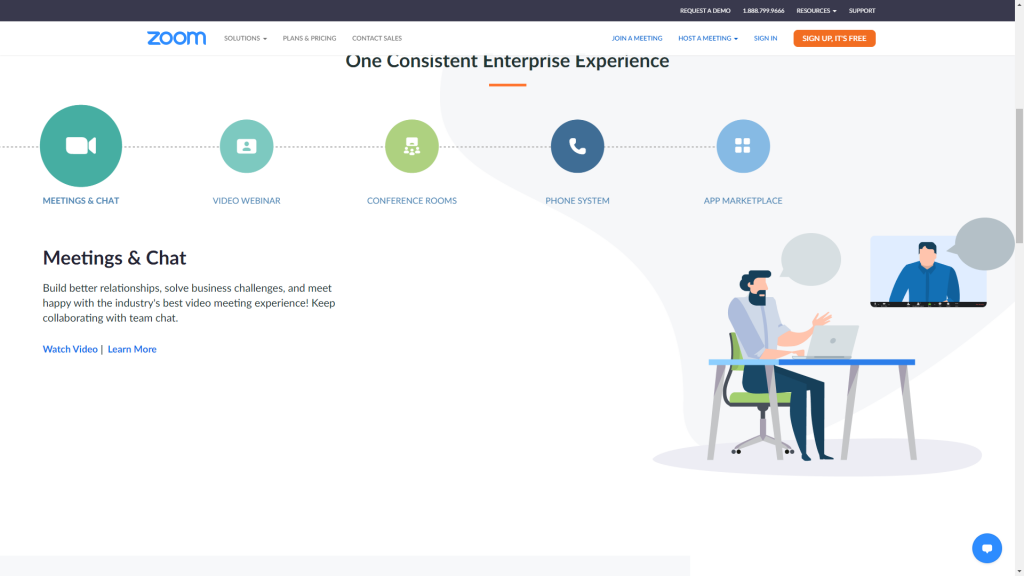 Zoom is an online cloud-based video conferencing software that allows you to meet your team members virtually anywhere. It gives you the option of meeting either by video or audio-only or both and gives you a facility for recording the session so that you can view it later.
The two phrases that are usually heard when people talk about zoom are zoom room and zoom meetings.
A zoom meeting is a video conferencing hosted using the zoom room. You can be at the meeting using your webcam or your phone.
A zoom room is a setup that allows the host to launch a zoom meeting and allows companies to schedule the same.

Features of zoom:
One on one meetings: You can host unlimited one on one meetings under the free plan.
Group video conferencing: A group video conferencing having 500 participants can be held if you purchase the league meeting plan. In the free plan, 100 participants and a meeting for 40 minutes are provided.
Screen-sharing: Irrespective of the meeting large or one on one, you can share your screen with the members so that they can see what you want them to see.
It has various paid versions. Paid versions range from $14.99 to $49.

Pros:
Tremendous audio and video quality.
Easy to use remotely as it provides a mobile app too.
Cons:
It is too technical for new users and has a lot of settings.
It doesn't have a whiteboard, which can be nice during brainstorming sessions.
2. Google Meet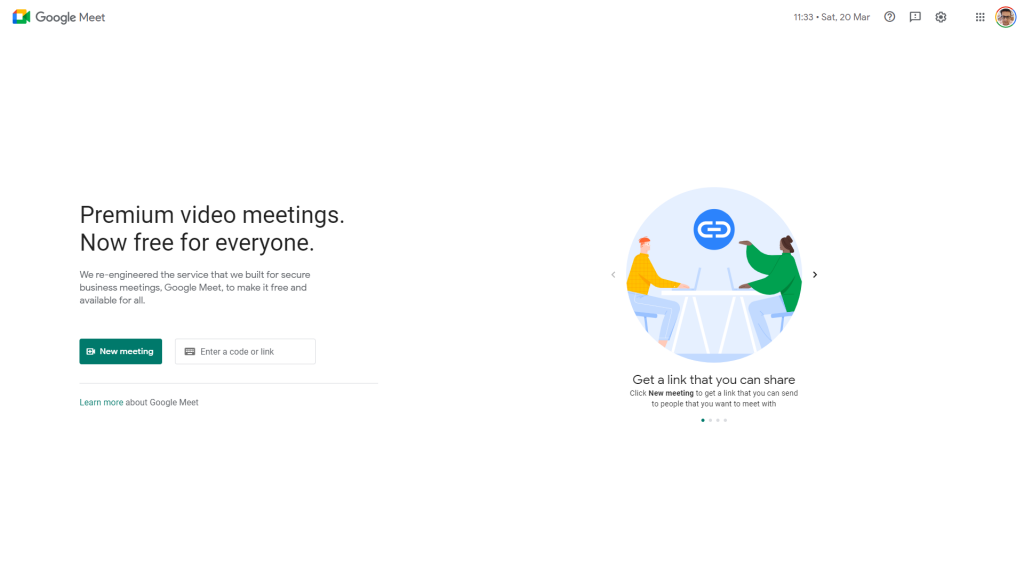 Google Meet or you may call just meet is also a video conferencing cloud-based tool that allows the participation of a maximum of 250 participants at a time and over lakh live streams viewers. The free version only allows 25 participants.
The camera and mic can be turned off and you can also share your screen with other people. The participant who is currently talking will be shown in the main part of your window so that you Google has been making significant investments to improve Google Meets.

NOTE: Only paid G-Suite accounts can create Google Meet appointments, consumer accounts can join if invited.

The primary and biggest drawback of Google Meet is that it won't work on all web browsers like Safari, as it functions on only Google Chrome browser.

Pros:
Budget-friendly
Additional programs that come with it. If your business uses g-suite, you do not have to spend extra on any other video conferencing tool as google meet comes free with it.
Cons:
You can only access Meet via the Google Chrome web browser.
It doesn't include some of the valuable features that other services offer like whiteboard tools and poll-and-survey options.
3. Airmeet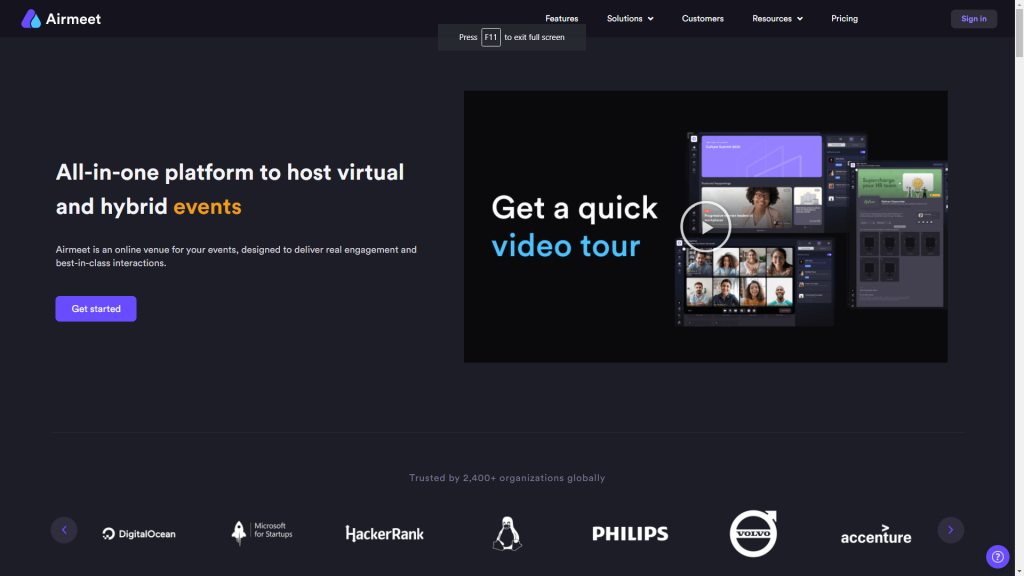 Airmeet is also a video conferencing application like Zoom or Google Meet but it is a startup. It was founded in 2019 and has its headquarters in Bengaluru, Karnataka, India. 

Airmeet provides various features like:
Online payment
Live chat
Attendee management
Multi- presenter
Screen sharing
Q&A
Reminders
2.Instant Messaging (substitute for short in-person conversations/email)
In-office if you want to have a conversation with your colleague or employee. You can just walk up to their cabin or desk and start the conversation. But how will you walk up to their desks and cabins now? You cannot! But you can walk into their message box!
I will give you the information you need to know about the two best instant messaging software available.

1.Slack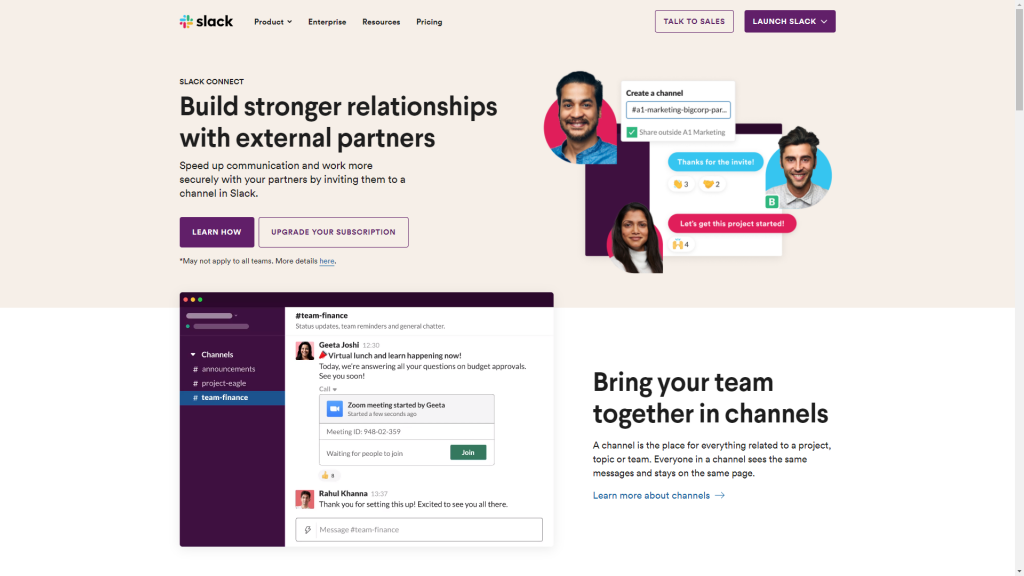 Slack is a collaboration cloud-based tool that allows you to replace emails to help you and your team work together smoothly.
It is designed to support people to work together naturally, so you can collaborate with your team members online as effectively as you used to do face-to-face.

Main features of Slack are:
Organized conversations: You can create different channels according to your needs, for example channels for different projects or different teams like marketing, designing, etc. You can send messages and share files on the relevant channels.
You can also create channels for private conversations. You can also use shared channels to communicate with an outside organization.
Searchable History: You can easily search the old conversations, files, people, and channels through the slack search option.
Connected Applications: You can add apps to your slack workspace to connect services or tools you are already using to slack.
Slack calls: You can video or audio call with any of the members from slack and you can even share screen while having a video call.
It has 3 different paid versions, known as Standard, plus, and enterprise grid.
Pros:
Flexibility around notifications.
The ability to structure your team and one-on-one communications in a way that works best for your business. You can create channels and groups that can be private or public depending on how you want your team members to communicate within the organization. This concept of channels and groups helps ensure that all communication within your team is organized & categorized in a flexible way that makes sense and works for your business.
Slack has one of the most extensive sets of integrations and you can literally integrate Slack with any tool such as your CRM, Customer Ticketing system, Calendar, etc.
Cons:
It can quickly get overwhelming to use Slack as there can be 1000s of messages every day and if you are like me, someone who loves structure, you might find it difficult to navigate within the never-ending messages in Slack.
The paid plans can quickly get quite heavy on the wallet, especially if you are a startup or small business with limited budgets for software.
2. Flock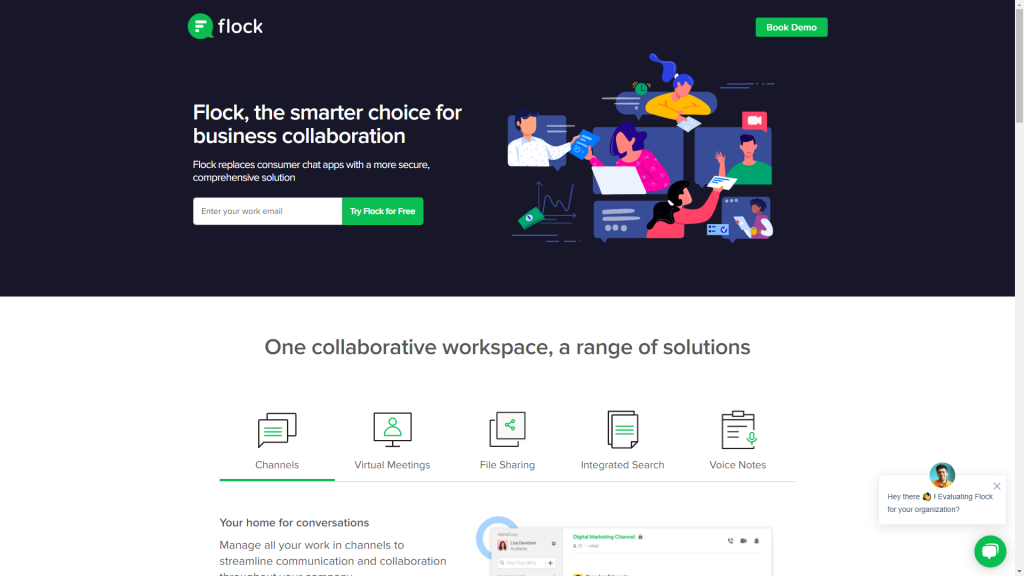 Flock is known to make your work easier by organizing your team's conversations, apps, and tools at once place. It is also a cloud-based team collaboration tool that makes work from home easier and effective.

Flock helps you in communicating with your teammates anytime and anywhere, it connects the business tool and services you use every day, turns conversations into actions with tools like to-dos, reminders, and polls.
You can create different channels in the flock as well and can create public and private channels.
It comes pre-installed with applications such as poll apps, shared to-dos, code snippet sharing, reminders, note sharing, and my favorites.
Audio and video calls are also provided.

It offers one free version and 2 paid versions that range from 199 rupees to 349 rupees a month.

Pros:
The simple installation process, seamless to use, and very helpful when working with a large office.
Collaborative features.
Cons:
It does not have any plugin for the Microsoft suite.
Very few integrations.
3. File sharing (substitute for sharing documents via emails or USB drives)
During work from the office, you can easily share files by USB drive or printed material and send it through a clerk to your other colleague but you do not have a clerk at home and you cannot USB as well. So, here I will tell you the two best file-sharing tools you can use while working from home.
1. Dropbox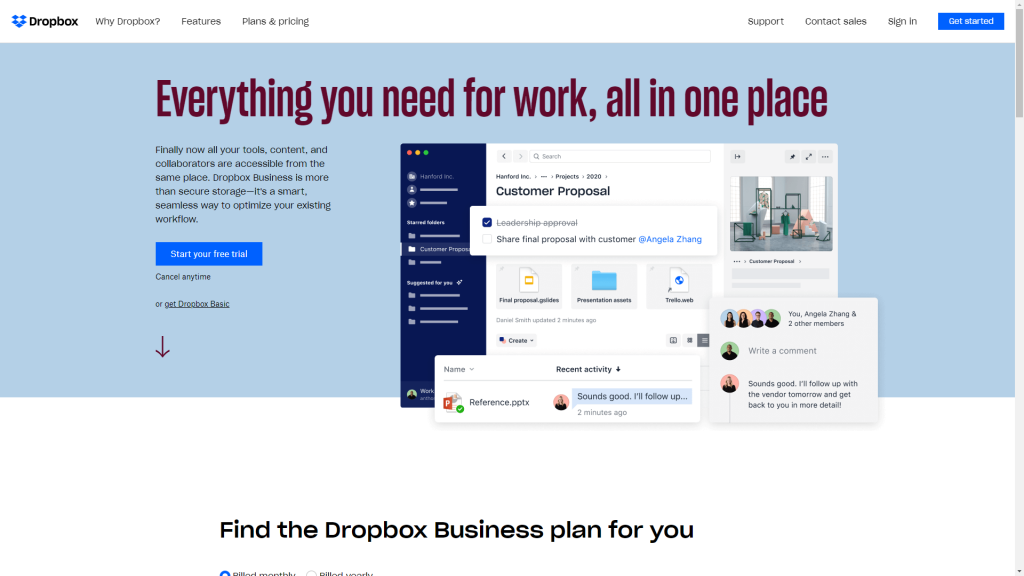 Dropbox is an online cloud-based file hosting and sharing service that offers cloud storage, file synchronization, personal cloud, and client software.
The main features of Dropbox business are as follows:
It centralizes team content.
It transforms your folders
It allows team collaboration anywhere, anytime.
You can use your favorite collaborative tool like slack by connecting it to dropbox.
It suggests files and folders you need and keeps you one step ahead.
You get peace of mind as your data is secured and safe in dropbox.
It offers various paid versions with premium features. The cost of the paid versions rises from $19.99 to $25.
Pros:
Great tool for previewing large files and sharing them quickly with people in and out of the organization.
Nice UI and search function so it's easy to find files you're looking for.
Cons:
Overhead costs for larger organizations.
The mobile phone app cannot be used if it is not updated.
2. Google Drive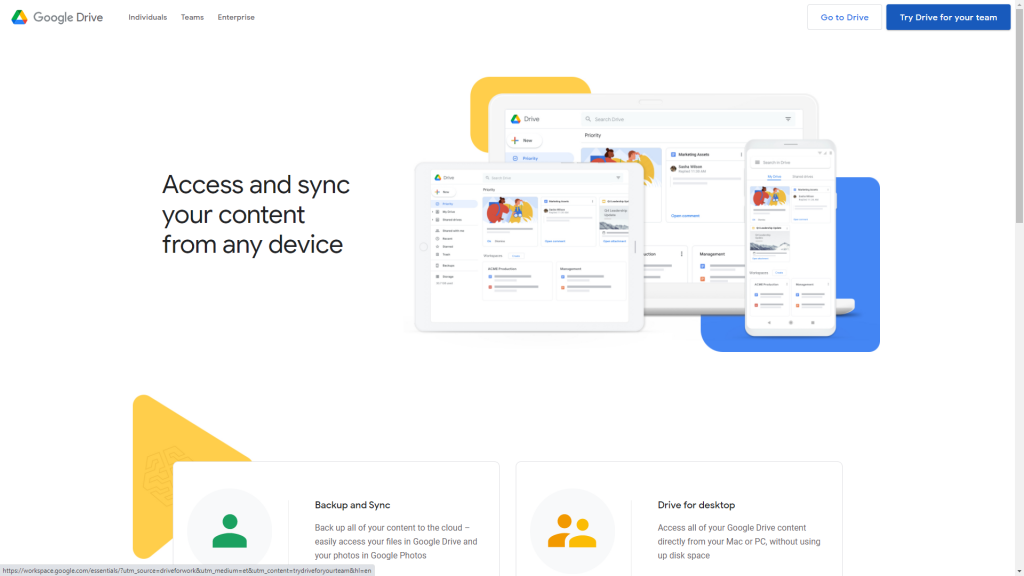 Google Drive is available to all Google customers and is also included in the G-Suite account. Google drive is an off-line and on-line cloud file storage and sharing service just like Dropbox.
Google Drive is highly integrated with the Google and Android systems. Google Drive can be used to store files on their servers, synchronize files across multiple devices. You can share files both within and outside your team and company.

It also encompasses Google Docs, Google Sheets, and Google Slides that are key applications within the suite of business applications under GSuite that permits collaborative editing of documents, presentations, and more. Files created from these applications are directly stored in Google Drive.
Google Drive will give you access to all of google's services like youtube, Gmail, Play Store, and so on.
Pricing factors: For the last many years, Google has been offering 15 GB of storage which is shared between your Gmail account and Google drive. If you are looking for higher storage space, Google has various options starting as low as $2 per month for 100 GB.
Pros:
Sharing and collaboration
Deeply integrated with the Google and Android ecosystem.
Free 15gb storage
Cons:
Google Drive only accepts payments in multiple currencies. Users from other countries such as India can pay in local currencies (eg. Indian Rupees)
Google Drive counts all your storage for mails, photos (except high definition), and your documents. So in some sense it double counts your data.
It can be difficult to use for people who are used to the Microsoft Office ecosystem.
4. Business workflow management (substitute for pen/paper working or exchanging information over email)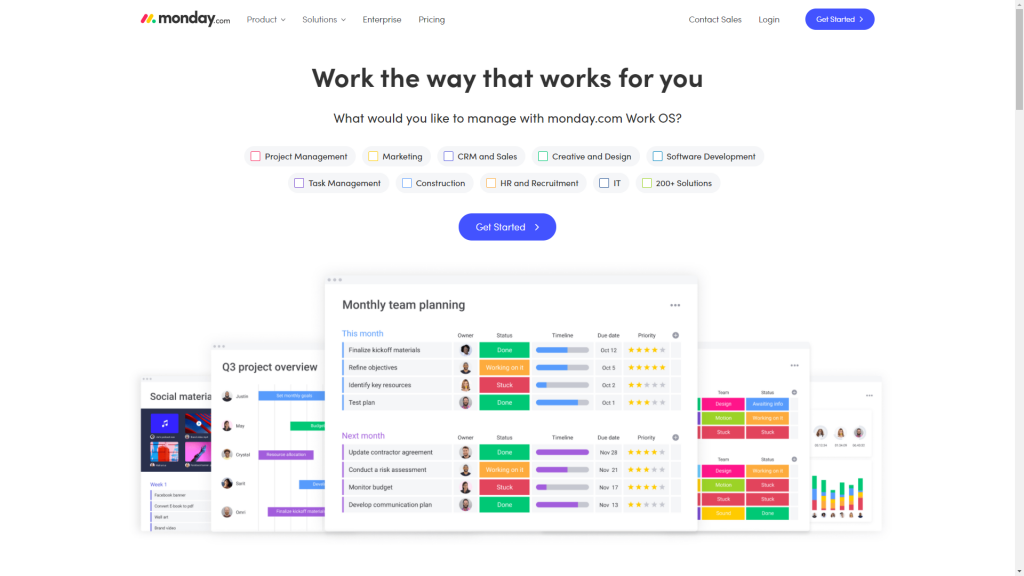 1. Monday.com
Monday.com is a work operating system that enables organizations to build custom workflow apps in a code-free manner.
It is a visual team collaboration tool that helps your team assign tasks, manage workflows, and track the progress of the work of team members.
Features:
Simple and intuitive team management tool
Flexible and customizable software
Visual planning, tracking application, mobile apps, and integration
The pricing factors of monday.com depend on the number of users. It has 4 pricing tiers. The Basic plan is priced at $39 per month and is for 5 users at a maximum. This plan includes essential features such as:

Unlimited boards
Over 20 column types
Native iOS and Android apps
Kanban views
Embedded forms
5 gb of storage
1-week activity log (history)
The higher plans Standard, Pro, and Enterprise includes essential (mentioned above in basic plan) and advanced features such as:
Useful for sharing and collaboration within teams
Can be integrated with other tools that your team uses (eg. Slack)
Automation of repetitive tasks is possible and you can create summary dashboards for getting quick overviews.
Monday offers a 14-day free trial period is offered after which you will be required to sign up for a paid plan.
2. Orgzit.com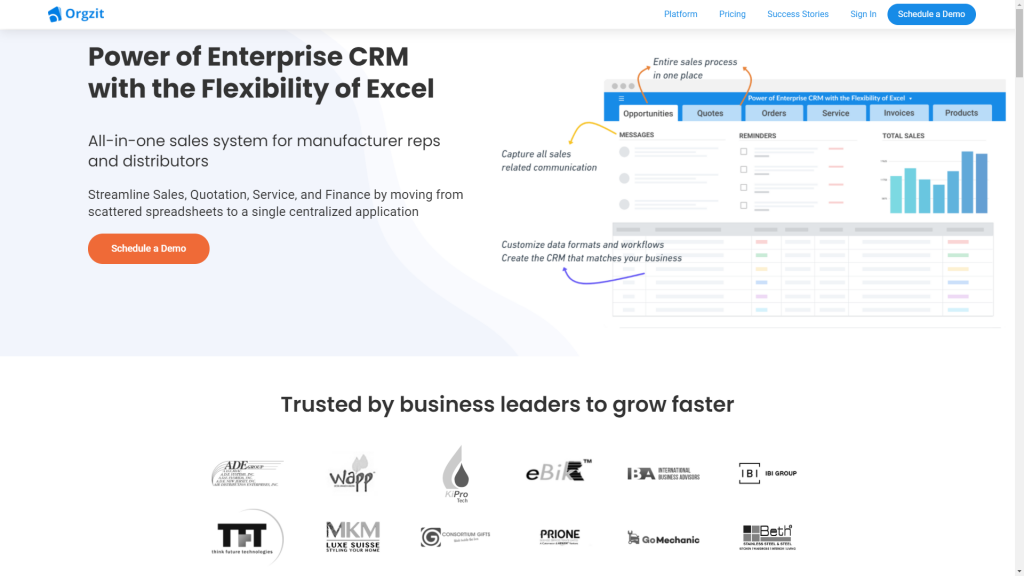 Orgzit helps teams create customized business applications fast and without any coding. Businesses use Orgzit to build and run customized solutions for a variety of business workflows such as CRM, Project Management, Task Management, or every complete new age ERP system.
Popular workflows on Orgzit.com
Pros:
It provides a single software solution for multiple business workflows.
It can be used both for collaboration and workflow management unlike other tools from a similar category that offer one or the other.
It can be integrated with APIs with other software tools such as Slack, ERPs, etc.
Cons:
It can be a bit hard for beginners to do the configuration of Orgzit workspaces on their own.
3. Trello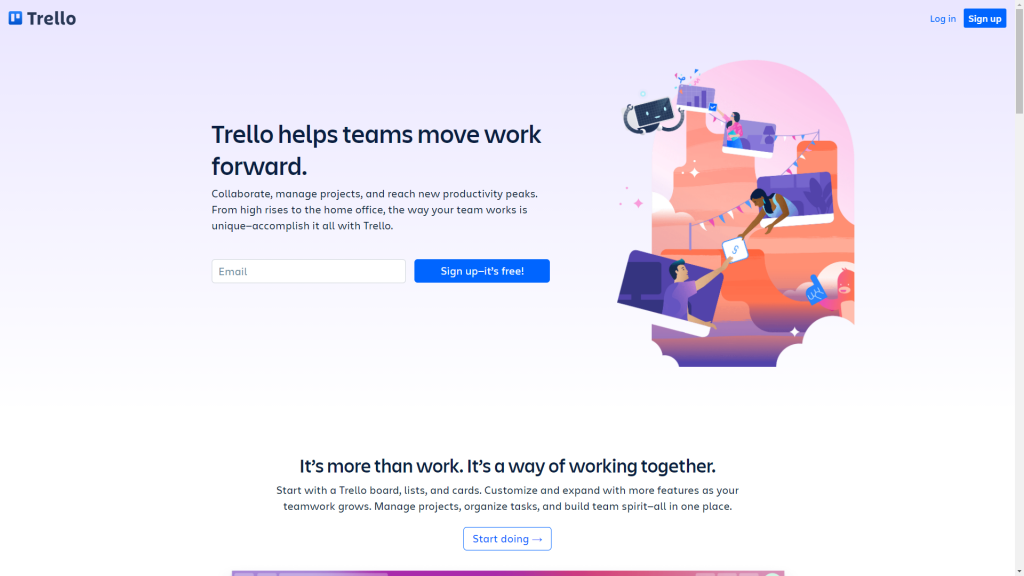 Trello is a cloud-based collaboration tool that helps you in organizing your work or helps you in onboarding your projects.
It helps you collaborate amongst your teams hence helping you get more work done. This is done through boards, cards, and to-do-lists.
Using this application is done through a set of cards – as you see in most whiteboards in many offices. You can drag the cards through the whiteboard depending on the status of the project – in progress or finished. Once you create a project you can assign it to a person and allocate a due date. Reminders can be set to remind the assigned person that the project is due.
The main features of Trello are as follows:
Agile methodologies
Gantt charts
Kanban board
Portfolio management
Time and expense tracking
Collaboration tools
Customizable templates
Idea management
Milestone tracking
Resource management
Traditional methodologies
Pricing: It has a free version. The paid one costs $12.50 per month per user or $9.99 per user per month when paid annually.
Pros:
Perhaps the easiest to collaborate with team members for task management
Part of the growing ecosystem of software from Atlassian such as JIRA, Confluence, etc.
Cons:
It is not suitable for larger teams – managing teams with multiple Boards, Cards can quickly get overwhelming.
Reporting is missing and the reporting options with Power-Ups is fairly limited.
5. Finance and Accounting
1. QuickBooks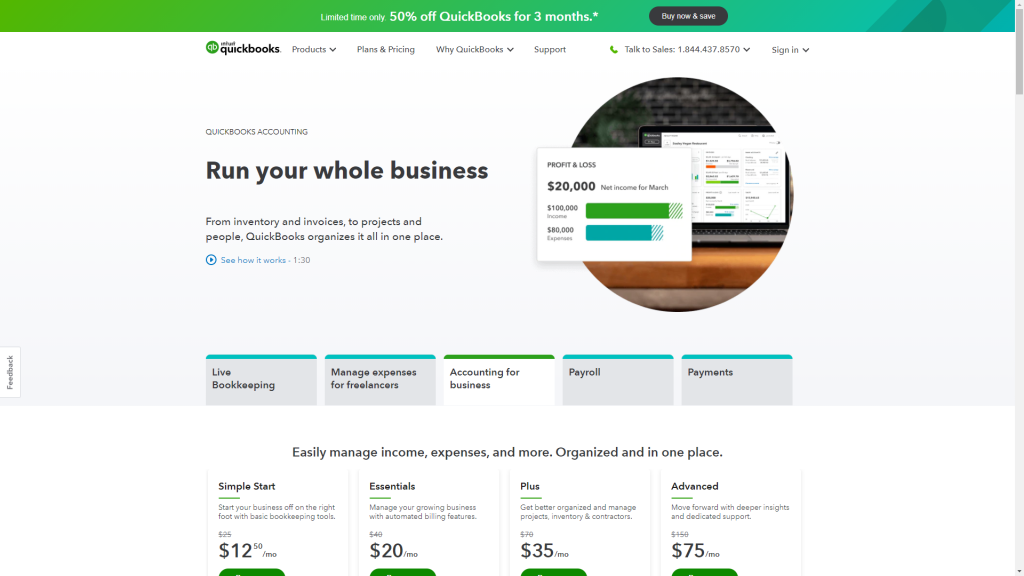 Quickbooks is a cloud-based accounting tool that manages income and expenses and keeps track of the finances of your organization. This tool can be useful for invoicing customers, paying bills, generate reports, and prepare for taxes.
The product line of QuickBooks includes various solutions that work amazingly well for everyone, from an entrepreneur to a mid-sized business.
Features of QuickBooks are:
Cloud accounting
Invoicing
Online banking
Accounting reports
Cash flow management
Time-tracking
Subscription includes mobile applications
Multiple users
Free unlimited support
It has two different paid versions for business organizations and accountants both costs INR 667 a month.

Pros:
Easy to use, affordable price.
Flexible with 3rd party applications.
Cons:
Lack of industry and business-specific features (such as lot tracking, eCommerce and barcode scanning)
Lack of key reports outside of accounting
2. Freshbooks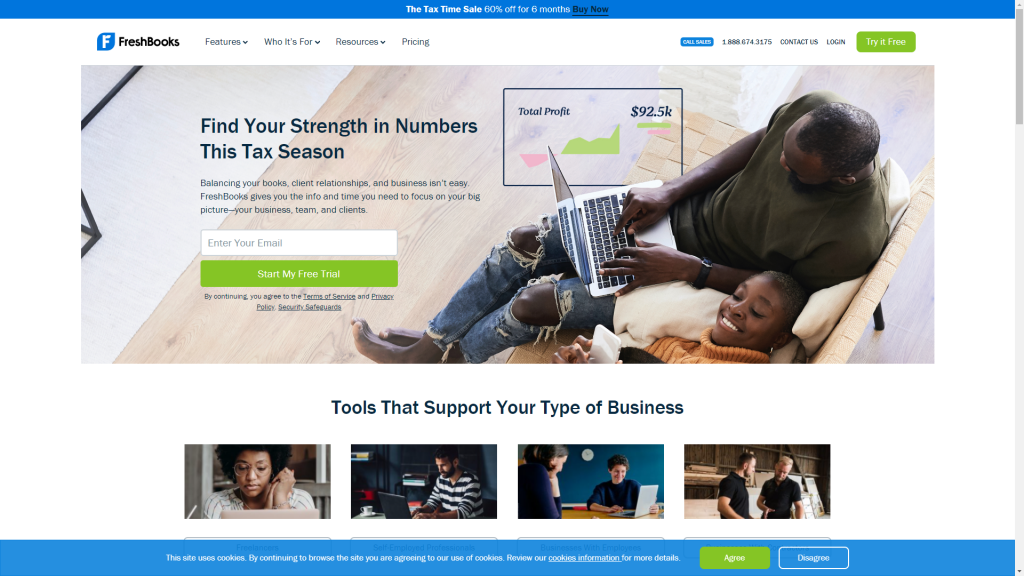 Freshbooks is the cloud-based accounting and finance tool that proves to be the best small business owners. It is a trustworthy and fast software that turns the complexity of financial management into an enjoyable experience.

Creating professional-looking invoices becomes easy as the software doesn't require experience in accounting. To save your time, It automates tasks such as client follow-up, time tracking, expenses organization. Meanwhile, its online payment solutions can help you get paid faster. To extend the app's functionalities the software integrates seamlessly with a variety of third-party applications such as Stripe, Shopify, PayPal, and G Suite, 
Freshbooks can also be accessed from your mobile, not that we are mobile during the pandemic. Freshbooks have good iOS and Android apps that can be used to access your billing and expense information from anywhere.
Features:
Invoicing
Payments
Accounting
Expenses for team and projects
Time tracking
Reporting
Project tracking and linking to accounts
Estimates & quotation management
Mobile apps
Pricing tiers: It has 4 pricing tiers and a 30-day free trial is offered. All of the versions have some common features such as customizable invoices, accept credit cards and ACH bank transfers, free customer support, dashboards, estimates, secure information storage, project budgets, and powerful reports.
It has four paid versions. The cost of them ranges from $15 to $50. It also gives you a custom version, where you can negotiate the price according to the features you demand.
Pros:
This tool offers you a free trial before you give your financial commitment to it.
It has a user-friendly dashboard and easy to navigate interface.
Cons:
The mobile app is limited features and doesn't let you access reports on it.
It doesn't work well for larger or more complex businesses.
3. Vyapar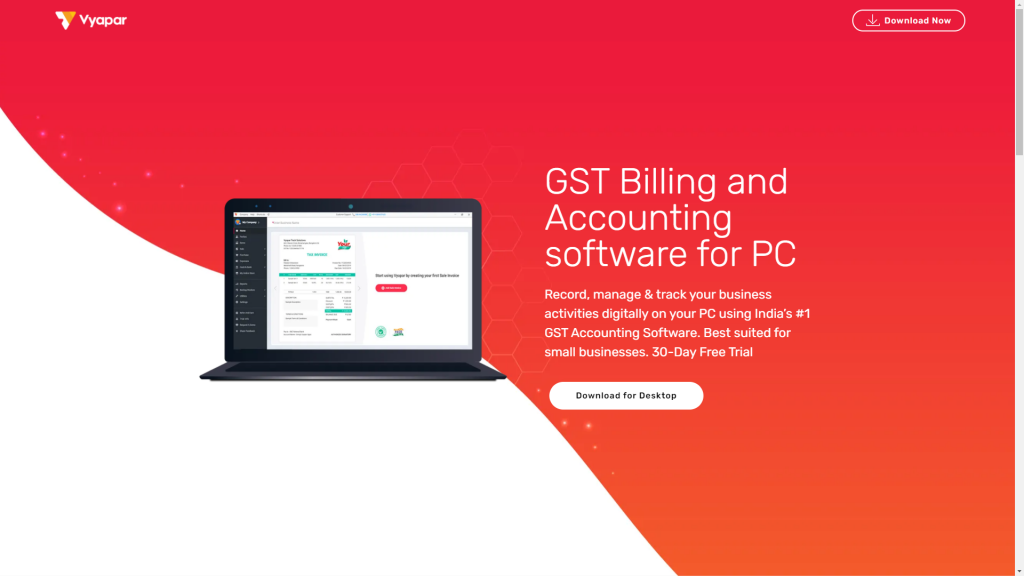 Vyapar is the only Business Accounting, Invoicing & Inventory app made for small Indian businesses, which lets a businessman manage invoices/receipts, estimates, payments, inventory, and clients.
It is an ideal solution for fulfilling all your Business Accounting needs. It is a GST app. It perfectly works offline as well. With this business accounting app, you can create and share GST-compliant invoices and tally them, generate accurate financial reports, automatically calculate taxes, that help you file GST tax returns.
Features:
Accounts receivable
Billing and invoicing
Expense tracking
Tax management
Purchase offers
Pricing tiers:
It offers a free version and its paid version costs $34 per year per user.
Pros:
Easy GST invoicing for small businesses, especially on the mobile.
Cons:
It does not support multi-system – so not really good when you want to collaborate with your team.
6. Learning & Development (employee skills up-gradation)
There are many people who have become unemployed or business that are not running from home, this could be a good time for the employees of the organization to upgrade their skills through various courses available on different software.
1. LinkedIn Learning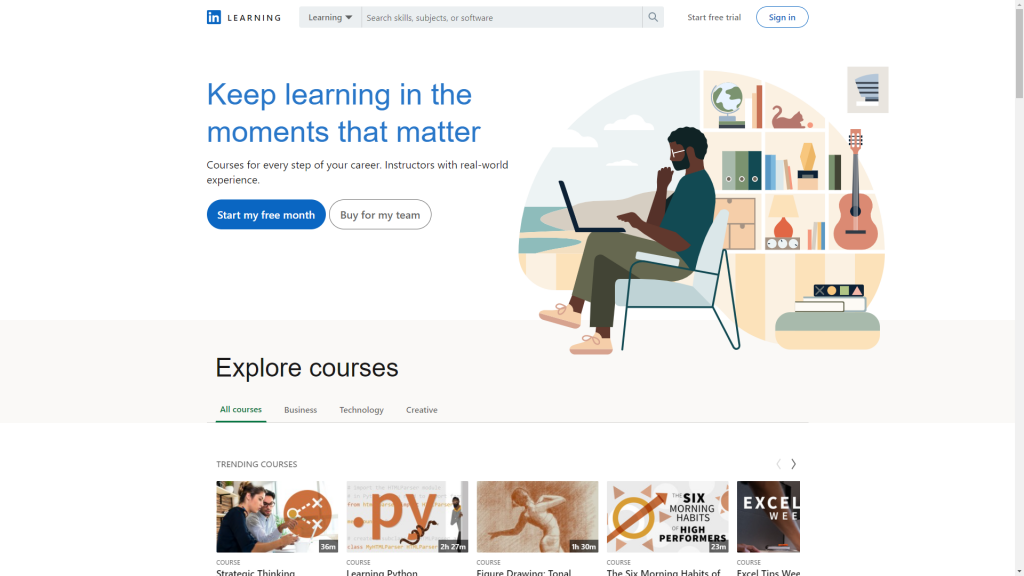 LinkedIn Learning is an American website offering video courses taught by industry experts in software, creative, and business skills. It is a subsidiary of LinkedIn
Employees can choose from over 1500 courses, dozens are added every week.
You can learn at any time, anywhere. After the completion of the course, you get a certificate.
Pros:
Comprehensive Video Lessons from Real Professors
High Accessibility (Windows, iOS, Android)
Cons:
No Degrees or Certificates.
Some Video Lectures are Dry.
2. Udemy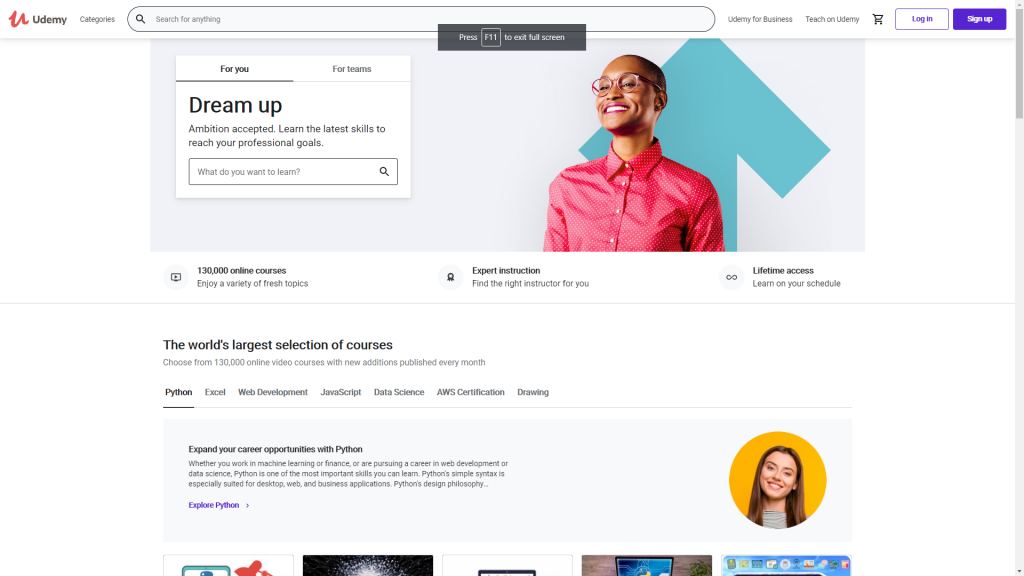 Udemy is an American online learning platform aimed at professional adults and students, developed in May 2010.
Udemy has a technological platform that lets novice instructors plan, design, and produce video how-to instructions for almost any subject.
It publishes and promotes video how-to instruction courses and targets several different audiences from different industries. Experts on a subject create the courses that businesses could leverage to upgrade the skills of their teams while the work pressure is low. Organizations can quickly and efficiently utilize the Udemy platform to create specific courses for their teams with their own branding and content.
There are over 20,000 courses and 1000 courses are added almost daily – pretty awesome!
It has a rapidly growing student base of four million that view than 80,000 lectures/courses every single day. Courses on the Udemy platform are available in 10 different languages and can be accessed from 190 countries.
While some of the courses are free, the majority of them are priced at less than $200.
Pros:
Udemy has a wide range of 40,000-course portfolio
There are courses from multiple authors so you can choose the best one.
Summary
I hope everyone at your home, you and your close ones are safe.
Please take precautions and good care of yourself.
To take care of your business and skills, please do check out these top cloud-based tools to empower your team to collaborate remotely during the coronavirus pandemic.
I hope these tools become useful for you and prove to be a benefit in such harsh conditions.
I am trying to help you, you help me too by sharing this article.
Let us all hope and pray for this pandemic to end soon, so we can head back to our offices, till then happy working from home!!
Daksha Jain
The space between the lines...The pause between the speech. I seek reflection within the content. Won't leave you bewildered but surely you will find something to contemplate.