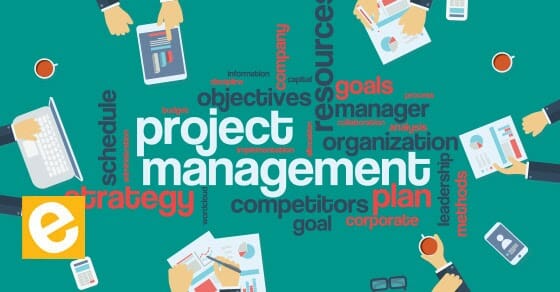 What is project management?
Project management is the act of getting things done! If you are building a house, a bridge, or a software program, you are essentially working on a project. The process of managing the team, tools, and resources to get your project completed i.e. achieve your goal is called Project Management.
It more complicated terms it the implementation of processes, skills, methods, knowledge, and experience to attain definite project objectives according to the project's requirements within the agreed framework of timelines and budgets.

When it comes to the activities and processes a typical project will broadly have five Project Management Phases – initiating, planning, executing, controlling, and closing the work. You can read about them in our previous article.
The primary aim or goal of having project management in your business is to achieve all of the project objectives.
This practice is considered a very large and diverse field and in practice it greatly varies from industry to industry and company to company.
It includes the formal discipline where certified project managers are trained in formal processes.
There are many types of works that require project management.
You can apply project management practices and processes on both big and small projects. You can find project management happening in all industries, from engineering & construction, film production, and creative enterprises to investment banking and insurance.
It is not a tool, it is a practice.
Let us explore some things about project and project managers before we dig deep into project management.

What is a project?
A project is a series of tasks that need to be accomplished in order to meet a particular goal or in other words it can be said that a project is a set of inputs and outputs required to achieve the desired goal.
Who is a Project Manager and What does he do?
Project managers are the people in the team who play the lead role in planning, executing, monitoring, controlling, and closing projects.
They are considered and held accountable for the entire project scope, project team, resources, and the success or failure of the project.
A project manager, with the help of their team, is in charge of multiple responsibilities and duties that span the five project phases of a project life cycle (initiating, planning, executing, monitoring, and closing).

These phases intersect with the knowledge areas and a project manager should be thorough with all of them. Integration, scope, time, cost, quality, human resources, communication, risk procurement, and stakeholder management are the knowledge areas.
The project managers need more than technical know-how to be more effective and successful.
The project manager must also have a number of non-technical skills such as people management and organizational behavior.
These skills often determine whether a manager and the project will be a success or failure.
Seven non-technical skills that project managers should inherit are leadership, motivation, communication, organization, prioritization, problem-solving, and adaptability.
Core components of project management
Having a proper and brief reason why is this project important for your business.
Having brief knowledge of requirements of projects, quality of deliverables, resource estimation, and deadlines.
You should have your business case prepared to justify your investment.
The development and implementation of a management plan for the project should be there.
Securing corporate agreements and funding.
Lead and manage your project delivery team effectively.
Risk management.
Monitoring the progress of your project according to the plan.
Having an expected budget and manage it while the project is going on.
Maintaining communication with stakeholders and the organization of the project to keep them updated.
Closing the project appropriately and at the proper time.
Managing resource providers.
Benefits of project management
Using project management techniques to finish your projects in time comes with innumerable benefits.
Here I am mentioning the top 5 benefits of project management.
1.Realistic project plans
If you do not plan your project and start working on it randomly without any planned deliverables, time frame, guidelines, etc. You are planning a project which is going to be a failure.
To set the realistic goals and objectives for the project, the project manager communicates with different stakeholders to understand their needs and priorities and to strategize the project accordingly.
2.Clear Focus on Objectives
Unclear focus and a project without a goal is the most common reason for project failure.
When the team is handling the project, unclear objectives and improper focus can lead to missed deadlines, overspending, wastage or overuse of resources, etc.
Therefore, Project managers should define the goal and objectives of the project.
So, to prevent such mistakes an effective process is a must.
3.Maximum resource utilization
The level of complexity of the project does not matter when it comes to the utilization of resources, wrongly or improperly managed resources can create havoc in any project.
The project management process makes sure that you use the right resources and the right method, that works for your team. Maximizing resource utilization ensures you make optimal profits on every project.

4.Risk management
Often before starting a project, we forget to mark out the potential risks.
As a result, we face failure due to them as they hamper the completion of the project and cause delays and losses.
Therefore, with effective project management, you and your team would be ready to face the risks in advance and with already thought solutions.
5.Quality Control
There is a lot of pressure on the project manager and the team regarding the quality of the project. If you a project well, it will be easy to track the quality and progress of projects at every stage.
Why Is Project Management Important?
If you do not have project management in your organization, your teams, and clients get exposed to a chaotic environment. They could struggle with unclear objectives, poor quality of deliverables, projects crossing the budget, or deadlines. In short, no or poor project management would mean less success more failure.
Great project management matters because it delivers success most of the time.
Good project managers ensure happy, motivated teams who are aware that their work matters. They also make ensure the right stuff is delivered by their teams; stuff that delivers real return on investment, and that makes happy clients and happy employees.
What comes next?
Now we know what is project management and why it is a useful practice. If you would like to build on your knowledge of project management and become an expert at managing projects, you should learn about project management techniques and methodologies.
Start practicing the things you have learned in your daily life. Stay happy and productive in managing your projects.

Daksha Jain
The space between the lines...The pause between the speech. I seek reflection within the content. Won't leave you bewildered but surely you will find something to contemplate.