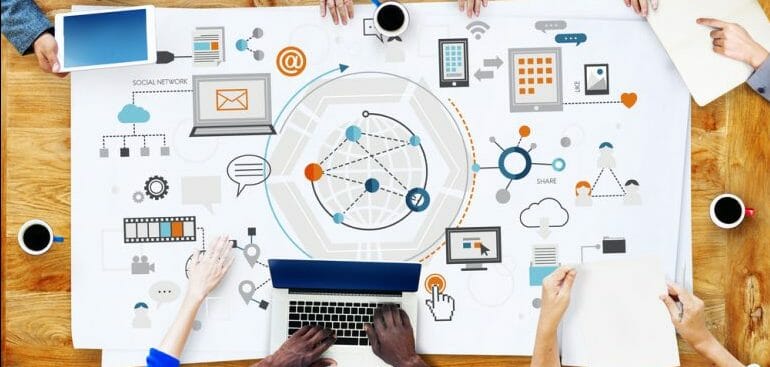 Collaboration Technologies for Productive Teams in 2020
One of the most important (and popular) skills managers today have to learn is having their team collaborate effectively. From online meetings to sharing files, tracking tasks, monitoring timelines and sending out messages, there are simply too many things going on in a modern workplace.
Managing it all can be a very daunting task.
Luckily, modern technology has lived up to the challenge, and there are many collaboration tools available that can take care of the various processes that go on at a typical workplace. Teams need to talk to each other, share resources, assign tasks, and monitor progress. It is important that all this collaboration is made as effortless and effective as possible for maximizing the productivity of your company.
In this article, we will take a look at some of the most popular and effective collaboration technologies for productive teams in 2018.
Communication
The most important aspect of team collaboration is communication. Unfortunately, a lot of teams are still using emails to communicate with each other. Imagine how much time is wasted reading unwanted emails, crafting replies, waiting for responses and making sure everyone concerned is CCd in. There are many great tools that can improve this process.
1. Slack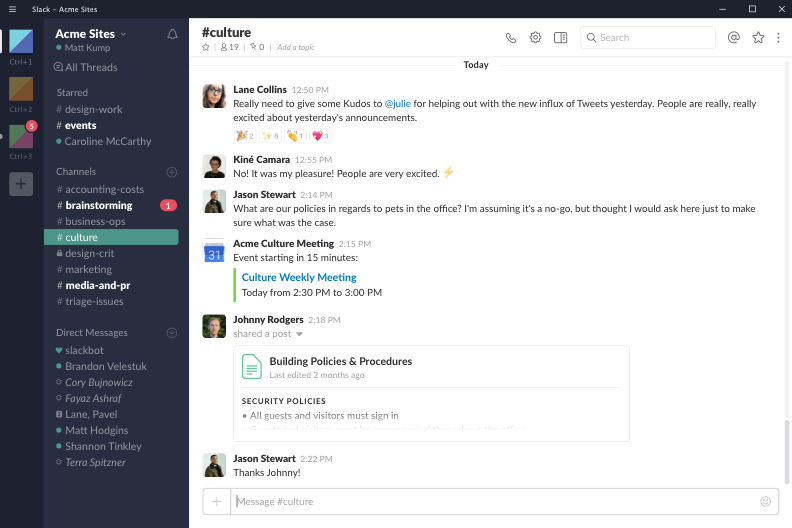 Slack is currently the tool of choice for many offices today for their collaboration needs. It is fast replacing Skype for instant messaging within the workspace. Slack provides a channel-based approach to team communication.
One of the best features of Slack is its ability to integrate with dozens of other well-known software. For example, if you want to share files with team-mates, there is Google Drive integration available that can back files up to your cloud drive. You can integrate your Calendar into Slack, and have the Slackbot remind your team of upcoming events. Furthermore, Slack can also integrate with tools such as Timedoctor to provide alerts when a team member has started working.
The best part is, Slack is free with search functionality for only up to 10,000 messages, which makes it one of the best must-have collaboration tools in 2018.
2. Skype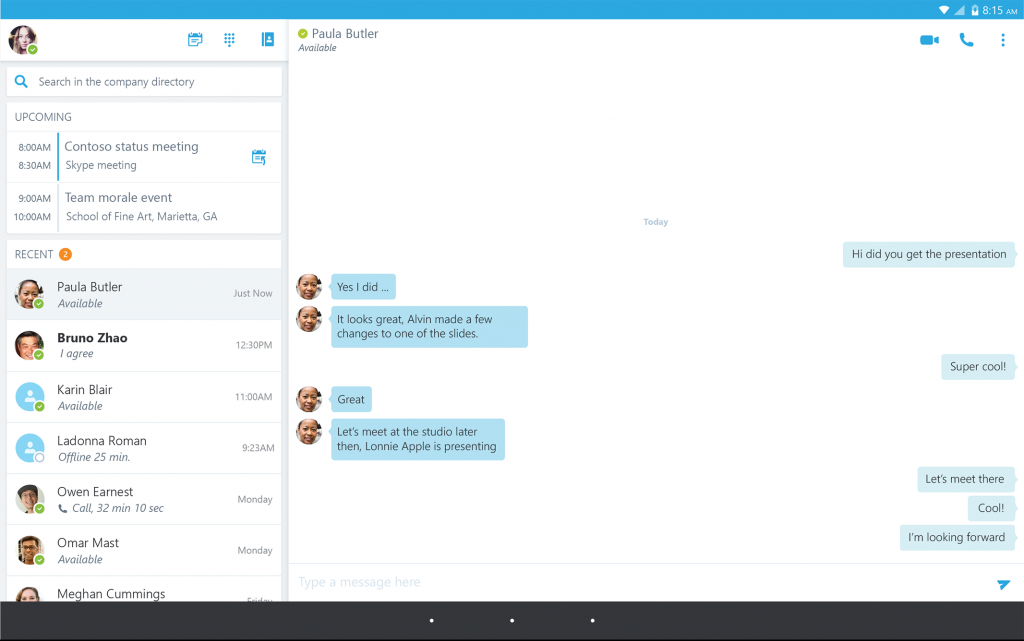 Skype remains the pioneer of voice/video calling and conferencing. It may not be as advanced as Slack, but Skype has been around for much longer and has worked on improving its call feature greatly. Slack also has a voice calling option, but it is not as good as Skype's.
Skype is also great for sharing your screen with teammates during a video call.
3. Yammer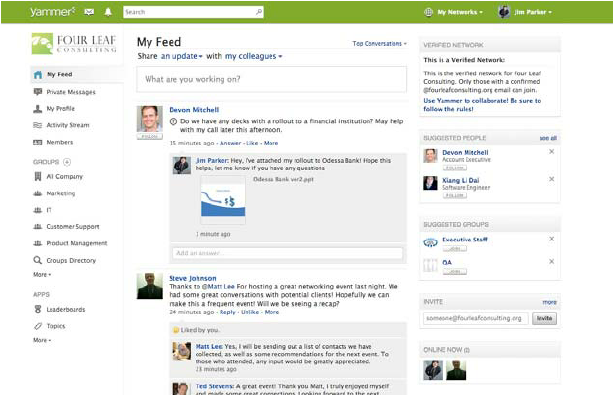 Yammer is a private social networking tool that can help teams collaborate amongst themselves across various departments. Designed for companies with a lot of employees, Yammer lets you create groups within it for specific teams. Employees can talk within these groups or globally. A post is exactly like a Facebook update, which may be set to global or restricted to a specific group.
Tools such as Yammer contribute to building the overall environment and culture of your organization.
4. HeySpace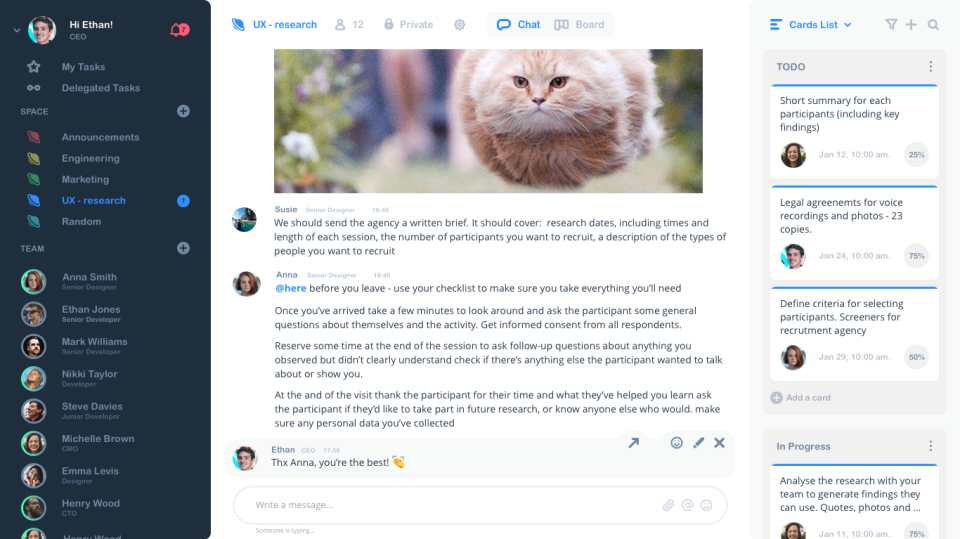 HeySpace has an interface very similar to Slack, but while Slack focuses on messaging and communication, HeySpace turns towards team communication, task collaboration and basic project management. It is a great, simplistic UI that is easy to use, and provides a lot of features for free. As such, it is a perfect tool for startup companies.
Design
No matter what type of industry you work in. If you work at an office, chances are that you will work with, or will need to communicate with people who work with, design tools. Teams need to create flowcharts, presentations, graphics, explainer videos, demonstrations, and so on. Here are some great collaborative design tools your team can benefit from.
5. Sketch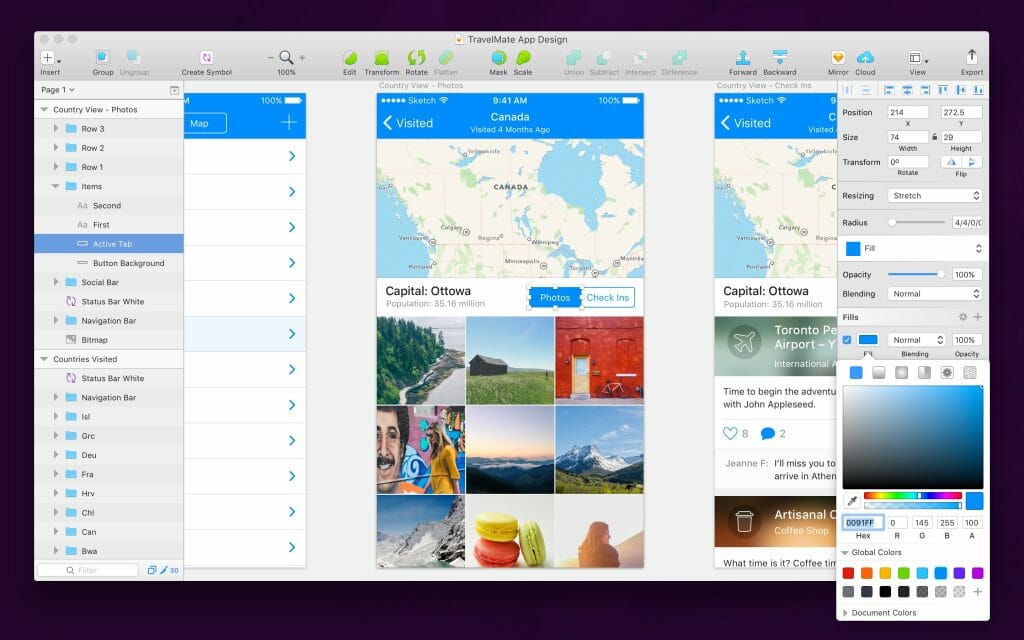 Sketch is a very popular app used by UX designers for deliverables. Its real power lies in reusing design elements that a designer has once created, so you don't have to repeat everything again. Sketch is a pretty intuitive design application.
Another major advantage to using Sketch is that its files can be version controlled using third-party platforms such as Abstract. This allows you to easily keep designs backed up with their edit history maintained, allowing your team to seamlessly collaborate over design files.
6. InVision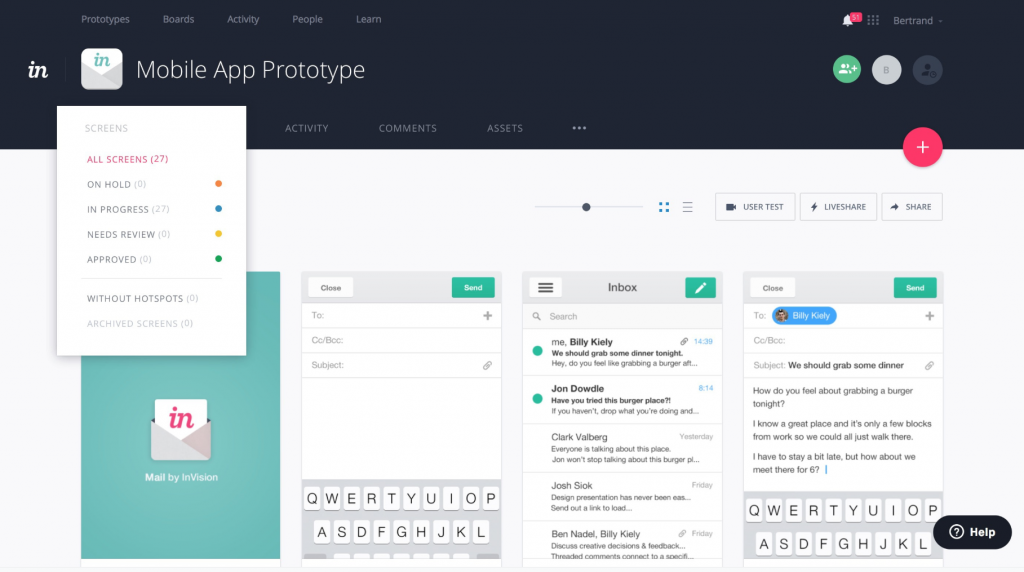 InVision is a professional grade prototyping tool that allows teams to create designs and bring them to life through interactive elements such as button clicks. Designers can get feedback from colleagues and customers from within InVision. All your projects are managed from a single dashboard, and you can also integrate two projects to create one seamless design experience.
7. Draw.io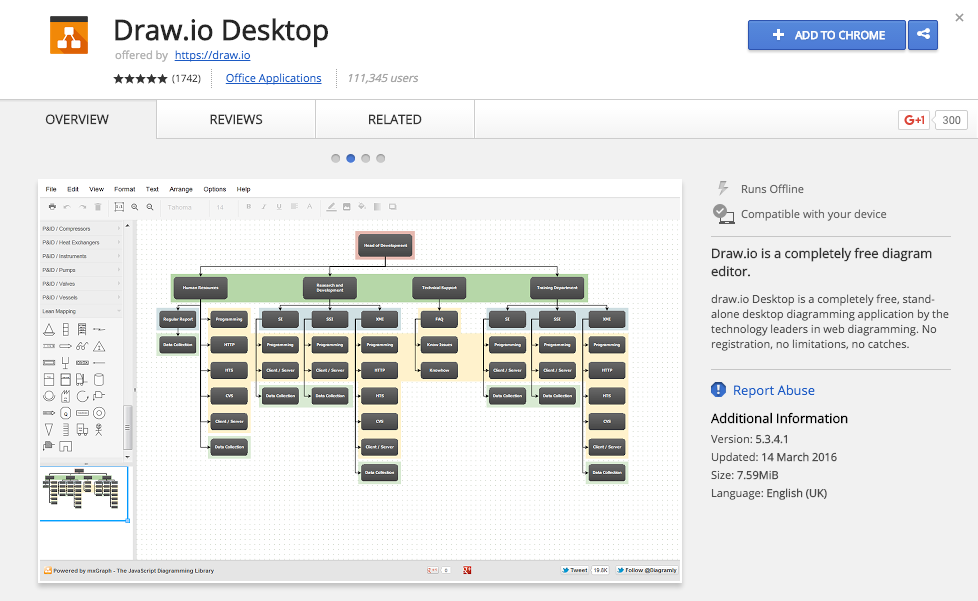 Draw.io is a great free tool for creating flowcharts, diagrams, software artifact drawings, illustrations and so on. It seamlessly integrates with OneDrive or Google Drive, allowing you to create as many drawings as you want for free. The user interface is pretty intuitive and allows designers to quickly create wireframes or flow diagrams for demonstration purposes.
Documentation
8. Office Online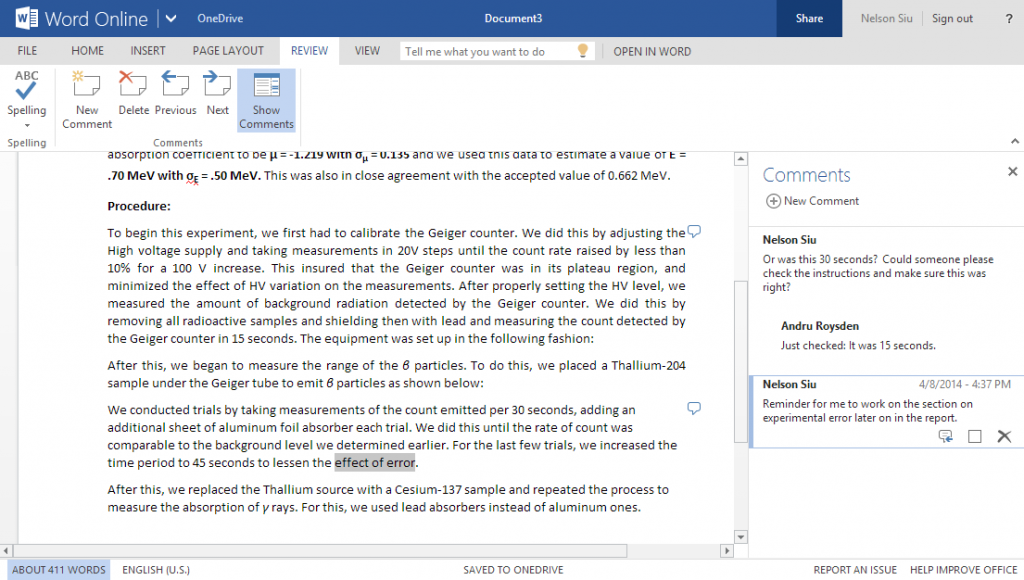 Microsoft Office is hands-down the best Office suite available in the market right now, and Microsoft Word and Excel are subsequently the most used tools for creating documents and spreadsheets respectively. Office Online takes things online, where you don't need to have Microsoft Office installed on your computer, and multiple people can work on a single document at the same time.
If an Office document is shared with two people, and they both have OneDrive sync enabled, they can make edits right into their Office applications (Word, Excel) simultaneously, and each would be able to see what the other is doing.
9. Google Docs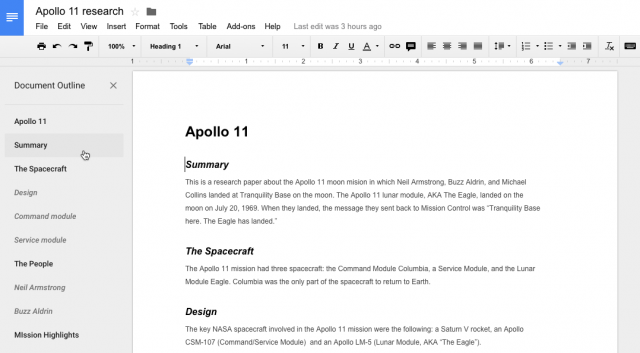 Google Docs is one of the most convenient forms of sharing documents online. Although not as advanced as Microsoft's Office suite, Google Docs does allow quick creation of documents, spreadsheets and presentations. Furthermore, document sharing is extremely simple and easy, and just like Office Online, multiple people can work on the same documents at a time in Google Docs.
10. Dropbox Paper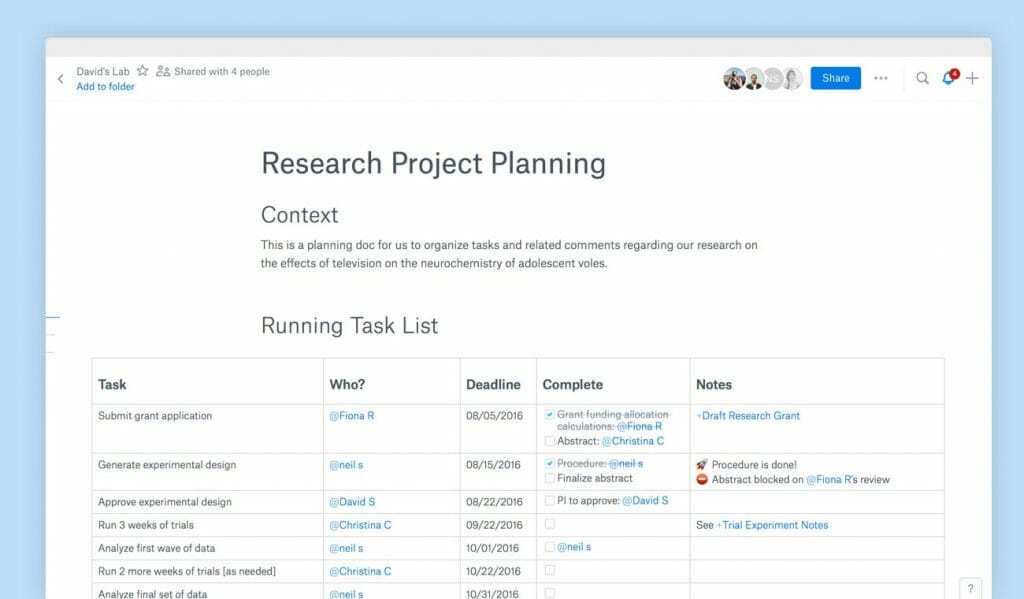 Dropbox Paper is an offering by Dropbox that allows teams to work in real-time alongside each other on documents, spreadsheets and so on. Paper is free for Dropbox users, and since there are so many Dropbox users out there, they can immensely benefit from using it as a collaboration tool.
11. Evernote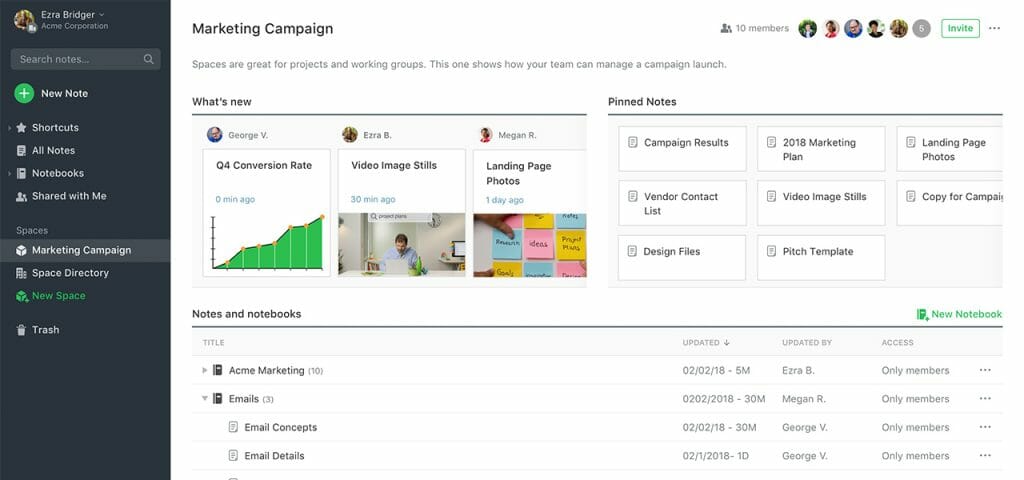 Evernote is one of the best note-taking applications available on the market. You can use it to take notes, make to-do lists, draw sketches, jot down ideas, and then share with your team. Although not a professional documentation tool, Evernote is excellent for sharing ideas and concepts, and organizing your tasks.
File Sharing
Sharing files is another regular activity that goes on around a modern workplace. With the plethora of cloud-based tools now available, you'd think that the good old days of sharing files over physical media (CDs, hard drives, USBs) are long gone. But unfortunately, not so for many offices still.
There are many tools for file sharing that should make you let go of physical drives once and for all.
12. OneDrive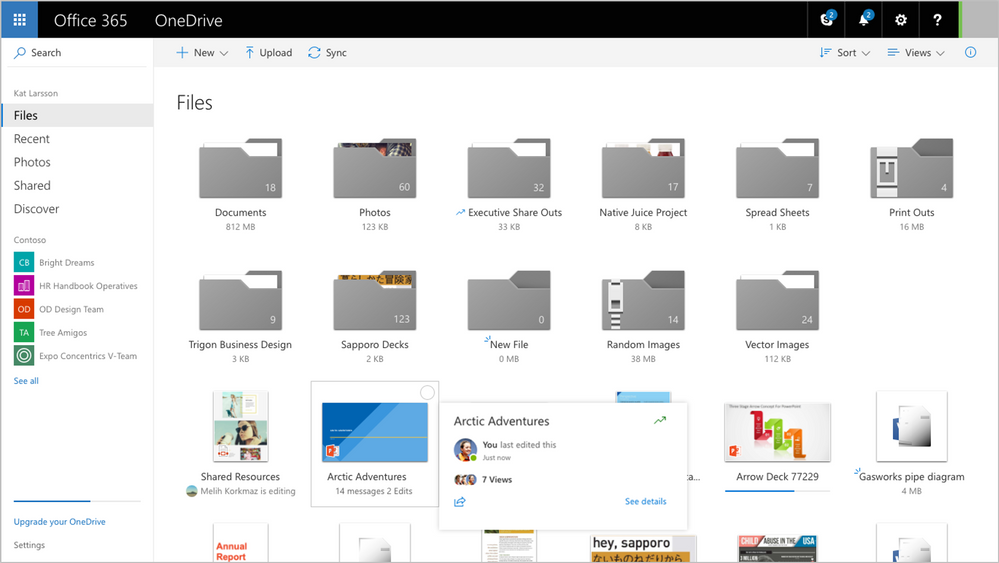 OneDrive by Microsoft is one of the most popular cloud storage services that is known for its security and reliability. Although many competitors exist, such as Google Drive and Dropbox for file sharing, Microsoft OneDrive has the edge as it comes pre-installed with Windows 10, and furthermore allows Microsoft Office document sharing seamlessly.
OneDrive provides 5 GB of free space to everyone. However, you can extend this by 50 GB by paying $1.99 per month.
13. Dropbox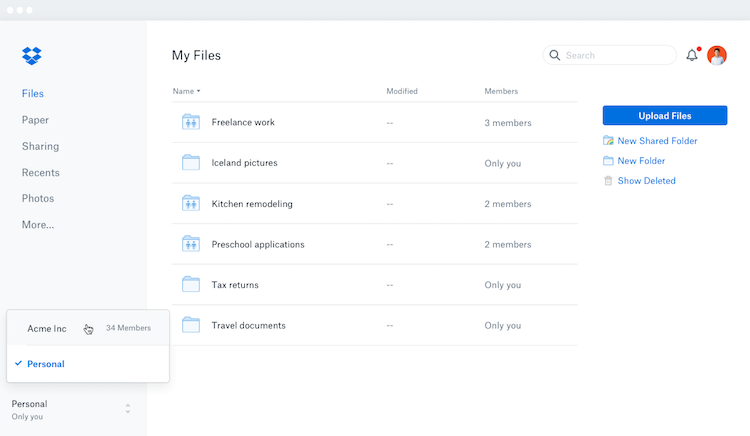 Dropbox is a pioneer of cloud storage and has over 500 million users worldwide. It comes with a humble 2GB of storage space, but you can extend this by referring new friends to use the service, up to 18 GB in total. Dropbox has one of the best performing sync-client for Windows and is recommended for sharing large files with teams.
14. Mega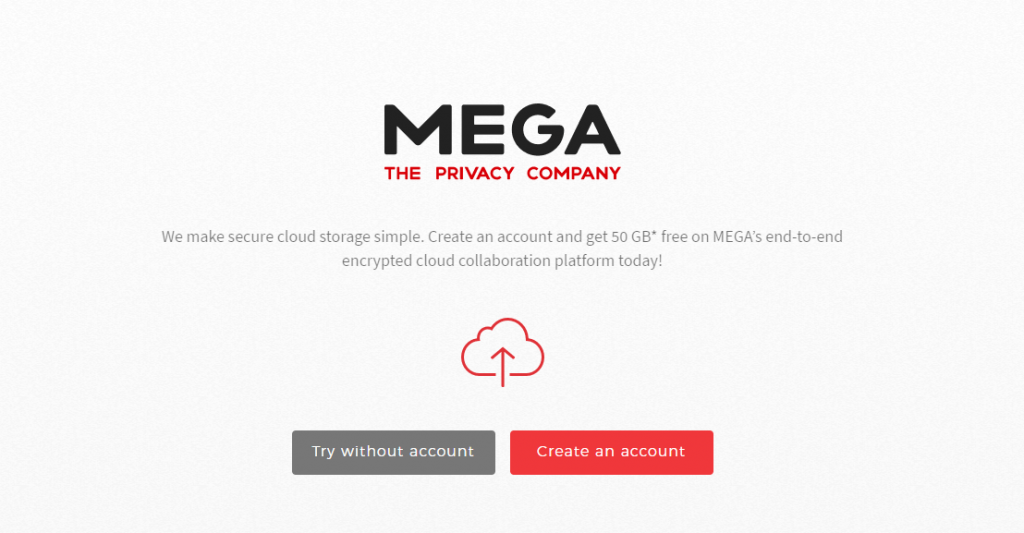 Speaking of large files, Mega has the best free cloud storage offering, giving you 50 GB of space for absolutely free. It incorporates state-of-the-art encryption as well to protect your data. Mega is ideal for sharing very large files, or lots of files, with team members when Dropbox and OneDrive fail due to their lack of storage space.
Project Management
Project Management is key to running the office like a well-oiled engine. Many managers still prefer the old-school ways of doing things, involving the use of notebooks, sticky notes and burndown charts on the white-boards that never seem to go down. These are, of course, from among the 'good' lot of managers, because many more don't follow these standard managerial practices.
Project management tools can help managers, good and bad alike, to improve their management skills, utilize their team resources more effectively and keep the team satisfied. In turn, team members find it easier to follow the lead when everything is structured on a given project management tool.
15. Asana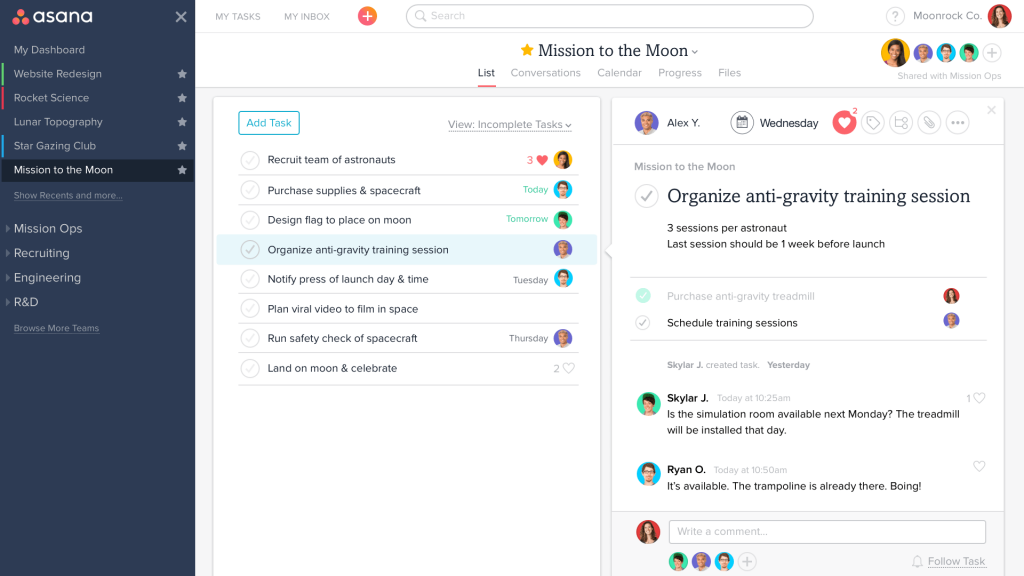 Asana is a very popular project management tool that allows teams to track their activities and progress. Managers can create and assign tasks, set deadlines and monitor team progress through the dashboard. Team members can also delegate tasks, work off a calendar, communicate with other team members and more.
Asana is free for up to 15 members, with basic dashboards and search functionality. The subscription costs $9.99 per user per month.
16. Jira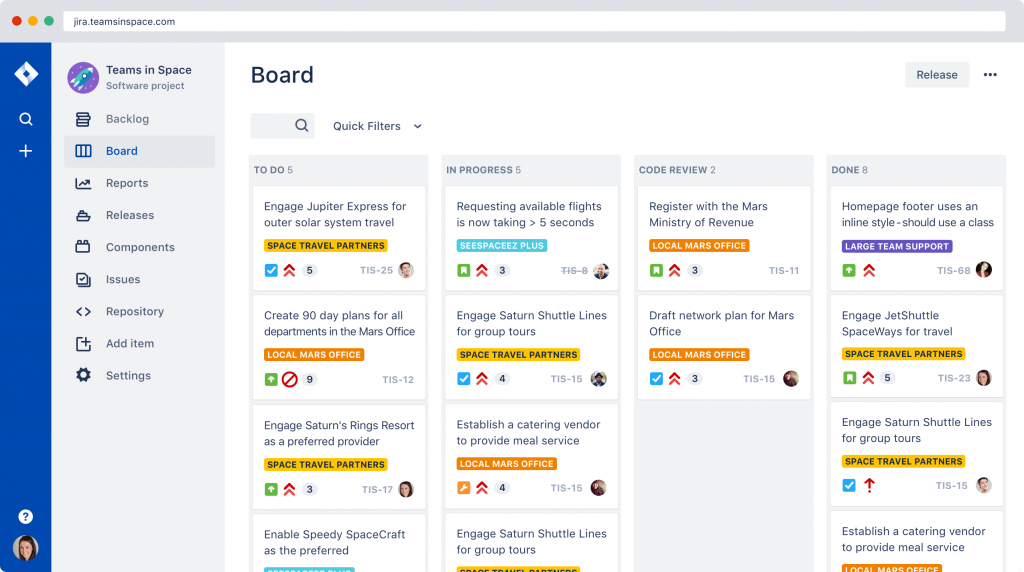 JIRA is an extremely popular, and a very powerful tool for agile project management. It has all the features you'd expect: task tracking, reporting, real-time insights, road-maps and more. JIRA can also be used for automating software quality assurance, which is a big reason why most major IT firms use it for their agile projects.
JIRA offers a free 1-week trial. However, it costs $10 per month for up to 10 users. For 11-100 users, the cost is $7 per user per month, which can get quite expensive.
17. Orgzit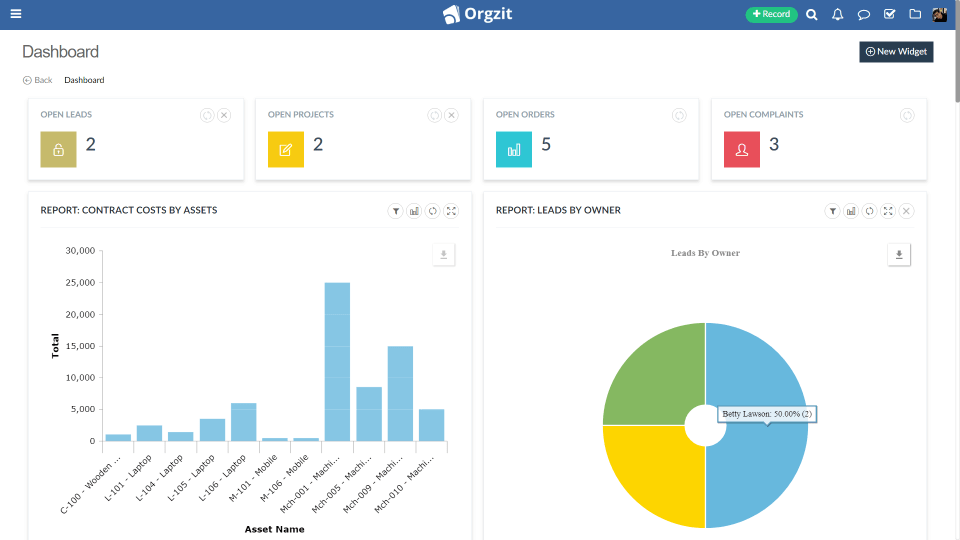 Orgzit is a powerful, all-in-one cloud-based platform for task management and team collaboration. It is built with the purpose of boosting productivity within an organization. Starting off, Orgzit provides ready-to-use launchers that can fit the needs of any business.
The built-in CRM provides powerful customization options and gives advanced insights and analytics to help grow your business. Furthermore, you can leverage features such as Finance & Accounting, Project Management, and many more.
Orgzit is a cost-effective solution for businesses of all size. It starts off with a subscription fee of $8 per user per month for small teams and $15 per user per month for mid-sized teams (20 and above). If you're an enterprise, you can negotiate directly to get a quote that suits your needs.
Source control (software)
One of the most crucial parts of writing code and developing a software is version controlling. It allows teams to 'save' their progress over time in a way that if there is a mess up, later on, the most recent "good save" can be restored again, and the process can continue without losing much time or effort. It also allows developers to independently test their code and experiment with the code base without messing things up for others.
Source control, or version control, is something that is extensively used in the software industry but can also be adopted by other industries. After all, no one likes to have files that end up with names such as "final_draft_03.docx" or "logo_v7_edit5.psd", right?
18. GitHub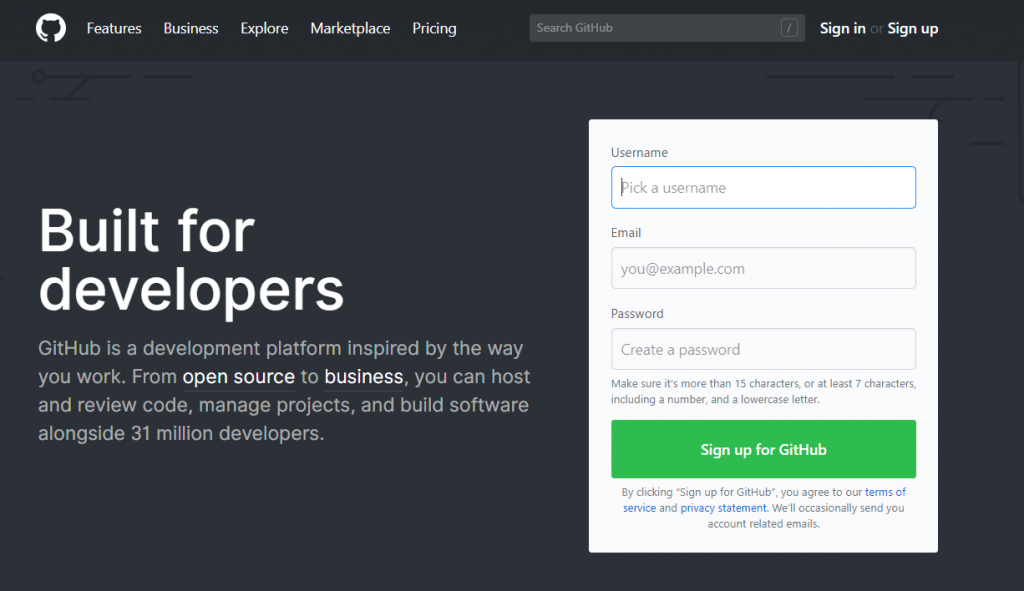 GitHub is the most popular code hosting repository on the internet, hosting more than 10 million software projects. It is based on the open-source version control framework known as git.
You can use GitHub to keep all your code files and documents backed-up. It will maintain a history of each file, so you can track exactly when someone made what changes to a file.
GitHub offers you to set up as many free repositories as you want. These repositories, however, are public and you will have to pay for a subscription in order to get a private repository.
19. BitBucket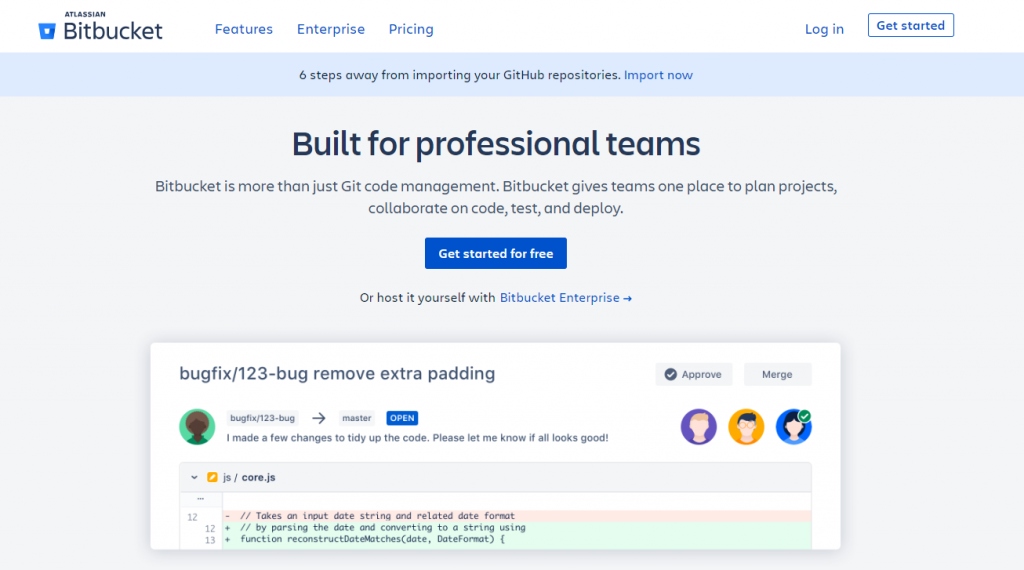 Just like GitHub, BitBucket is a git-based version controlling platform that can keep all your code safe and backed up. They follow a different business model, however.
BitBucket allows you to set up to 5 repositories as private for free. If you want more repositories, you will have to pay for a subscription.
So, when version controlling, if you want your code to be publicly available, go for GitHub. But if you want it to be private, but don't want to pay, BitBucket is an excellent alternative.
20. Abstract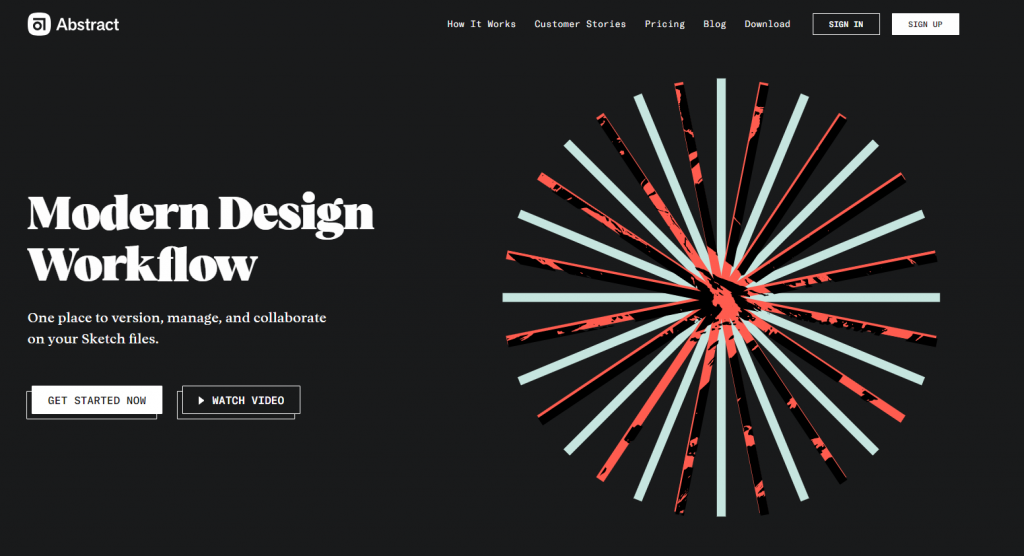 Version control systems such as GitHub work really well with text-based files, but they're not designed for binary files, i.e. images, videos, encrypted documents etc. That's where Abstract comes in. It is a version control platform for designers.
Abstract provides version controlling for Sketch files, and designers can use it conveniently without having to run commands through a command line.
Conclusion
At the end of the day, a good collaboration tool is one that provides integrations with other software and makes your life easier. It doesn't have to have a ton of features; it just has to do what it does, best. Always look for tools that are as simple to use as possible, because every few seconds wasted by a team member trying to figure out the tool is precious team productivity wasted.
So, which are your favorite team collaboration tools? Let's see how many of you agree with our list!
Nitin Verma
Co-Founder, Orgzit.com Helping businesses grow fast with customized software for collaboration and workflow automation.
Connect with me on LinkedIn