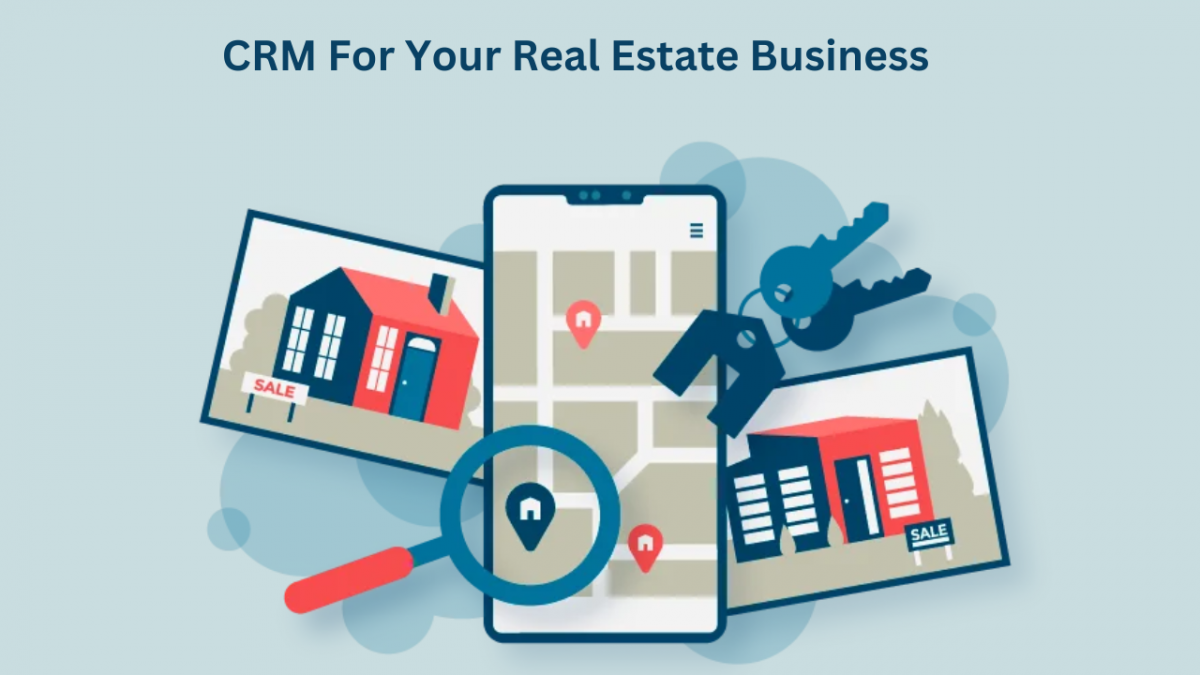 How a CRM can Revolutionize Your Real Estate Business?
In the present competitive real estate market, real estate agents need a comprehensive and efficient tool to manage customer interactions. A Customer Relationship Management (CRM) system is an essential tool for real estate agents to manage their relationships with potential and existing customers.
A CRM system is an excellent choice for small and medium businesses (See Orgzit's CRM system) to manage customer interactions and enhance sales processes with sales teams of fewer than 100 people. A CRM system can revolutionize real estate agents' operations by providing a centralized platform to get customer data.
Before diving into the benefits of a CRM system for real estate businesses, it is worth noting that implementing the right CRM system can significantly improve sales processes and team productivity by up to 2x. Visit Orgzit to see our real estate CRM system.
Now, let's move on to understand what a real estate CRM is.
What is a Real Estate CRM?
A customized CRM software platform for real estate professionals can easily align everyday business processes. Such a system automates features like managing leads and contacts, uploading documents, tracking lead generation campaigns, accessing real estate trends and websites, and managing calendars in one integrated cloud-based platform.
This technology provides agents with the flexibility to work from anywhere and communicate more effectively and personally with customers.
Here are a few benefits of real estate CRM.
By using a Real Estate CRM system, businesses can easily arrange all communication and property details in one particular location.
This allows easy access to relevant information regarding buyers, leads, sellers, and tenants, including links to their properties.
The Real Estate CRM software also simplifies the renting, selling, and buying processes by managing all third-party stakeholders and interested parties.
It helps track marketing, interest, and promotions for properties and interactions.
How Can Realtors Use Orgzit Real Estate CRM?
With Orgzit's user-friendly system, realtors can easily access data from anywhere and anytime to track transactions, deals, and contracts, Let's explore them how!
A CRM system not only helps to increase efficiency and productivity of your industry, but also provide you to how well real estate business is doing so that strategical and analytical both changes can be made accordingly to the outcome.
So,5 functions you can achieve in your real estate business with Orgzit CRM:
With our CRM, realtors and real estate agents can easily access information that allows them to represent their customers in the market and realtors can better align their potential customers with ideal properties by getting to know their buyers', sellers', and tenants' desires and budget, increasing profits and satisfaction rates.
With our CRM, real estate admins don't need to worry about the complexities of managing their business from continuously adding properties and setting up customer interactions to property management.
With our CRM technology, property, and marketing teams can quickly find the most beneficial properties to invest in. They can specify their messaging strategies by segmenting different audiences for more effective campaigns to drive leads and their maximize returns.
Our CRM is a best to provide sales and close teams with the resources to stay informed about all audiences involved in their process.
Plus point, it also simplifies interactions between third parties for stressless user experiences and keeps your business compliant with real estate laws by organizing documents needed for contracts and signings.
Customer service and support teams can use CRM systems to help customers with personalized responses, keeping them updated about transactions, answering their queries, and resolving their problems.
Benefits of Using Orgzit CRM in Real Estate System
How real estate CRM systems can assist both realtors and customers, it is essential to highlight the top benefits of utilizing a real estate CRM system.
Data Input of Buyer and Seller
Manual collection of contact information, activity, and communication can be tough task and time-consuming. Still, real estate CRM software can automate this task, saving valuable time and efforts.
Complete Visibility of Sales Funnel
Managing potential customers or sellers can be challenging. Still, with CRM, it becomes simpler to track the progress of each contact and determine the necessary steps required to advance them to the next funnel stage automatically. This enables realtors to stay on top of their leads.
Property Details
A real estate CRM system assists with not only managing contacts but also gathering and organizing comprehensive property information. Realtors can provide potential buyers with all available property details when required.
Customer Insights
Real estate CRM systems can store all customer meeting information as notes, readily accessible with just a button. This ensures that realtors are always provide a personalized experience to customers.
Follow-ups & Reminders
Our CRM systems also assist in monitoring messages and reminders to follow up with new leads or check in with existing customers. This ensures that realtors don't miss any contacts or opportunities to close the deals.
In-depth Analysis
Realtors can utilize all this in our real estate CRM system to understand where deals may falter, how long a sales cycle may take, or which activities are more profitable. This allows them to track and analyze what is working and make informed decisions.
10 Features of Orgzit Real Estate CRM
Some of the features that Real Estate CRM should have are listed below:
Deal management
A real estate CRM monitors deals through each sales cycle stage. This feature should provide guidelines for the system to move seamlessly from the initial to the final stages of the sales cycle. This feature lets real estate professionals stay on top of their deals and make informed predictions for successful outcomes.
Lead management
Orgzit offers agile Lead Management software to help businesses eliminate lead leakage and boost revenue. Businesses can use Lead Management Software to track a person's interactions and experiences with a company.
Orgzit's lead management system captures leads from various sources such as websites, email, Facebook, Google, lead providers, and referrals.
Lead Nurturing
The lead nurturing system offered by Orgzit includes a feature that allows for the auto-qualification of leads based on quality score criteria. This feature ensures that only the most promising leads are passed on to the sales team.
Reports and dashboards
A visual representation of activities is essential for making informed decisions, and a real estate CRM should have a dashboard and reports feature to provide such representation. The dashboard should display revenue metrics grouped by area, agent, and property activity, giving stakeholders an overview of their performance. Schedule a demo to see these features in Orgzit's CRM.
Listing to meeting Ratio
Avg Commisiion per Sale
No. of Properties Advertised per Real Estate Agent
Sold Homes Per Available Inventory
Year overr Year Variance of Average Sold Price
Real-time communication
Incorporating chat or click-to-call options in a real estate CRM system can significantly enhance communication between buyers and sellers, which is essential for ensuring customer satisfaction.
These options enable realtors to conduct online auctions, make video calls, and offer other online services. With these features, brokers can promptly respond to clients' requests, offer advice, and even share documents.
Multichannel sales
Real estate agencies that provide a wide range of services should consider incorporating a multichannel sales feature in their CRM system. In addition to facilitating independent home value assessments, a real estate CRM can assist in home buying and selling transactions, and offer consulting services.
A multichannel manager is a valuable tool that can integrate different ecosystems to complete sales scenarios efficiently. This feature allows users to create sales models with their stages and import or export data.
Document flow automation
A real estate CRM should include a document flow automation module to simplify the document management process and reduce the time required for creating, approving, and sharing documents. This module should offer predesigned document templates that are easy to share within the system, enabling users to reduce the volume of paperwork.
Mobile CRM
With the rise in mobile traffic, having a mobile-friendly real estate CRM solution is crucial. Off-the-shelf CRM systems like Zoho offer mobile apps that provide a seamless user experience. Alternatively, a web app can be developed for any device, providing features such as emails, card scanning, templates, follow-ups, reports, meeting schedules, etc.
Field Sales Management
Orgzit offers a Field Sales Management tool to help businesses track and manage their field sales teams more efficiently. With this tool, businesses can assign tasks to their field team and collaborate with them in real time, enabling them to close deals faster. The Field Sales Management tool provides businesses with greater visibility into the activities of their field sales team.
Integration with other tools and apps
Integrating your real estate CRM system with third-party products such as MailChimp, Google products, Magento, and others can expand your audience by attracting those familiar with these tools. It is also crucial to consider the user portal, a central hub for all users to schedule meetings, share documents, and monitor transactions.
In addition, providing customization options such as themes, colors, fonts, avatars, logos, and more can make the CRM system more visually appealing. Proper integration with third-party products and a well-designed user portal can contribute to the success of your real estate business.
List of Apps in Orgzit CRM
Real estate CRM has various apps that help you get your business operations on track. Some key apps in real estate CRM include:
The Billing Entity app in real estate CRM allows you to manage client invoices. You can create invoices, and track overdue balances. This helps you to stay on top of your finances and ensure that you get paid on time.
The City Area app in real estate CRM allows you to manage properties by geographic location. You can organize your properties by city, neighborhood, or other geographic criteria. This makes it easy to find properties in specific areas.
The Associate app in real estate CRM lets you track your team members and their roles. You can assign agents to specific properties and manage their commissions.
In a real estate CRM, the Contacts app can help businesses to organize their contact information.
The Properties app in a real estate CRM can provide businesses with a centralized database of property listings, allowing them to track property details such as location, price, and status.
The Lead app in a real estate CRM can help businesses generate new leads by capturing contact information from potential customers and tracking their interests and activities.
The Interaction app in a real estate CRM can provide businesses with a comprehensive view of client interactions, including emails, phone calls, appointments, and other activities, enabling them to understand their client's needs and preferences better.
The Transactions app in a real estate CRM can manage financial transactions, including sales, purchases, and other financial activities, providing them with accurate and up-to-date financial information.
Key Use Cases For Real Estate CRM
Below are some of the key use cases of real estate CRM.
Manage clients and properties from one place.
Real estate CRM enables you to collaborate with associates and simplify deal sharing. You can share relevant information with your team members, such as property details, client information, and deal status, and keep everyone on the same page. It improves communication and helps to close deals faster.
Create tasks for important checklist items
Real estate CRM tracks transactions related to each property. It includes all client interactions, offers and counteroffer details, inspection reports, and other important information. You can access all this information in one place, which helps you to make informed decisions and stay on top of your deals.
Automatically notify agents when a new lead is assigned to them.
Real estate CRM can automatically notify agents via email or SMS when a new lead is assigned to them. The CRM can also be configured to assign leads based on certain criteria, such as location or property type, improving the chances of matching the right agent with the right lead.
Manage collaboration with associates to simplify deal sharing.
Real estate CRM enables you to collaborate with associates and simplify deal sharing. You can share relevant information with your team members, such as property details, client information, and deal status, and keep everyone on the same page.
Track and manage all interactions & transactions related to each property.
Real estate CRM counteroffer details, inspection reports, and other important information. You can access all this information in one place, which helps you to make informed decisions and stay on top of your deals.
Attach files to manage activities related to each application.
Real estate CRM enables you to attach files and discuss all activities related to each application. You can upload and store important documents such as contracts, agreements, and inspection reports and discuss them with your team members.
Automated emails and SMS based on automated rules
Real estate CRM can send automated emails and SMS based on automated rules. For example, when a new lead is assigned to an agent, the CRM can automatically send a welcome email or text message. This saves time and ensures that your leads receive timely communication, which can improve your chances of converting them into clients.
Track agent performance and revenue growth
Real estate CRM allows you to track agent performance and revenue growth. You can view reports on the number of deals closed, the commission earned, and other important metrics. You can identify areas for improvement and reward top-performing agents with CRM. It also allows you to make data-driven decisions to improve your business operations.
Real Estate. Real Results. Real Growth With Orgzit
The modern approach toward CRM systems in real estate can help minimize problems related to human errors, such as missed appointments, lost client information, and miscommunication between team members.
Orgzit's real estate CRM system is the best option for businesses with a complex sales process that cannot be managed using off-the-shelf CRM systems. Its fast customization and team adoption capabilities enable businesses to tailor their CRM system, resulting in real results.
Real estate agents implementing Orgzit's CRM system can quickly experience real results. Additionally, Orgzit's straightforward and transparent pricing, with no expensive consulting costs, makes it a cost-effective solution for businesses of all sizes.
So, why wait? Book a demo today!
Tags In