Serving as a major stockist for one of India's largest and most trusted milk and dairy product brand, Paras Dairy, our client Real Time Enterprises (RTE) is a link between the producer and distributors across the region. For Paras Dairy to reach every household, RTE plays the key role.
Challenges in large daily distribution
Being stockist for a leading brand, RTE has a busy day managing orders, delivering and keeping records for over 40 distributors. The day begins with loading trucks piled with milk packets in accordance with orders placed by distributors twice a day, all coordinated using traditional tools such as phone calls, e-mails, and WhatsApp. The milk packets are then routed to 5 different distribution hubs for further distribution to the specified distributors based on their requirements. At the end of the day, manual collection of payments was done from each distributor based on manually generated invoices.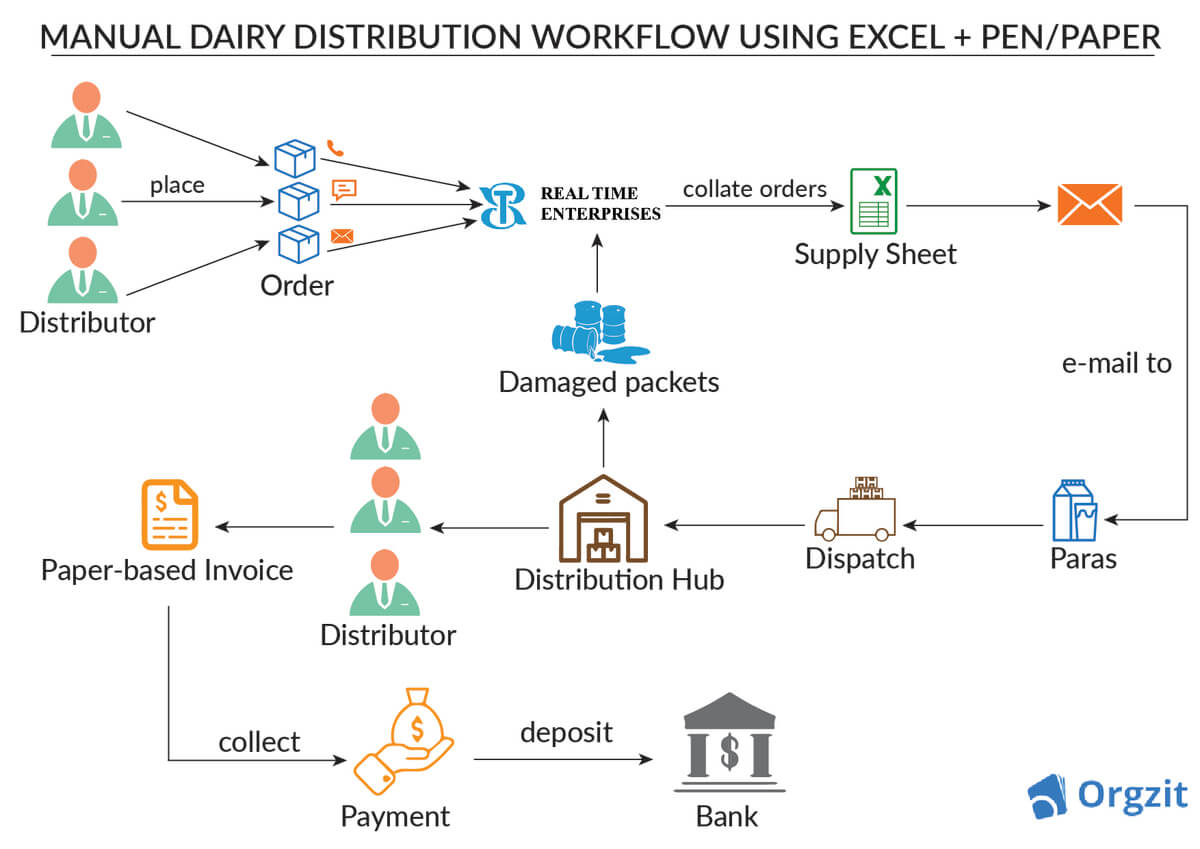 As business grew, these operations led to many challenges:
RTE used paper and Excel-based formats throughout their operations workflow. This made the entire process extremely slow, tedious and error-prone.
Orders are placed by the distributors twice a day. The orders received by RTE were then manually consolidated for further processing and placing the bulk order to Paras.
During the transit, milk packets get damaged and a systematic record of such packets was not being kept.
On a daily basis, 80+ invoices had to be manually prepared based on the orders placed by the distributors and then tallied against the actual material supplied. The daily manual grunt work didn't stop here, as a team of payment collectors had to physically hustle at the end of each day to collect payments from each distributor's doorstep.
Managing cash payments each day also incurred the company an extra charge from the bank of over $10,000 for cash handling.
For the management, it was nearly impossible to track business performance, such as region-wise product performance or incentive scheme effectiveness, from the scattered Excel sheets generated every day for each distributor.
Orgzit's Cloud-based Collaboration Tool Streamlines Distribution Processes
To deliver value for a leading brand like Paras Dairy, RTE was searching for an adaptable, cost-effective and sustainable solution for easing their operational workflow and their search ended right here, at Orgzit.
Orgzit's powerful award-winning no-code platform allows businesses to create process specific applications that link multiple data sources and present powerful reporting dashboards quickly. The team at RTE found that Orgzit had the right capability for its distribution management needs.
Streamlining the operations workflow saved employees 500+ hours each month. In turn, saving the firm $25,000 every year.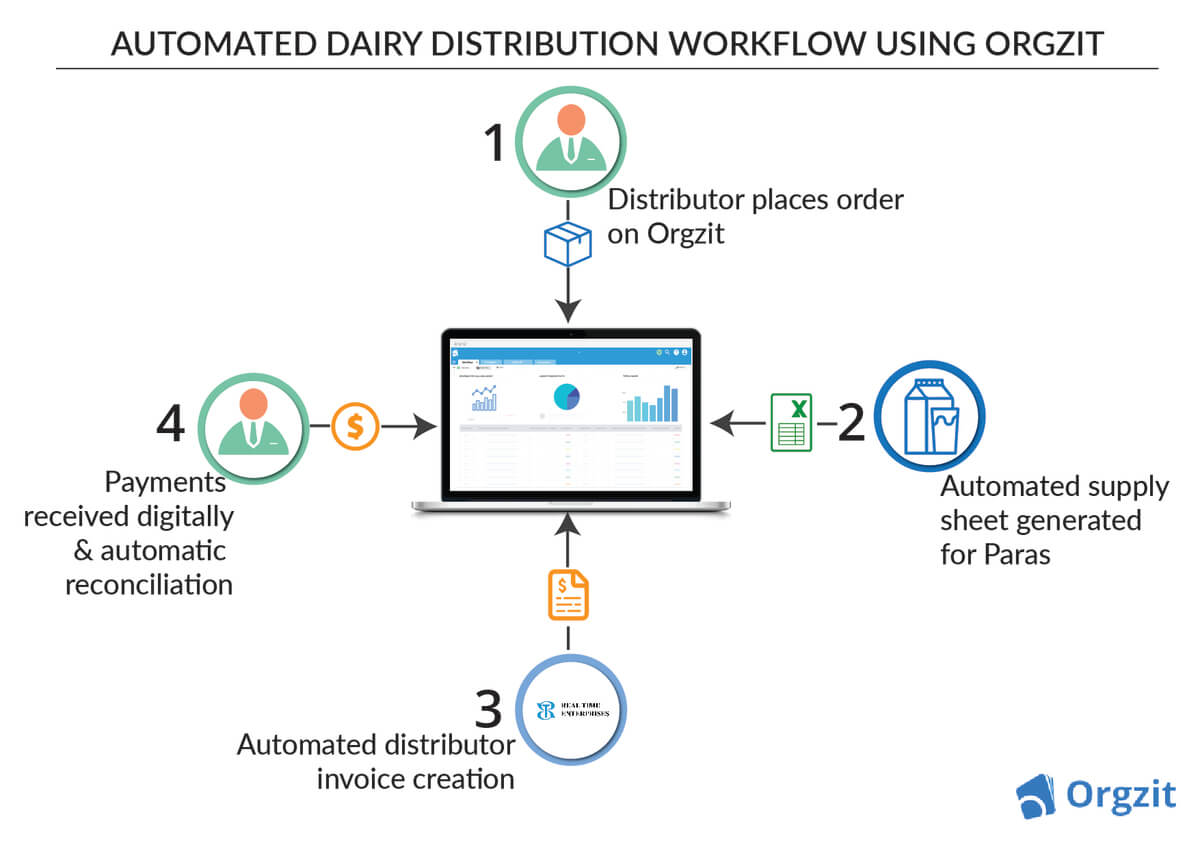 With Orgzit, orders are placed and recorded automatically on a single dashboard making it easier to manage the load of orders placed twice a day and tracking of the entire process has become easily manageable.
A record of leaked milk packets is maintained every day using the mobile app provided by Orgzit.
Manually prepared invoices have been replaced by automated and digitized ones, reducing errors and saving 260 hours of the accounts team members who were earlier dedicated only for this task.
The manual labour of doorstep cash collection has been eliminated by enabling RTE to collect payments from the distributors digitally, not only reducing the time spent collecting payments but also doing away with the extra bank charges of over $10,000 per year.
The centralized database accumulating details of each product and distributor enables the management to evaluate the regional performance of different products. Also, business trends and performance for each distributor can be easily done now.
The real-time access to information on a single dashboard regarding distributors and related business trends has empowered the company to take estimated futuristic decisions.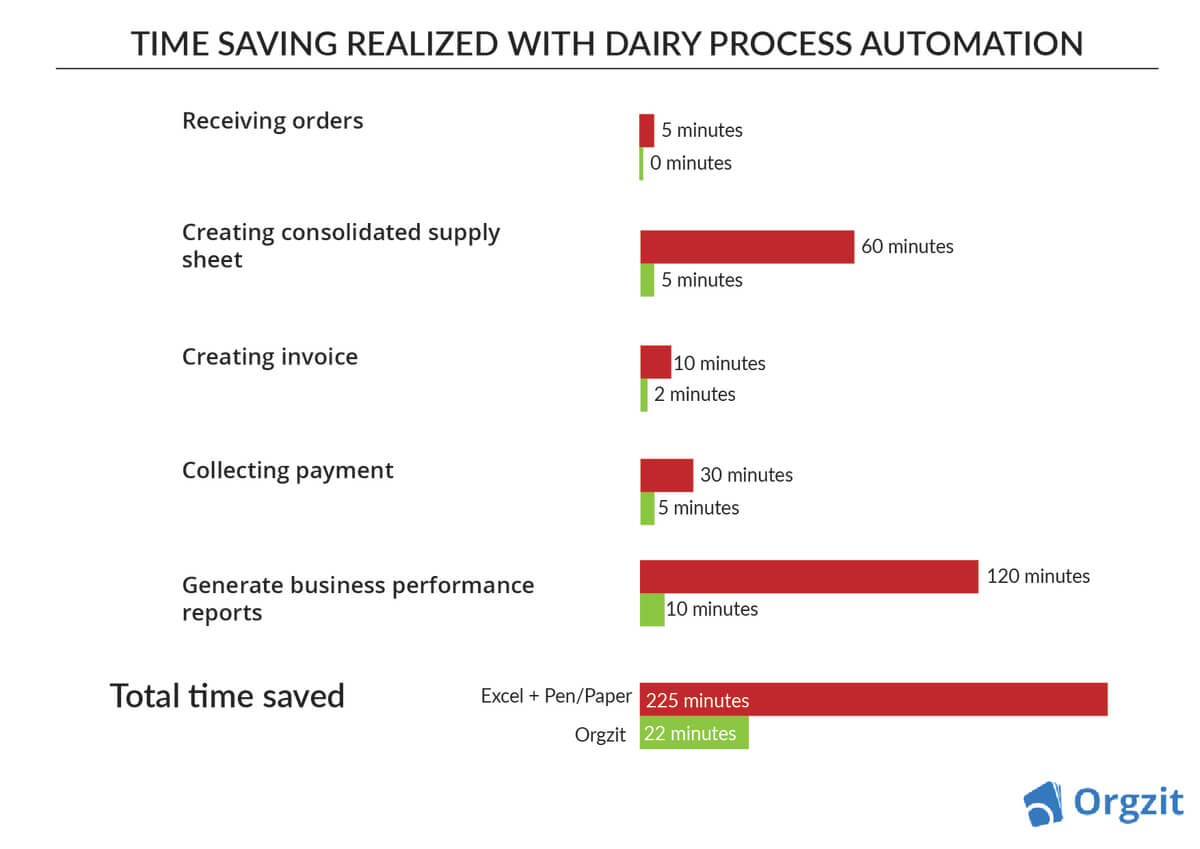 Real Time Enterprises is experiencing significant productivity gains in its operational workflow using Orgzit. The workflow is now smooth and the teams can focus on adding real business value than managing data all the time. This has also resulted in finding quicker remedies to problems faced on either side of the producer and distributors at any point in the operational channel. The results achieved were appreciated by the team at RTE by their words.

We love our streamlined processes and workflows and that deep insight — all of which has enabled us to significantly improve our productivity and our bottom line
Company Profile
RTE is a major stockist for the leading milk and dairy product producer, Paras Dairy. It deals with milk and various other dairy products produced by Paras Dairy. It works with over 40+ distributors across the region.
Paras has been an ancient pillar in the dairy industry since 1960 reaching every household of the country with its milk and quality dairy products with over 500 employees.
Paras has hundreds of village level collection centers covering 5400 villages in the northern and central regions of the country. It has a large production capacity located at 7 different locations across most parts of India is backed by an impressive distribution network, to ensure that the products find their way to every household in India.