Why businesses adopt a franchise model for growth?
One of the most common barriers to expansion faced by businesses is lack of access to capital – both financial and human capital. As an expansion strategy many business owners adopt a franchise model to accelerate their business growth. A well-executed expansion strategy through franchise model offers many advantages such as ability to leverage external capital, speed of growth, motivated management and risk reduction. To make the franchise model truly work for the business, one needs to ensure the development and enforcement of consistent and repeatable processes – from lead generation, to order fulfilment and invoicing to customer service. While many businesses adopt a franchise model, a large number of them are unable to fully realize the benefits of rapid expansion.
The challenges Beth Lifestyle faced while trying to expand their business through franchises
Beth Lifestyle Private Limited a modular home décor furniture brand in steel and stainless steel. After attaining product-market fit in 2014, Beth chose to expand through a franchise store model. As the number of franchises grew, the complexity of managing the lead generation and order fulfilment process exponentially increased for Beth. The sales and operations teams at Beth soon found themselves buried among multiple spreadsheets and email threads from their dealers and faced a growing number of dropped leads and customer complaints. As their dealership network expanded from 3 to 10 dealerships, they realized that all business units were working in silos, and their visibility into dealer processes started waning. The management team started questioning the validity of the franchise growth model as they faced the following key challenges that were hindering growth.
Collaboration between company and dealers: Since Beth sells products that are highly customized based on customer requirements, continuous collaboration among the dealers, sales, production, installation and after-sales service teams was critical to ensure customer satisfaction. As the number of dealerships grew, Beth's prime challenge was their inability to get their dealer network organized and aligned to their company's processes. Lack of standardized processes meant that every dealer and customer was handled differently leading to confusion, delays and loss of business.
Monitoring the dealers' sales pipeline: Every dealer maintained their own lead and orders in separate spreadsheets in a way that worked best for them. This resulted in weekly chaos when trying to analyze dealer and company performance. There was little clarity on even simple things such as why a particular dealer or region was performing better than the others or why a particular product range wasn't selling as expected.
Keeping track of billing: Manual, time-consuming and error-prone invoicing and commission calculations made billing process cumbersome for both the dealers and the company. In short, Beth was unable to full realize the fast growth potential of the franchise model primarily because they were unable to enforce standardized and repeatable business processes across their dealerships.
Standardized and Repeatable Processes Are The Mantras for Franchise Growth
With Orgzit, Beth was able to bring the dealers and the internal teams on a single collaborative platform that helped them standardize the following business processes.
Lead management and quotations
Order management with approvals and production sequencing system
Installation with proper checklists
Warranty registration
Customer service helpdesk
From lead follow ups to regular customer updates on e-mails and SMS, Beth was able to enforce systematic and uniform processes across all dealerships leading to seamless information sharing and faster action. Collaboration across Beth internal teams and dealerships was brought onto a single screen where internal staff had visibility on the entire dealer network while the dealer staff could see and analyse information only linked to their store.
Beth's business grew faster and more profitably
Beth implemented a dealership management system within a month and since the system was easy to use the dealers were able to adopt it very quickly. Within a month after the implementation, all the dealers were on the Orgzit system. With Orgzit, Beth streamlined sales and order management processes and developed a well-defined model that was clear and repeatable. This put Beth in a position to fast-track their new franchise outreach and onboarding process leading them to successfully grow their franchise network to 30+ dealerships across multiple new cities over the next few months.
Orgzit helped Beth centralize their dealer network operations which brought all dealers and internal operations in one place and allowed them to manage the entire customer lifecycle from the first contact to order completion. This helped Beth improve on many key business metrics:
As the processes were standardized, average month-on-month dealer revenue grew by over 25%
All dealers experienced improved leads to sales order conversion ratios.
Improved customer satisfaction helped increase brand recall which has helped Beth get higher repeat business and customer referrals.
Beth team's productivity measured in terms of revenue per employee nearly doubled as the same number of employees were able to handle the larger business volume from the expanded franchise network.

Since Orgzit happened to us, we have been continuously adding new ways to delight our customers.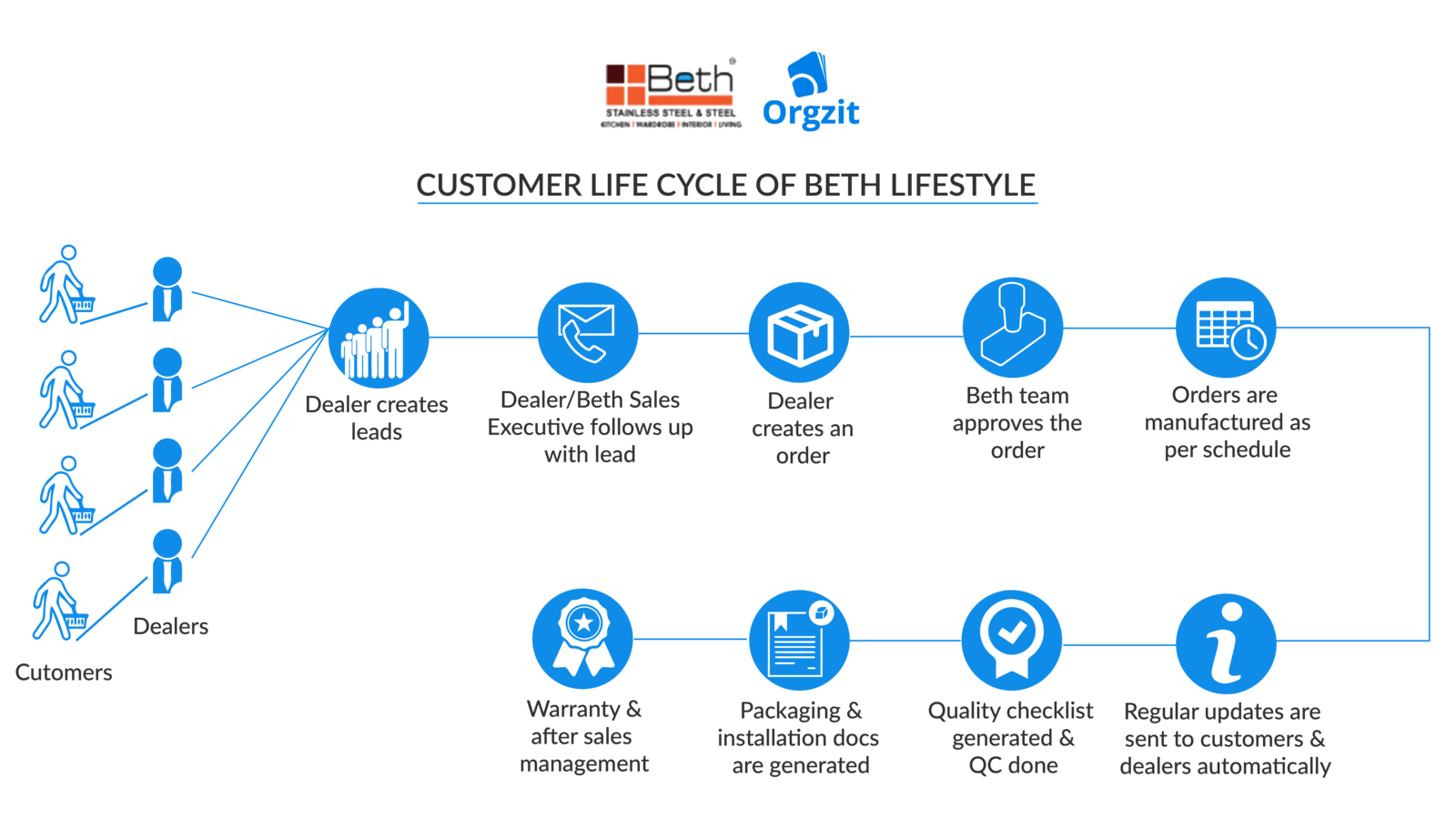 About Beth Lifestyle
Beth Lifestyle provides modular home décor furniture in Steel and Stainless Steel. Beth Lifestyle products help their customers transform their home into a fresh, modern looking one, giving it a contemporary decor.