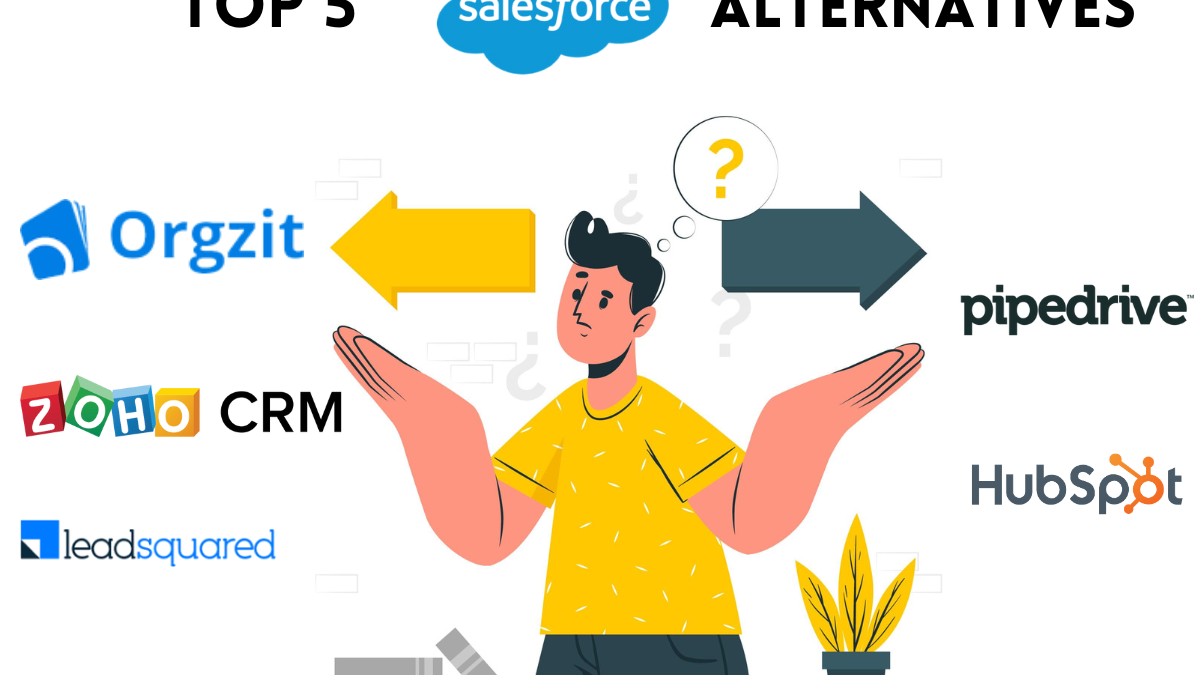 Top 5 Salesforce Alternatives in the B2B CRM Industry
Customer Relationship Management (CRM) software is crucial in streamlining processes, enhancing customer interactions, and boosting productivity. While Salesforce has long been a dominant player in the CRM landscape, there are compelling alternatives that offer robust features, scalability, and cost-effectiveness. In this article, we'll explore the top 5 alternatives to Salesforce for B2B sales processes, evaluating their features, pricing, and reviews to help you make an informed decision for your business.
The heartbeat of modern business operations, CRMs streamline interactions, elevate customer engagement, and amplify efficiency. As the industry advances, the pivotal decision of selecting the right CRM solution demands a nuanced understanding. While, Salesforce has held the throne as a CRM giant, an array of alternatives, each with distinctive prowess, beckon businesses to explore their potential. In this comprehensive guide, we'll traverse the domains of CRM software, delve into Salesforce's dominion, and embark on a voyage through the top 5 alternatives that pave the way for exceptional B2B sales experiences.
Concise Overview
Too long for you didn't read the article. Here's the summary of the article.
👉Salesforce is a comprehensive CRM that offers a range of features, its pricing tiers can be expensive, and its complexity might require time to learn and set up.
👉The interface is user-friendly but may require third-party assistance.
👉It's suitable for large enterprises with complex needs but may not be cost-effective or user-friendly for smaller businesses.
👉There are competitive alternatives that are cost-effective and agile to business needs.
👉Top 5 Alternatives to Salesforce are; Orgzit CRM, Zoho, Hubspot, and LeadSquared, Pipedrive.
The Evolution of B2B CRM Software
There is no such thing as a one-size-fits-all solution in today's world. The market is always evolving and growing, especially in the tech industry. CRM industry specialists are always reforming their programs to make them more user-friendly and valuable to clients. However, this is only achievable with healthy competition, of which the CRM business has plenty.
Today's CRMs are niche-specific, providing significantly more value to their customers than bloated ones that are useless or underutilized in specific industries. Depending on your budget and requirements, many available software can handle your sales operations.
The growth of B2B CRM software tells a story of innovation and flexibility, from the early days of rudimentary contact management to the modern orchestration of sophisticated sales pipelines. CRMs have evolved from mere databases to strategic friends due to the furnace of technological innovation. These digital companions use predictive analytics, seamless integrations, and process automation to their advantage. The vibrant narrative of CRM evolution is marked by the quest for customer-centricity and the orchestration of harmonious relationships.
Importance of Choosing the Right CRM Solution
Choosing a CRM solution is comparable to picking a compass for a voyage; it charts the course of success.
A well-chosen CRM can improve sales processes such as accurate and timely quoting, automated follow-ups on bis, payment reminders, client relationship maintenance, and discovering successes and losses by team members who advise strategic decisions. While these features are crucial, ensuring they are usable and do not break the bank is also critical.
A wrong choice, on the other hand, might stifle progress, impede collaboration, and deplete resources. The gravity of this decision reverberates down the hallways of every company, from start-ups to international giants.
Salesforce: A Brief Overview

Salesforce was the first cloud-based CRM software. It has since grown in terms of features and functions.
But is it appropriate for everyone? No, it is not!
We'll go into the specifics of five Salesforce alternatives that outperform Salesforce regarding functionality, pricing, user experience, benefits, etc.
Key Features and Capabilities
Dominating the CRM arena, Salesforce is a model of innovation. It has many features, from lead management and opportunity tracking to analytics and AI-driven insights. Customization is at its core, empowering enterprises to sculpt the CRM to mirror their unique workflows.
The best features of Salesforce are as follows;
Forecast management
Quoting
Contracting
Customizable reports
Customizable dashboard
Pipeline management
Advanced permissions
Integrations with more than 1,000 other platforms
Marketing campaign management
Lead auto-assignment
Mass emailing
Pricing Tiers and Considerations
Salesforce's pricing is tiered in four levels. Each tier unlocks various capabilities from Essentials to Unlimited, allowing for scalability and growth. However, a gain in power and features is typically coupled with increased expenses. For small and medium-sized firms, the cost may be too expensive.
The Basic Package starts at $25 and has no features. However, it is only for a trial to see whether it fits.
The Professional Package at $75 includes essential functions such as lead, contact, and opportunity management but does not include reporting or analytics.
Without reporting and analytics, the Enterprise package starts at $150. Analytics is only available at an additional cost.
The unlimited subscription costs $300 and includes paid reporting and analytics.
User Reviews and Satisfaction
We have consolidated the pros and cons of Salesforce from various reviews from G2.com, Capterra and other software review sites. This gives an overview of both the good and bad of the application.
Pros
Sales Process
Sales Team Support
Organization
User Friendly
Collaborative
Cons
Takes Time
Learning Curve
Expensive
Slow
Customization Requests
"Salesforce Sales Cloud has a lot of tools inside where we, as Salesperson, can process our sales and at the same time check the status of our sales. Aside from that, the integration helps me check the standing of each team." Jennifer J., Enterprise
"I genuinely can't believe Salesforce is this big. The interface is difficult to navigate, their support articles are minimal and not good, and they don't even have live support. Seriously, one of the worst big-name platforms out there." Jackson G., CMO
Why Consider Salesforce Alternatives?
Salesforce might be a pioneer CRM application with capable features.
But it's not the only option.
And here's why you would need options other than Salesforce.
Comparatively Costly
Salesforce is undoubtedly the costliest CRM compared to its competitors.
Salesforce pricing is two times higher than its competitor, Orgzit, and with limited features.
Bloated Features
Salesforce is regarded as a complex solution due to the comprehensiveness of its features and settings.
This is referred to as feature bloat, and it occurs when a company develops a slew of features that are much too complex for the average user to master.
The best Salesforce alternatives have intuitive features that yield results without effort and for a fraction of the expense.
Insufficient Customer Support
Salesforce may not have the best track record regarding customer service.
It is commonly known that larger companies and organizations get priority in Salesforce support, but small and medium-sized businesses are usually forced to wait more than a day for a response.
That is the core issue with enterprise software.
They are for enterprises.
Steep Learning Curve
Users may take a while to get adopted to the Salesforce application. And it can be a lot cumbersome for non-technical users.
It can be a bumpy road for the users as it can be too complex to set up. Third-party assistance is required in implementing the software.
Top Alternatives to Salesforce
The Top 5 Salesforce Alternatives for B2B Sales
Alternative 1: Orgzit
Orgzit is an all-in-one sales management solution for B2B industries. In orgzit, using a consolidated dashboard, you can align your sales, estimates, finance, accounts, and services teams.
Orgzit is the best Salesforce CRM replacement because it eliminates the need for several sales management add-ons by consolidating the complete sales process in a single application whose interface is as simple as Excel at a much lower cost than Salesforce.
Its simplicity and no-code application are what make it nimble. It can be deployed faster in days, which gives it an added advantage over Salesforce, which can take several months before it can be utilized.
Orgzit integrates seamlessly with other applications like Mailchimp, Twilio, Microsoft Teams, Slack, Zapier, Typefrom, Dropbox, Cloud Telephony, and many more.
Orgzit's specialized customer support team offers simple customer onboarding and ongoing support.
Some of the best features of Orgzit are:
Opportunity Management
Inventory/Product Catalogue Management
Manage Service Tickets
Task Management
Follow-Ups
Workflow Automation
Granular Acces Control
Real-Time Sales Analytics
User Performance Reporting
Orgzit Pricing Structure
Starter Plan $29/user/month.
Super Team $ $49/user/month.
Orgzit Rating on G2: 4.8 out of 5 stars
Rating on Capterra: 4 out of 5 stars
User Reviews and Testimonials
"Orgzit is a flexible B2B Sales CRM. The centralized dashboard is simple and customizable, and easy access to reports is commendable. Orgzit has helped us save time on repetitive tasks, handling multiple data, team coordination, tracking daily and monthly tasks, and follow-ups." Muhammad Faiz CRM Executive, CubeDots
Alternative 2: Zoho CRM
Zoho CRM, an entry-level CRM platform, scales with your small business. The company's free CRM product is popular among entrepreneurs looking for a simple, low-cost way to track leads and manage contacts. Users can always upgrade to a subscription plan for more advanced capabilities, such as automating marketing tasks and tracking client and contact information. Furthermore, Zoho CRM integrates seamlessly with other Zoho tools and any third-party programs you may be using, such as MailChimp, Google Analytics, and QuickBooks.
Zoho is another decent CRM software that may be used in place of Salesforce. From email monitoring to pipeline management, Zoho is a cloud-based platform that provides everything you need to manage your client interactions and perform sales efficiently.
Zoho CRM automates daily tasks in addition to lead generation, sales pipeline creation, forecasting, and team collaboration.
Key Features
Sales Automation
Analytics and Reporting
Omnichannel Communications
Collaboration Tools
Mobile App
Zoho Pricing Structure
Basic Plan $4/user-per month
Enterprise Plan $40/user-month
Ultimate Plan $52/user-month
Zoho Rating on G2: 4 out of 5 stars
User Reviews and Testimonials
"One of the standout attributes of Zoho CRM is its user-friendly user interface, which makes it simple for customers to get around and utilize the platform's features." Praveen K.
Alternative 3: Hubspot
Key Features
HubSpot CRM & Sales Hub is a credible Salesforce alternative. With HubSpot's sophisticated features and vital tools, you can manage your sales cycle and convert prospects into clients.
With great automation, you may save time, streamline procedures, and make better judgments.
Furthermore, organizing and locating data to promote leads quickly and efficiently while receiving closed-loop feedback is simple. This will allow you to see your efforts and bottlenecks more clearly.
Hubspot provides automation and self-service solutions to centralize and route your customer care data to a single platform, improving customer support and the buyer's journey. If you're seeking another CRM, it's one of the best Salesforce alternatives.
Hubspot Pricing Structure
Support for infinite users is provided for free.
Sales Hub Starter $45 for 2 users.
Sales Hub Professional $450 for 5 users.
Sales Hub Enterprise $1,200 for ten users.
HubSpot CRM & Sales Hub G2 rating: 4.5 out of 5 stars
User Reviews and Testimonials
"A great lead management tool and very user-friendly. The specific strengths of HubSpot Sales Hub include its powerful CRM functionality, extensive automation capabilities, and exceptional customer support." Jerick G., Market Development Associate, Real Estate
Alternative 4: Pipedrive
Key Features
Pipedrive is a popular and fast-growing sales management program that may be used in place of Salesforce.
This is a fantastic resource for anyone who wants to organize and manage customer interactions.
Pipedrive's simple interface and numerous integration options make it a good alternative for small teams and individuals.
By synchronizing your email (Gmail, Outlook, etc.), you may use Pipedrive to handle email communication and keep records of all discussions in one place with your other contact information.
You may boost performance by combining your CRM with over 200 connectors.
Pipedrive Pricing Structure
Essential Plan $12.50/ Month
Advanced Plan $24.90/ Month
Professional Plan $49.90/ Month
Enterprise Plan $99/ Month
Pipedrive Rating on G2: 4.3 out of 5 stars
User Reviews and Testimonials
"Clean and easy to use. Nice way of laying out the information so you can pass the leads onto different departments." Gareth S.
Alternative 5: LeadSquared
Key Features
LeadSquared CRM is a lead management tool that assists you and your team in tracking, monitoring, and optimizing business and customer operations. The platform offers no-code process automation and out-of-the-box connectors to help you simplify lead handling.
Lead capture, distribution, and tracking automation ensure that all activities and interactions are updated in real-time, reducing reaction time and increasing sales productivity.
The marketing suite offers plenty of tools to design and schedule personalized campaigns at scale. LeadSquared provides in-depth reports and analytics to give a complete view of forecasts, your targets, and the progress that you've made.
Overall, LeadSquared is a customizable, easy-to-use, and implemented platform. It is a great option for businesses that aim to align their sales and marketing efforts on a single platform.
Pricing for LeadSquared CRM
User Reviews and Testimonials
"One of the standout features of LeadSquared is its lead management functionality. I can easily capture leads from various sources, such as website forms and email campaigns, and seamlessly import them into the system." Girish P.
Choosing the Right CRM Solution for Your B2B Sales
Choosing a CRM can be difficult, but it does not have to be. To choose the finest software for your team, list your must-haves and compare the available options.
Factors to Consider When Evaluating Alternatives
It is crucial that the CRM may develop concurrently with growth objectives. Customization offers a means for seamless connection with current processes.
The technological ecology is an intricate web. The ability of the CRM to integrate with already-in-use solutions can hasten the achievement of operational harmony.
Usability influences user adoption. Rapid assimilation is encouraged by a fluid interface, which improves operational effectiveness.
Implementation does not mark the end of the journey. The CRM's potential is maximized through strong customer support and training, ensuring businesses utilize its features.
Recap of Salesforce and its Pros and Cons
Salesforce CRM is an all-inclusive solution for larger or scaling businesses with many customization or integration needs.
Smaller businesses or those without a team to handle the customization capabilities or modification requests will likely be overpaying for a CRM product. This is not an out-of-the-box solution that any business can use.
That said, Salesforce CRM is a powerful solution that can help all businesses if you can afford the products your business needs.
Salesforce CRM Is Not Recommended For
Businesses that have a small budget or that do not have overly complex sales processes will not likely find Salesforce to be the best solution. The pricing for Salesforce can increase dramatically if your CRM cloud account's base features don't meet your needs. This includes enlisting the Salesforce team to customize the software for your needs. Most small businesses will find other CRM solutions more beneficial and easier to use than Salesforce CRM.
Pros
🖒 Extensive customization options
🖒 Lead management and scoring
🖒 Powerful reporting
🖒 Easy to set up
Cons
🖓 No free plan
🖓 More expensive than top competitors
🖓 Complicated to set up and learn
🖓 Time-consuming to maintain
Salesforce CRM Is Best For:
People who work for a huge corporation with a sales force of over 100 individuals.
When you don't mind paying for third-party add-ons to enable crucial sales functions.
You want a holistic cloud-based IT solution rather than a single sales-focused CRM.
Your company has incredibly sophisticated CRM requirements requiring extensive customization and connectivity with other sales technology solutions.
You're fine with paying for CRM training and configuration and waiting weeks to months to start.
You have a large budget (since Salesforce is quite pricey and their pricing system is complicated).
Summary of Top Alternatives and Their Unique Advantages

Orgzit CRM:
All-in-one sales management solution for B2B industries.
Consolidated sales, estimates, finance, accounts, and services teams dashboard.
Simplified interface similar to Excel, with no-code application.
Offers lead management, opportunity tracking, invoicing, task management, and more.
Pricing ranges from $29 to $69/user/month. G2 rating: 4.8/5, Capterra: 4/5.
Zoho CRM:
Scalable CRM platform with a free option for lead tracking and contact management.
Integrates well with Zoho tools and third-party apps like MailChimp and QuickBooks.
Features AI-powered assistant, workflow automation, analytics, and collaboration tools.
Plans range from $14 to $52/agent/month. G2 rating: 4/5.
HubSpot CRM & Sales Hub:
Offers powerful features and tools for managing the sales cycle and automation.
Provides automation, data organization, and efficient lead promotion.
Enhances customer support and the buyer's journey.
Free option with paid plans starting at $45 and scaling up. G2 rating: 4.5/5.
Pipedrive:
A popular sales management application is suitable for organizing customer interactions.
User-friendly interface with email communication integration and over 200 connectors.
Plans range from $12.50 to $99/month. G2 rating: 4.3/5.
LeadSquared CRM:
Sales execution and marketing automation platform with no-code workflow automation.
Automated lead capture, distribution, and tracking.
Offers personalized campaign design, reporting, and analytics.
Plans start at $25/user/month.
These alternatives offer varying features, pricing, and user ratings, providing options for businesses seeking alternatives to Salesforce for their B2B sales needs.
Conclusion
The search for the optimal fit is a deliberate journey in the evolving environment of B2B CRM software. Salesforce has long been a steadfast behemoth as businesses navigate the waters of customer relationship management. However, the shifting landscape provides many compelling alternatives that cater to a wide range of needs, resulting in extraordinary sales experiences. This investigation has shown five prominent solutions, each with unique qualities, for those looking for a more cost-effective, user-friendly, and streamlined CRM solution.
Customer-centricity takes center stage as Orgzit emerges as a versatile contender. With its consolidated dashboard resembling the simplicity of Excel, Orgzit redefines B2B sales management with no code development. Zoho CRM sets sail with scalability and affordability, bolstered by sophisticated features and seamless integrations, offering a well-rounded alternative. HubSpot CRM & Sales Hub charts a course of automation and efficient data organization, enhancing customer support and buyer's journey.

Pipedrive is a nimble vessel, easily navigating customer interactions and a wealth of integration options. LeadSquared CRM, in turn, offers a no-code automation journey, epitomizing a synergy between sales execution and marketing prowess. These alternatives are a testament to the expanding landscape of CRM options, each inviting businesses to chart their unique course toward enhanced efficiency, customer engagement, and sales success. In this sea of possibilities, the right choice of CRM solution emerges as the compass that guides businesses toward triumphant horizons of growth and prosperity.
Tags In