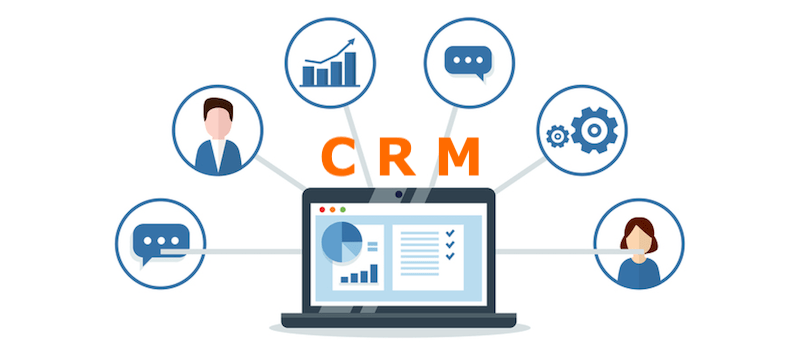 ROI Analysis of a CRM: How your CRM investment pays you back
What is Customer Relationship Management (CRM)?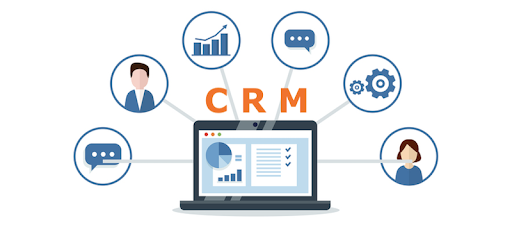 Customer Relationship Management refers to any business process or software solution that allows businesses to manage their relationship with customers by collecting, analyzing, and sharing data related to customer engagement processes. CRM technology is used by organizations that want to maintain a relationship with their potential clients/prospects. CRM enables companies to align their sales, marketing, and customer relationship activities. In addition to employee productivity and team communication, CRM also assists in improving customer experience by centralizing data into one place.
CRM will explode in 2022, achieving an 11.6 percent CAGR from 2022 to 2027 (Source: Globe Newswire)
Broadly, there are two types of business models, B2B (business to business) and B2C (business to customer), that utilize CRM systems to track prospects, nurture leads, boost sales, and manage customer lifecycle. By tracking customer interactions, CRMs allow organizations to increase their customers' lifetime value & establish loyalty.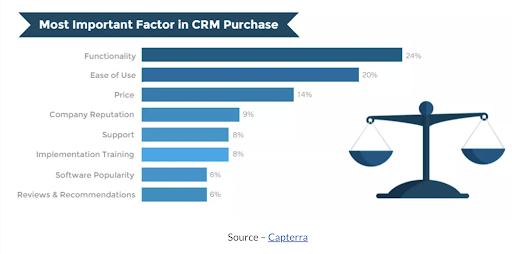 Key Features Of CRM
Now let's look at how CRM helps enterprises better serve their customers. The key features of a CRM are as follows:
It digitizes and automates your business process by collecting all information about your customer and services in one place.
It allows your sales and marketing teams to manage leads better through automation. For instance, you can set CRM to perform an automatic action based on potential prospects' actions.
It enhances your communication with the customers.
You can build a stronger brand relationship with your customers with CRM implementation.
It allows you to organize and sync your team on tasks.
It reduces data entry errors by enforcing verifications on the data.
It eliminates the data loss that occurs when employees exit.
It helps generates leads by automating marketing processes such as cold emails.
It captures all sales-related data and helps a business improve its sales processes by analyzing the data.
WHAT ARE THE BENEFITS OF CRM?
To measure CRM ROI, here are some key benefits of CRM that define its contribution toward ROI:
Increases Revenue: Sales Representatives prefer a simple system that provides all information in one place to increase conversion rates. The sales figures trigger the marketing team to understand how well their strategies have progressed in the market. They operate with the AIDA (Attention, Intent, Desire, Action) model and use ways such as Social Media Marketing or email marketing for customer retention. It is how the business relations are improved, and performance measurement becomes easier.
74% of respondents say that CRM solutions give them better access to customer data, allowing for more personalized service.
Data centralization: Useful insights from data help to understand the customer behavior as well, which can then be used to determine the Net Promoter Score, to further look at areas of improvement, and enhance the customer journey. Also, data loss is to be minimized as they say- data is the new oil; hence an efficient CRM system ensures that you understand your customers better.
Around ninety-two percent of teams use the database to store their customers' information. (Source: Winterberry Group)
Market Segmentation: Data analysts then divide the customer segments, which helps identify the right approach.
Technological Advancement has become the backbone of every industry today. CRM data insights can then be used to design chatbots that answer customer queries in advance or machine learning models that identify patterns and define customer outputs through segmentation.
Breakup Of The Cost Of CRM Systems
The costs incurred by an organization for the use of software tools such as CRM include:
License cost
Development cost
Subscription cost (to be paid to a vendor)
Hosting charges for the CRM and its data
Training and onboarding costs of users of CRM
Administrative costs
To ensure that the cost incurred is less than the revenues, it is necessary to measure the outcomes and ensure that the resources are utilized. Everyone in the system uses them to bring profitable results, including customer satisfaction. Furthermore, the ROI should be well-defined to measure accuracy throughout the sales process.
More than 72% of businesses say that using a CRM provides them with better customer data.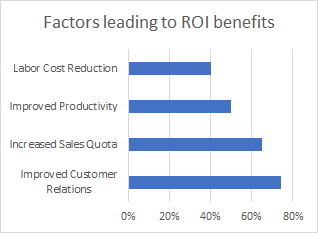 (Source: Resco.net)
Another statistic suggests that CRM has risen as the most successful tool for every business venture. Its revenues are expected to cross $80 billion in the next 5 years by overhauling the database management systems in the digital and software markets. Hence CRM tools are projected to become an integral part of the company's budget as more and more technologies advance shortly.
A report by Gartner predicts that CRM technology will represent the largest area of enterprise software investment.
HOW TO MEASURE CRM ROI?
Despite the multitude of benefits of CRM, companies remain skeptical about investing in such solutions. The primary role of ROI (Return on Investment) is to measure the efficacy of an investment. We have curated a list of prominent metrics implemented to analyze a CRM ROI. Some of them include:
Lead source
Number of deals clinched
Sales quantity
Time per scale
Upsell rate
Sales administrative term
Net new revenue
Customer procurement cost and customer value
However, the cost of a CRM system varies from company to company based on data storage, per-user and per-record services, additional data, and added functions like sales management, services & reporting. Now let's get an insight into the ROI analysis of the CRM system.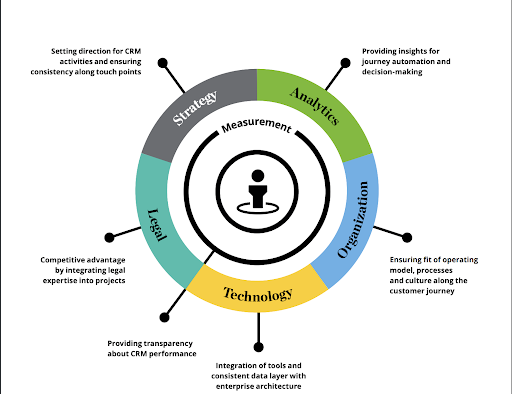 As per Nucleus Research, the average ROI of CRM is $5.60—meaning that for every dollar spent on CRM, companies earn $5.60 in return.
The benefits of a CRM are not directly proportional to CRM investment.
ROI, in general, is measured as:
(Net profit/Total investment)*100
FINAL WORD
To monitor omnichannel experiences, CRM is essential. The customer-centric approach is becoming increasingly popular amongst businesses to maximize ROI. It is because the customer journey perspective emphasizes understanding customers and then leveraging that information to drive intelligent customer acquisition, development, and retention initiatives.
It's right to say that CRM investments are smart-tech investments that frame and connect companies to their customers in a personalized manner, which eventually helps them to advance as user-friendly and profitable firms in a short time. Incorporating excellent business intelligence tools like CRM paves the way for embedded lead conversions & faster growth. An effective CRM system is simple to implement and fits all aspects of any business. By now, you would agree that a CRM system is a way forward to transcend your business significantly.
We are sure this article will enable you to make an informed decision about investing in CRM and pave the way to an integrated business environment.
So, why wait?
Get in touch with Orgzit today to find out how you can maximize your CRM ROI.
Click here to explore CRM software.
Please don't forget to share this post!