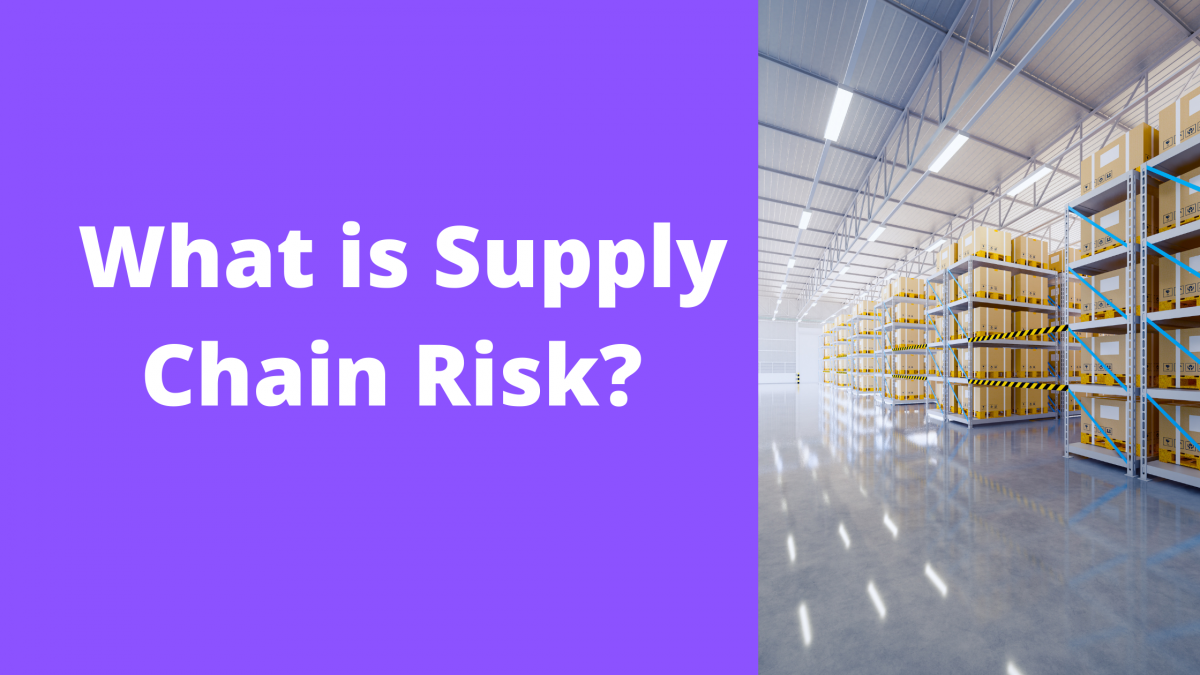 What is Supply Chain Risk?
I was talking to one of our CRM users and she asked me "What is Supply Chain Risk?" and "How can a CRM help her in mitigating supply chain risks?"
In this article, I try to provide an overview of what is supply chain risk.
So let's get started.
What is Supply Chain Risk?
As a business person, it is important to brace yourself for unexpected incidents. No amount of planning can insulate you from unpredictable events like human-error mistakes and natural disasters.
If these events affect your supply chain management, your organization could easily crumble if you are caught unawares. Here is a look at some basic supply chain risks and ways to identify and plan for these risks.
Types of Supply Chain Risks
Procurement managers should be familiar with the main risks that hamper the supply chain movement. These risks include.
1. Price Risk
It comes in two ways: inflation and volatility.
A hike in prices can disrupt the supply chain. One way to have this under control is to set long-term contracts. This minimizes the impact of a rise in price in the future.
Volatility refers to the movement of the market in an unexpected trend. Commodity markets are very volatile, which is why many buyers prefer hedged contracts. With these contracts, an organization takes a position that the price of a commodity will either go up or down from the current price.
2. Quality Risk
This is another common supply chain risk. Many managers apply quality assurance processes like Six Sigma to address these risks.
This allows them to automate the production process as much as possible to minimize the occurrence of human error. Automated processes also promote lean and efficient processes.
3. Delivery Risk
It may arise when a delivery fails. This involves both deliveries of physical and intangible goods. Some of the ways this risk can affect a business include non-delivery, late delivery, and early delivery.
4. Legal Risk
It arises when a supplier commits an illegal act. For example, according to the UK Bribery Act, when a supplier commits corruption in the course of business, their client may be liable for huge financial penalties. One way to avoid these risks is to include provisions in contracts that protect a buying company from criminality. Furthermore, suppliers and purchasing managers should be trained on the law and advised not to entertain illegal actions.
5. Reputational Risk
Imagine your sales team has promised delivery of an item to your client, but due to unforeseen risks in your supply chain, you are unable to deliver the order on time.
In today's age of instant gratification and continuous feedback, de ready to get a 1 out of 5 start review from the customer. Such risks tarnish the public image of its brand.
An organization may also ruin its reputation for something that is legal and normal but perceived by others as wrong. Examples include ethical treatment of employees, competitive practices, and environmental protection actions.
Another factor that can affect a brand's reputation is an organization's tax payments. For example, if the public does not view a business's tax payments as fair, that may ruin its reputation. When focusing on avoiding reputational risks, an organization should focus on the actions of suppliers.
Identifying Supply Chain Risks
Below are some ways businesses can use to identify supply chain risks.
1. Analyzing The Existing Risk Management
The first step towards identifying supply chain risks is analyzing the existing risk management measures. Review your supply chain process and identify areas that need improvement. Remember, any oversight can lead to problems in the future.
Look into all supply chain models, including the service provider, supplier commodity, logical infrastructure, and destination's geographical structure. You should request reports and updates from the staff in the relevant departments regarding all the potential risks.
2. Reporting And Insights
The next step is reporting and insights. The reports will show you the existing vulnerabilities and where you should take action. Additionally, the reports will highlight areas that need attention. Furthermore, you will be able to determine which mitigation and task management strategies will work best. Create a scorecard to gauge the insecurity levels of different processes in the supply chain. List down the areas that should be given the highest priority.
3. Use Automation
Managing supply chain risk should not be done once and forgotten. Monitoring of potential risks should be continuous. Since you will be monitoring a wide area, use automation for analyzing the data collection. This helps you identify the key risks instantly.
As more elements in your supply chain rely on cloud-based or automated systems, it is shrewd to use software to manage your supply chain risk management program. Using supply chain management software gives you a competitive edge and makes your workforce more efficient and capable of mitigating supply chain risks.
4. Integrate Supply Chain Risk Management Into Your Business
This includes assigning a team dedicated to this purpose. You should define the responsibilities and roles of the team members and make sure they are determined to manage all potential risks.
In Conclusion
Risk management is one of the core processes in any successful enterprise.
The best management strategies make provisions for unexpected events. Supply chain risks have the potential to collapse both small and huge enterprises if they are not accounted for and managed efficiently
Therefore, it is essential to familiarize yourself with the different risks affecting your business' supply chains. Consequently, you should develop a risk management program that addresses your response to these risks.
Guest Author
Rob Ellis has more than 15 years of experience leading sales, business development, and marketing at SaaS startup companies. At Reciprocity, Rob is responsible for overall revenue growth. Rob graduated from Cornell University with a BA in Genetics.