There Is Insanity In Creating A Sane Product Video
June 13th, 2017 Update — After receiving some encouraging product video-making comments, we have given the video a voice make-over. Check out the post end to see it.
Product + X = Maximum People Reach
Pre-Video
It's hardly been 6 months since I have graduated from the position of a Content Writer to a Content Marketer. And one thing has been explicitly clear –
Content Marketing is gradually becoming the elephant in the room
With marketers flooding social bookmarking sites, a majority of the readers (product entrepreneurs and small and medium business owners) are finding it difficult to sift through the melee of substandard quality articles and find something useful. So the readers start to cherry pick points from each article pertinent to their business and try to fit it in their processes (and possibly make it work). But it rarely works in their favour. Consequently, marketers are losing confidence in their existing strategies and buying more time to find new strategies disregarding the fact that time has NO BOUNDS.
What triggered this seemingly transient feeling was a skeptical yet insightful post by Dave Morgan on mediapost.
Dumbfounded, I asked myself what could be the motive behind this sky-rocketing incongruous piling of data and who was it benefiting i.e. adding value to.
I am not sure how to answer the former but certain that "Google" is the answer for the latter.
So I started a dialogue with my marketer friend and mentor Priyaneet Singh to seek her advice on new and more refined ways to marketing (or Growth Hacking), and essentially came up with two key takeaways –
Business leaders and SMBs mock almost every article they find on the first Google Search Page. Skipping the keyword targeted spun content; they prefer to draw insights from original and opinionated articles which deliver true business value (located either in the news section or buried deep inside Google search pages). How to get them noticed? (Hint)
Be it a businessman or a consumer, no one likes to read a lot of words.
Since my days working at Orgzit, I knew filling Google coffers with multiple SEM campaigns wasn't the only answer to the question of introducing Orgzit to the world. So I started real life Growth Hacking. In my lexicon, I started INTERACTING with the target audience by asking for their feedback and reviews on Orgzit in the most conversational tone possible.
Here're a few things you can do to get the marketing ball rolling:
Publish (value adding) articles on medium
Participate in inbound discussions
Start a 'Review Startup' thread in Hacker News
Answer industry specific questions on Quora
Create customized images at imgflip.
Submit blog links to zest.is, Growth Hackers and Digg
Note: The blog at zest.is looks awesome!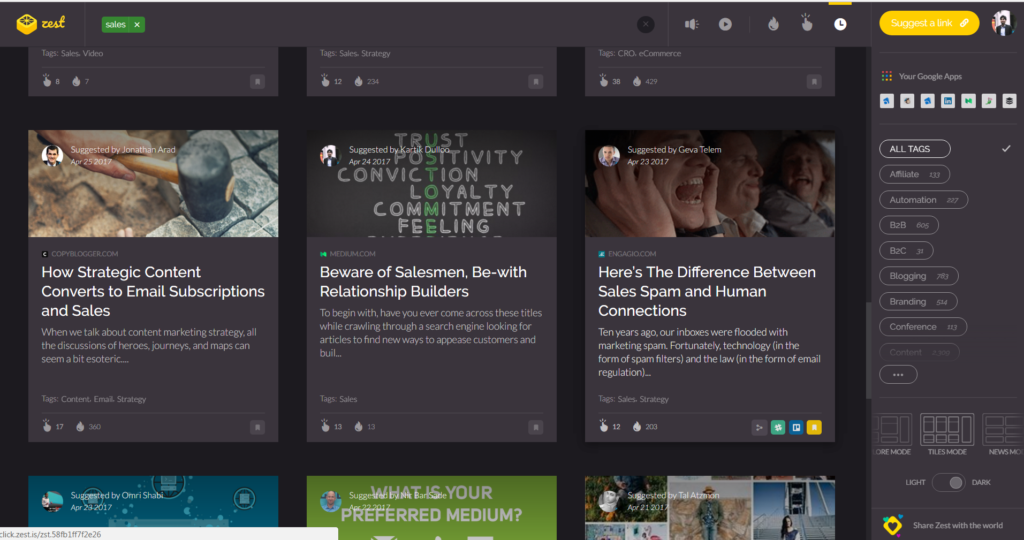 The result I got was fairly satisfactory. Orgzit started getting more sign-ups (Yay!).
But soon I realized that even though words are mightier than the sword, they can't possibly have the same effect like someone speaking them out loud.
And Voila! The match struck perfectly and I decided to go ahead with the process of gathering the pre-requisites for making Orgzit's first product video.
Product + Video = Maximum People Reach
Key Takeaway – Marketing with words alone can only get you so far. Create content that not only adds value to the user but resonates within the reader.
---
The Making
My days in Orgzit have been more organized than the ones without it. So it didn't come to me as a surprise when Nitin, co-founder of Orgzit, told me to follow a process to go ahead with the video. I had seen it work, and I knew it would work just the same this time too.
Organize (Gather Your Thoughts)
#Step 1 – Create a Storyboard which answers these two primary questions:
Who is target audience?
What do you want to show them?
Orgzit is a horizontal product. It can be used for a number of use cases. So wrapping your head around a target audience of 20+ million and weaving a storyboard for the same was quite unnerving. So Nitin and I started brainstorming ideas as to how can we show Orgzit's usefulness and flexibility in a timed video. After 2 hours, we picked up two use cases – Project Management & Asset Tracking as Orgzit's base ideas to 'share & show' in the video.
It was like plotting a curve, taking into consideration each significant figure and skipping the decimals after it.
To sum it up, here's how you can look at it:
Tell the Problem
Talk about existing methods to solve it
Talk about how does your product do it better
Talk about your existing customers (if any)
Give a short yet attractive CTA
And your story board is ready!
Key Takeaway: Your storyboard is like the outline that lays the foundation and becomes your guide for the video script. Essentially, it is the raw version of your Video Script.
#Step 2 – Write a Video Script:
Your video script is a word-to-word breakdown of the storyboard that you have created. It is more refined than the storyboard and contains the pitch for your voice over.
At first, I started scribbling and pondering over which words will have more impact and relate to the viewer. Yet again, I realized that it was not about the words. The crux was in showing the content, not reading it. So I laid some thumb rules to be followed while writing the script: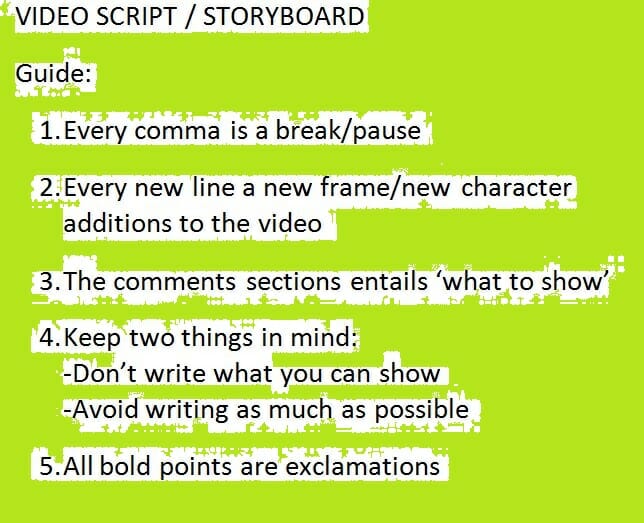 And then began the real task – refining the plotted curve; Trimming the jagged edges and smoothing the curves.
Since Orgzit aimed towards engaging small and medium business owners refine their business processes and help them conserve time and increase productivity, I sort of high-fived myself when I completed the video scripting task in a self-budgeted time i.e. 15 hours.
(Note – Our meetings at Orgzit are amazingly well timed.)
Key Takeaway: Video Script will need multiple revisions. Take a deep breath every time you send that paper ball rolling into the dustbin.
Collaborate (Share your thoughts with friends)
#Step 3 – Record the Audio:
The very first REAL hurdle you will face is while choosing an efficient audio recording tool capable of removing the background noise and amplifying the audio to soothing audible levels.
Note: If you don't want to burn a hole in your pockets by going to a recording studio or getting a professional voice over done, I will suggest that you use this software called Audacity. Nitin, a DIY fan, found his nephew fiddling with this software while trying to merge two songs for a birthday party. And it has an amazingly simple user interface and functions which work great for non tech-savvy people.
Before noise removal:
After Noise Removal:
Here's the only thing you need to do once you have recorded your audio using Audacity to remove the background noise:
You can save this file in MP3 or any other format of your choice to make things easier. Wasn't that easy?
I asked Pavan, CTO and co-founder of Orgzit, for any changes and got a high five instead. Like I said, it's not a one man job.
Key Takeaway: You will need to collaborate with your team members at each step and share notes to refine the quality of the script and audio.
#Step 4 – Create the Video:
Now that I had the script handy (the final curve), the audio file loaded in deck (the labeling done), the only thing that remained was to create the video. Like any other marketer, I started with a Google search and came up with two options:
Outsource video making services from a company (bigger hole in your pocket)
Buy a software and make your own video (lesser of the two evils)
I suggest that Powtoons gives you value for money and has a number of business icons and funky characters which will cover your video making needs – right from showing a tattooed girl to a businessman.
So Nitin and I started with the actual video making process. After spending countless hours in front of the desktop, old school John Meyer and an incessant refilling of tea cups, we were finally done with the video in less than 2 days.
The main challenge while compiling the video was that the characters and icons in the video needed to be in sync with the recorded voice. You'll need to go a tad bit slower while putting animation and moving the characters around the slides to get perfect synchronization.
A few other things to keep in mind before you start with the video:
Ensure that the video and audio lengths are in sync
Keep the slides in the 'movie' mode while editing the video. It makes the viewing experience smoother
Keep track of the icons and characters that you use. (Some belong to the pro version and some belong to the business version)
I have to confess that video took longer that I liked, but I think it was worth the DIY approach and effort.
Key Takeaway: Your video is the window that you product needs to reach the extended market space. You better make it worth the watch.
---
Post Video
Analyze (Track Your Thoughts)
After you are satisfied with the way the video has turned out, you can easily export the video to YouTube and even save it as a MP4 file on your desktop. Now comes the part where you start extrapolating the curve –
"I have a great Product. I have a great Product Video." What do I do next?
Product + Video + Right Marketing = Product Success
Amazingly, there are ways to ensure that your extended professional network gets the whiff of the cooking that you have been doing lately –
Post an update about your video on all social media channels you are active on and encourage ALL of your team members to do the same
Promote the video on channels ideal for your product and target a customer base based on chosen demographics and psychographics)
While chasing leads, attach a link to the video in every email
Organise a webinar and ask people to engage where you can introduce the video and the concept of your product.
I will reflect back on the article by Dave Morgan regarding dwindling marketer confidence and comment just one thing –
'Surely hope isn't a strategy, but the ability to recognize leads and subtly introduce the product to them adds weight to a marketer's so-called hope and pushes him towards forming a strategy'
I hope I was able to add some value for you next marketing strategy. If you think I am going the right way or as to how can I enhance my video making skills, please let me know in the comments section.
I will be pumped if you hit the recommend button. As a fellow marketer, I need the push that says marketing has not died yet and strategies are built on processes, just like Orgzit.
---
The new video after the brilliant voice over by @usvoiceovermail on fiverr –
*This article was originally posted by Kartik Dulloo on medium on May 1st, 2017.