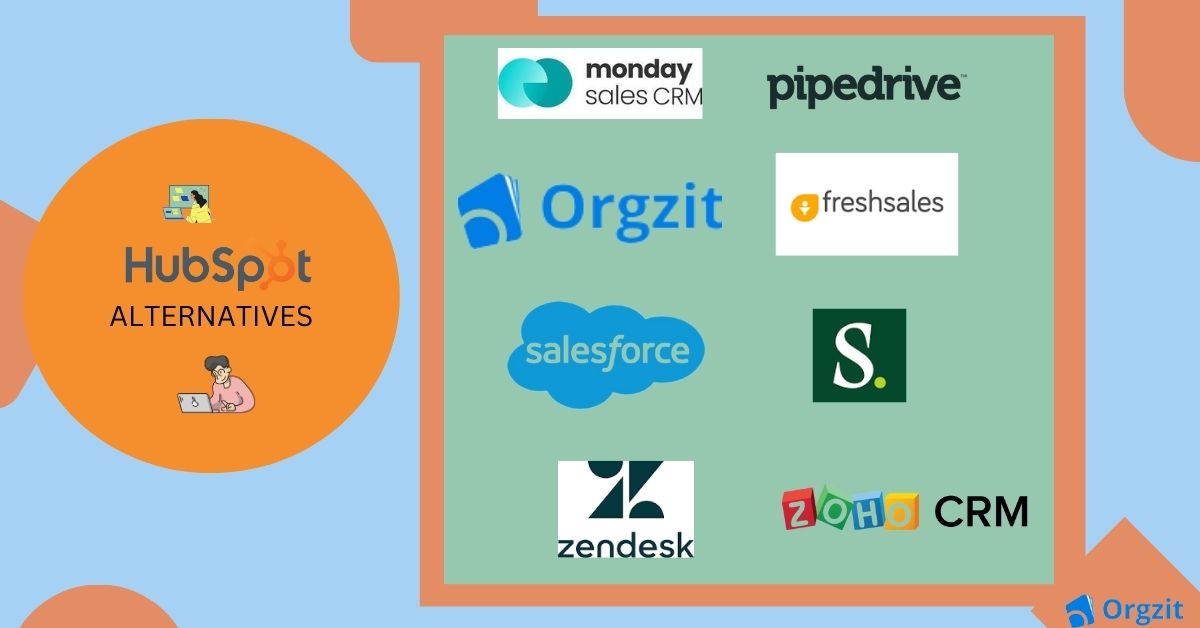 8 Best Sales Management Alternatives for HubSpot CRM
Sales process management is the most relevant challenge for any business. Hubspot CRM is a solid application for managing client and customer information for a business. Let's find out about some Hubspot alternatives that can offer similar or more for sales pipeline management.
HubSpot CRM services a broad range of business processes, including sales, marketing, services, CMS and operations.
Even though it is versatile and caters to diverse industries it may still not be a perfect fit for everyone.
No one size fits all!
There is no one software that can cater to all businesses, and that is why we have so many CRM alternatives.
This article will explore why HubSpot may not be the best choice for you.
What is HubSpot Sales Hub?
HubSpot is an all in one CRM platform. The sales hub is where businesses can store customer data, use sales tools and collaborate with teams.
As a part of larger HubSpot ecosystem, users of HubSpot can use full CRM with paid add ons and get richer insights, warmer leads and better alignment for optimized efficiency.
You can also leverage HubSpot's huge ecosystem of app and solution partners to create an exceptional end-to-end customer experience.
However, no product is a good fit for all businesses. Though it may work well for some businesses, it may not be the right choice for others.
HubSpot Features
Hubspot is loaded with features. Some of the most popular features of HubSpot are as follows;
Templates for Emails
Email Monitoring
Tracking and managing documents
Call Monitoring
Automation in Sales
Quotes
Analytics and reporting on sales
CRM App for Mobile
Management of Pipelines
Account-Based Marketing (ABM)
PROs
Sales Process
Usability
Collaboration
Navigation
CONs
Deployment Time
Price
Customization
Steep Learning Curve
Hubspot Pricing
HubSpot Sales Hub pricing is divided into three categories; Free, Starter and Professional.
Hubspot Reviews
Most Helpful Favorable Review: HubSpot CRM is one of the best CRM tools in the market and perfectly serves any sales business. It works as a single place where users can keep product information and contact lists of customers. Calandria A., Insurance

Most Helpful Critical Review: How you interact with this CRM is confusing, and it seems like a giant upsell to HubSpot's other services. You are bombarded with upgrade suggestions during the setup process and when using it. Verified User in Events Services
Limitations of HubSpot CRM
Understanding its features may require significant time and effort, making it less efficient for businesses seeking a user-friendly solution.
HubSpot offers an all-in-one suite, including marketing, sales, and customer service tools. However, this bundled approach might lead to higher costs for businesses requiring only specific CRM functionalities.
HubSpot CRM's standardized structure may not suit diverse business data needs, hindering customization and data management.
HubSpot lacks extensive third-party app connections, and its scalability may not meet growing businesses' sophisticated needs.
Top Alternatives and Competitors of Hubspot
Hubspot CRM is a great tool. But it is not for everyone.
Small businesses or start-ups may want a simpler and affordable CRM that caters to their specific need rather than a bundled CRM with features that are irrelevant to them.
Enterprises may need more robust, secure or specific features or customizations that any other CRM may be able to fulfill.
And yet there may be some businesses who would need a CRM that is deployed fast, customizable and is affordable too.
What I am trying to say is, that each business is unique and so are its requirements. Therefore not one CRM software can be an answer to all businesses.
The Top Alternatives to Hubspot are:
Orgzit Sales CRM
Salesforce Sales Cloud
Zoho
FreshSales
SalesLoft
Zendesk Sell
Pipedrive
Monday Sales CRM
#1 Orgzit– No-code and Affordable HubSpot Alternative
Why we find Orgzit as the best alternative is because it can give you the best of everything. It is affordable, deployed faster than most of the CRM's in the market, their customer success and support is excellent and their CRM is agile and build with your business.
Orgzit is an all-in-one sales CRM that aligns your sales, estimation, finance, accounts, and services teams within one centralized dashboard. Whether you are a small to medium-sized business or an enterprise, Orgzit has the capability to adapt to your unique business needs.
Orgzit's no-code technology makes it an easy choice for B2B businesses seeking a tailored CRM solution without months of custom development work. With easy quoting and a unified dashboard that manages quotes, invoices, payments, and finances, Orgzit provides a comprehensive ene to end solution for sales teams.
Some of the best features of Orgzit are:
Opportunity Management
Inventory/Product Catalogue Management
Manage Service Tickets
Task Management
Follow-Ups
Workflow Automation
Granular Access Control
Real-Time Sales Analytics
User Performance Reporting
Orgzit Pricing
Starter Plan
$29 per user per month
Super Team
$49 per user per month
Premium
$69 per user per month
Orgzit Reviews
Most Helpful Favorable Review: Our work at Origo encompasses the entire supply chain of agricultural produce, from procurement to shipping to financing, creating value for our key stakeholders, the buyers and the sellers. Vishal R., Logistics and Supply Chain
Most Helpful Critical Review: Nothing for now. Orgzit has made our work life a lot easier now. A few months ago, we had some performance issues, which were promptly addressed by the Orgzit team by increasing their server capacity and improving their software. Verified User in Real Estate
To summarize,
Users felt Orgzit met the needs of their business better than HubSpot Sales Hub.
The quality of Orgzit CRM is better than HubSpot
The product roadmap of Orgzit was felt to be better than HubSpot Sales Hub.
Orgzit's customer support was better than HubSpot's.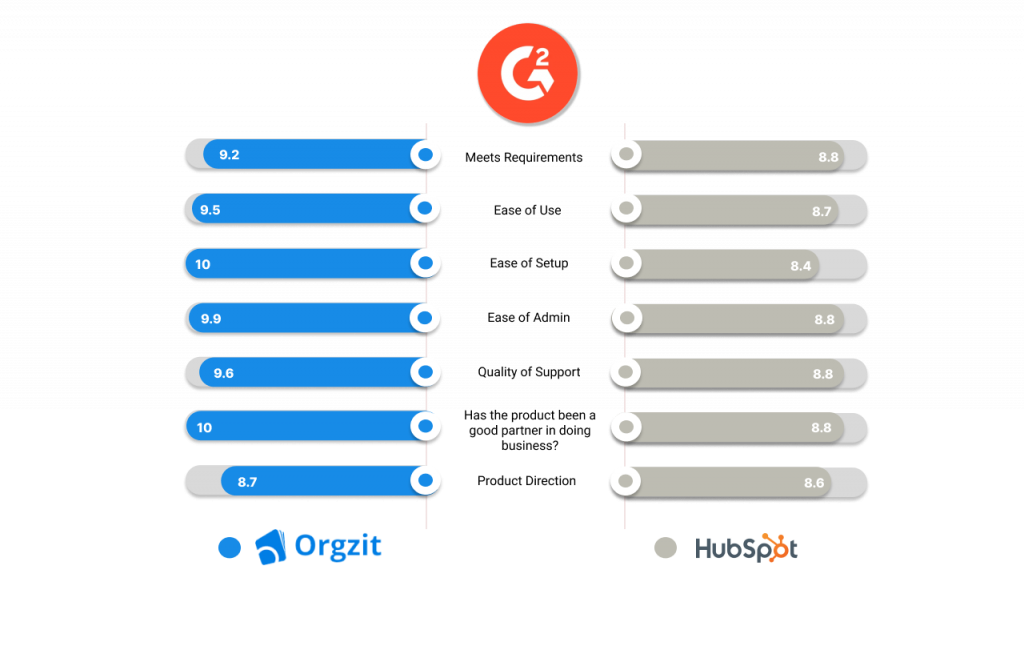 #2 Salesforce Sales Cloud, a Comprehensive HubSpot Alternative
Salesforce is a leading giant in the industry of CRM. Even though it is a robust CRM solution catering to varied industries, it somewhere, may not be suited to small businesses that have limited budget and time to invest in learning a complex CRM.
Salesforce is a cloud-based CRM solution that offers a comprehensive suite of tools for managing customer relationships, sales, marketing, and customer service etc. Known for its scalability and extensive app marketplace, Salesforce enables businesses to optimize their operations, gain valuable insights, and enhance customer engagement through data-driven decision-making. Some users may say it is bloated with unnecessary features while some find it extremely useful.
However, Salesforce is a great CRM with enterprise and solid analytical capabilities.
The most popular features of Salesforce are as follows;
Forecast management
Quoting
Contracting
Customizable reports
Customizable dashboard
Pipeline management
Advanced permissions
Integrations with more than 1,000 other platforms
Marketing campaign management
Lead auto-assignment
Mass emailing
Pricing:
Starter Edition
$25.00
1 user per month
Professional
$ 80.00
1 user per month
The unlimited edition plan is at $330 per month for 1 user per month. This plan may ideal for large enterprises.
To Summarize,
Compared to HubSpot Sales Hub, Salesforce Sales Cloud is better at meeting the requirements of its customers. However, the return on investment with Salesforce is slower than that of its competitors. Overall, it is more expensive than its competitors. However, it may be a good option for large businesses or businesses that have a working knowledge of CRMs.
#3 Zoho CRM, a HubSpot Alternative for Small Businesses
Zoho CRM is a renowned comprehensive CRM application that offers many applications and services. If you are a small to mid-sized business with a fairly standard sales process, you can also look at Zoho CRM as an option.
It is affordable for small businesses and easier to use than Salesforce or HubSpot. It also offers a wide array of applications and services for businesses. It includes sales automation, analytics, and marketing automation tools to help organizations boost sales and nurture customer relationships effectively.
Zoho applications require third party IT integration, and therefore, if a company doesn't have an IT team, they may have to hire or outsource the application development.
Top features of Zoho CRM:
It can automate both operational and data entry tasks
Task Creation, Updation and Tracking
Auto lead segmentation
Deal management
360-degree customer views
Account management
Intuitive dashboards
Admin Control
Documentation library
Meeting scheduler
Restriction management
Easy management and collaboration
Zoho Pricing
Zoho offers four plans: Standard, Professional, Enterprise, and Ultimate. Zoho's Standard plan starts at $14/month with basic application features.
Enterprise: $ 40 per month
#4 Freshsales as a Hubspot Alternative
Freshsales is a product of Freshworks. As is in the name this application is to simplify sales activities for B2B businesses. It has a powerful interface with lead scoring, email tracking and AI- driven insights.
Freshsales is a good tool to manage your leads and shorten your sales cycles by providing insights into leads data. It is an affordable software for automating sales, and marketing. It is a solid tool to manage leads, engage with customers, and nurture customer relationships.
Compared to HubSpot, the pricing structure of Freshsales is simpler and more transparent. However, HubSpot does provide more features in its free version compared to Freshsales. Even though Freshsales is for both sales and marketing teams, it may appeal more to sales team due to its comprehensive sales pipeline management and CPQ features.
Top Features of Freshsales
Lead Management
CPQ
Sales Forecasting
Contact Management
Marketing
Freshsales Pricing
Freshsales offer a free version of the application for up to three users. The paid plans are divided into three plans; Growth, Pro and Enterprise.
Growth
INR 999/-
per user per month, billed annually
INR 1199/-
per user per month, billed monthly
Pro
INR 2799/-
per user per month, billed annually
INR 3399/-
per user per month, billed monthly
Enterprise
INR 4999/-
per user per month, billed annually
INR 5999/-
per user per month, billed monthly
To summarize, compared to HubSpot Sales Hub, FreshSales is easier to set up is user-friendly.
#5 Salesloft, another HubSpot Alternative
Salesloft is a sales engagement platform that focuses on improving communication and customer interactions. It offers email tracking, cadence automation, and analytics tools to assist sales teams in personalizing outreach, increasing response rates, and driving revenue growth.
Salesloft is a sales engagement platform that helps businesses manage pipelines and customer life cycles.
Salesloft is the one place for sellers to execute all of their digital selling tasks, communicate with buyers, understand what to do next, and get the coaching and insights they need to win.
The Top Features of Salesloft are
Sales Engagement
Email Tracking/Automation
Workflow Management
Average Workflow Performance
Sales Coaching
Salesloft pricing is unavailable.
#6 Zendesk Sell, A sales-focused alternative to HubSpot
Zendesk Sell, formerly known as Base CRM, is a sales-focused CRM system that aims to enhance productivity and sales performance. It offers features such as contact management, lead tracking, and reporting. Zendesk Sell is known for its user-friendly interface and mobile app, making it a suitable choice for on-the-go sales teams.
Whether you are a small startup, a mid-sized company, or a large enterprise, Zendesk Sell caters to a broad customer base. It helps teams effectively manage their sales pipelines, improve customer interactions, and drive revenue growth.
Zendesk Sell serves a diverse customer base, including businesses of all sizes, from startups and SMBs (Small and Medium-sized Businesses) to larger enterprises.
The Top 5 Features of Zendesk Sell;
Sales Pipeline Management
Contact and Lead Management
Activity and Communication Tracking
Automation and Workflow Customization
Analytics and Reporting
Zendesk Sell Pricing
Zendesk Sell offers flexible pricing plans to cater to the specific needs and budgets of different businesses. The basic paid plan of Zendesk starts at $19 per user per month billed annually. This plan has basic features for sales pipeline management.
Growth
$ 55 per user per month
Pro
$ 115 per user per month
Enterprise
$ 169 per user per month
To summarise, Zendesk Sell is easier to set -up compared to HubSpot. It is easier to set up and has more usability than HubSpot.
#7 Pipedrive, a Sales Pipeline Management CRM as Hubspot Alternative
Pipedrive is a sales-centric CRM software designed for sales teams. Its visual sales pipeline feature is one of the best in the industry and helps you track leads through streamlined workflows. This makes Pipedrive an ideal sales CRM for both small and medium-sized businesses and offers a multitude of integrations.
The top features of Pipedrive are:
Customizable pipelines and fields
Deal Management
Deal Tracker
Collaboration
2-way email sync for improved productivity
Sales assistant
Workflow automation
Activity reports
Visual dashboards
Revenue reports
Team management
Pipedrive Pricing
Pipedrive offers four plans: Essential, Advanced, Professional, and Enterprise:
Essential: The Essential plan costs $9.90/month
Advanced
$ 19.90 per month
Professional
$ 39.90 per month
Enterprise
$ 59.90 per month
Compared to HubSpot Sales Hub, Pipedrive is Easier to set-up and user-friendly.
#8 Alternative; Monday Sales CRM
Monday.com, known for its project management capabilities, also offers a Sales CRM solution. It allows teams to track leads, manage sales pipelines, and collaborate on deals within the platform. This CRM emphasizes visual workflows and customization to adapt to various sales processes.
Monday Sales CRM is an end to end sales management CRM that manages pre and post sales deals. It can help you manage your contacts, capture leads, manage communications, and automate repetitive tasks and follow ups. It also provides data insights to prioritize and improve on sales strategies.
Top Features of Monday Sales CRM are;
Mass emails
Shared email inboxes
Funnel chart
Leaderboard
Mobile CRM experience D
Deal Tracking
Monday Sales CRM Pricing
Basic
$ 10 per user per month
3 users
Standard
$14 per user per month
Pro
$ 24 per user per month
To summarise, Monday Sales CRM has high usability and easier to admin compared to HubSpot but the return on in investment can be slower.
Conclusion,
HubSpot CRM is a versatile tool for managing client and customer information across various business processes, but it may not be the best fit for every company. This article explores alternatives to HubSpot, highlighting the unique needs of different businesses.
Some alternatives discussed include;
Orgzit is a no-code and affordable alternative CRM solution for businesses with complex sales processes. it offers a central unified dashboard for sales, finance, and more
Salesforce Sales Cloud is an extensive and scalable app more suited to enterprise
Zoho CRM has a wide range of applications and is suited for businesses with a standard sales process
Freshsales is a simplified and transparent tool for B2B sales
SalesLoft, a sales engagement platform that focuses on communication and customer interactions
Zendesk Sell has a user-friendly interface and is suitable for sales teams
Pipedrive, a visual sales pipeline tool ideal for small and medium-sized businesses; and
Monday Sales CRM, emphasizes on transparent workflows and customization.
Each alternative is assessed based on features, pricing, and user-friendliness, offering insights into which CRM solution might be the best fit for different business needs.
Tags In