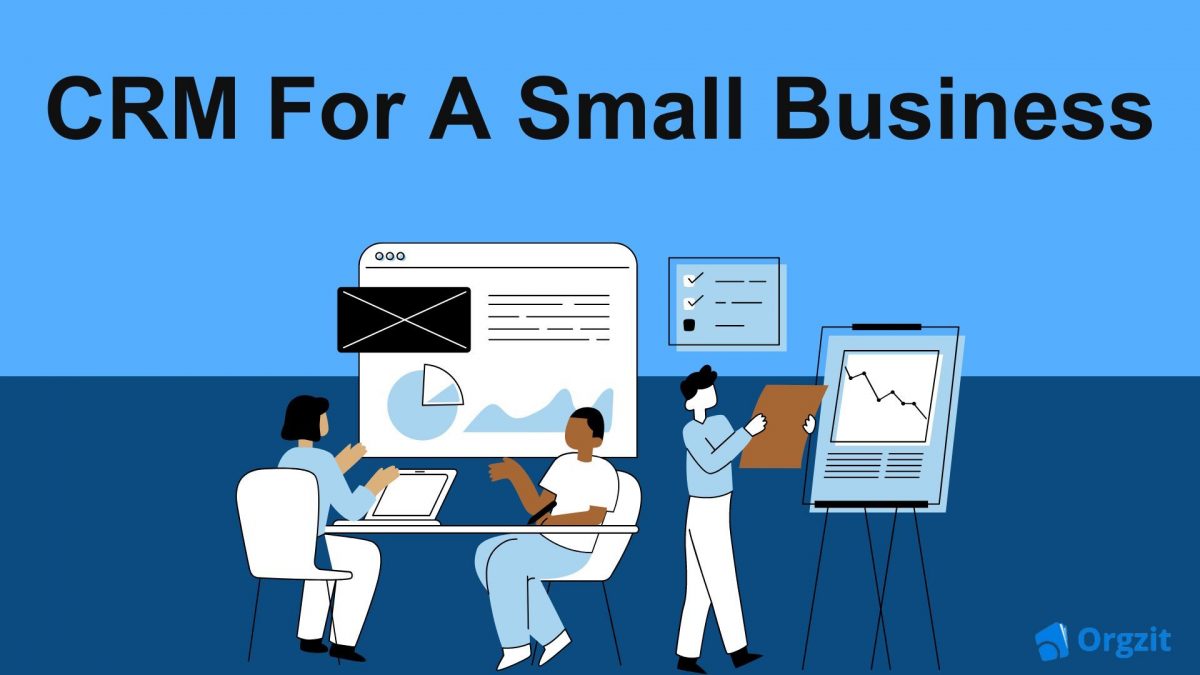 How Can a CRM Help You Streamline Your Small Business?
CRM stands for customer relationship management. The core functionality of CRM is to manage customer data like the history of purchases, discounts and margins applicable to a particular customer, requirements, and history of association with the company. With CRM software this kind of data is easily available to the company to enhance the relationship with the customer.
Did you know?
Resco.net found in their study that 74% of respondents say that CRM solutions give them better access to customer data, allowing for more personalized service.
As per Capterra research, 65% of successful businesses adopt CRM technology within the first five years of launch.
Grand View Research indicated that 91% of companies with 10 or more employees use a CRM
Nucleus Research claims that CRM technology can reduce the complexity of the sales cycle by 8-14% on average.
A Forrester Study found that CRM can deliver ROI of 245%.
What is a CRM for Small Business?
CRM is a software application that can help you expand your business by providing a centralized platform for your customers' data. You can view all interactions and get up to speed before reaching out to a customer.
Small companies count on customer engagement for growth. Because each and every customer counts. As Peppers and Rogers said, it is simpler to keep an old customer than it is to get a new one. To this effect, it is essential to have a CRM for small businesses in a place that serves as a centralized platform for all the customer data, where businesses can store and analyze customer's needs and requirements effectively.
A CRM platform gives you the ability to search for new customers by managing your leads and hot prospects, managing sales cycle in an organized manner, and equipping you with data insights that can help in finding problem areas in the sales cycle and improve with strategic efforts.
With a CRM at your disposal, you get a free pass to all your past interactions with customers. This means you can prepare like a pro before facing your customers and prospects. Your customer interactions become more than just transactions; they become genuine, personalized moments that make your business shine.
Why Do Small Businesses Need a CRM?
For small businesses every opportunity is gold. CRM software can automate repetitive operations like follow-ups on opportunities. It can make the sales process transparent by making each opportunity visible.
Monitoring the success of your sales operation, and marketing efforts is made easier with CRM software. Sorting out customer information and automating recurring actions like cold emails, follow-up emails or even reminders provides different business teams with a good amount of time. Automating these tasks enable them to focus on meaningful connections and closing important deals.
CRM can empower you with the capability to make well-informed choices by sharing significant insights on data and allows you to enhance your strategies for optimal results.
How Does A CRM Help Your Small Business?
CRM software is a tool to collect, organize and analyze customer data from various streams of information and sources. These sources are most often email, social media, and websites etc.
You can deliver individualized and prompt services by using CRM software. CRM can give you information on the requirements, preferences, and habits of your customer's needs. You can record and store this data in your CRM app and use it whenever you want.
A CRM can help you see trends like; the most significant customer, deals closed in a week, sale cycle progress, individual team members progress and much more.
CRM can help you track your crucial deals and manage or assign tasks for each team member
The CRM technology, enables companies to control how they connect with both present and future customers for growth and make them feel connected.
CRM plays a big role in boosting revenue with transparent sales cycles, relevant insights on leads, quotes and customer's preferences. Not only this but it is also enhances consumer satisfaction with timely problem solving, and streamlining numerous business procedures.
Top 5 Benefits of a CRM for a Small Business
CRM software has many applications that can significantly benefit your business by growing and nurturing customer relationships, increasing returns, and improving efficiency, collaboration, and innovation in operations.
CRM for business can be a foundation of your business strategy, helping you to thrive in a competitive market by providing:
Strong Customer Relationship
By giving your customers consistent, personal service that specifies their needs, your customers' trust and loyalty can be tremendously improved. It can also help in customer retention and gaining referrals from loyal and happy customers.
Increase Sales with a better understanding of customers' needs
A great CRM software, lets you keep a vast record of each customer's needs and preferences, purchase history, and interactions with your business, enabling you to provide personalized experiences based on their specific needs and preferences.
Understanding customers' needs and preferences is of utmost importance, You can offer relevant products and other services that might interest the customer, upsell and cross-sell opportunities, and increase conversions and repeat purchases. CRM for small businesses helps you to gather information and organize it to understand customer behavior.
Better Time Management
CRM can help you automate tasks and workflows to save time and money, and eliminate mistakes and time lags. Resulting in fast output as well as quality.
With a centralized customer information database, you can share and access data across different teams and departments to improve communication and coordinate important market strategies backed by data.
Collaboration Within Teams
An ideal CRM can be like a valuable team member. It creates a common ground where all customer data, tasks, and updates come together, ensuring everyone is in sync. This means your sales, marketing, and support teams can work together, sharing leads, tracking customer interactions, and coordinating efforts, giving your team more time for meaningful interactions.
Growth with Innovation
Insights from your CRM can help you analyze your customer's needs and wants. A product feature or a new product that a customer is looking for can easily be implemented if the customer's interactions are recorded in the CRM and assessed by a manager effectively.
Read more on benefits of CRM here.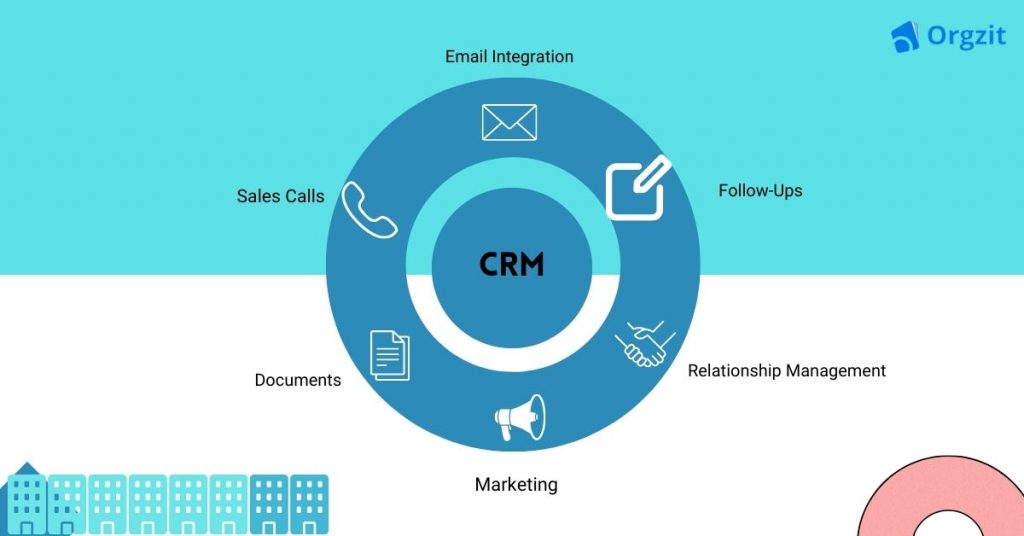 Functions of a CRM to help your small business
CRM software has many applications and use cases. Each business uses a CRM for different use cases. Certain businesses require a CRM to optimize their sales process, while others need to improve their marketing efforts. A CRM can be used for any particular function or a company may require an all in one comprehensive CRM.
Depending on the needs of business and its operation, popular use cases of CRM can be as follows:
Contact Management – CRM is Ideal for maintaining a well-organized database of your customers and prospects. Use the platform to store contact details, communication history, and preferences.
Opportunity Management – If your business operations involve a complex sales cycle CRM automation helps track potential deals and assess their likelihood of conversion into sales.
Automation of Repetitive Tasks – Using CRM for some repetitive tasks like sending emails, reminders, or follow-ups and freeing up your team for more strategic work makes your small business and customer relationships accessible.
Sales Management – CRM automation platforms can help you manage your sales pipeline to close deals. You can also calculate tasks such as sending proposals, reminders, and follow-ups.
Marketing – CRM software can help you to customize your customers based on their characteristics and behavior and create personalized marketing campaigns. You can also track the behavior of your campaigns, measure the return on investment (ROI), and evaluate your marketing strategy.
Customer Management – CRM software can help you provide fast and efficient customer service. You can automate tasks such as creating tickets, assigning agents, and sending notifications. You can also track the resolution time, customer satisfaction, and feedback .
Read more on on CRM here.
Tips for Maximizing the Benefits of a CRM
There are many CRM software solutions available in the market today. Choosing the right CRM for small businesses is a big task. Some relevant questions to ponder upon before deciding on the CRM
What business objectives do you want to achieve with the CRM solution? For example, do you want to increase trust and loyalty with existing customers, increase sales, improve efficiency, support collaboration, or grow innovation?
List out different tools and systems that you are using in your business. For example, do you need a CRM that merges with your email service provider or accounting software?
Which specific needs and challenges need to be addressed in your industry right now? For example, do you need a CRM that is compliant with specific standards?
How big is your business in terms of customers, employees, or locations? For example, do you need a CRM that can handle a large volume of data or users?
How much are you willing to spend on CRM? For example, do you need a CRM that offers a free trial or a low-cost plan?
Analyzing your requirements and market research on which is CRM is best for your small business will surely provide you a direction to close on a decision of selecting the CRM. This process will show you a path of how to choose the CRM for a business that surely matches your needs, goals and objectives.
In Conclusion,
The right CRM platform is not just a choice, and it's a decision that can lift a small business. It can help you serve customers more effectively, leading to better business.CRM software is an effective tool that may help you reach your business goals and manage your operations.
Frequently Asked Questions
Why does a small business need a CRM?
A small business needs a CRM to manage customer information, improve communication, and streamline operations between them and their customers. It helps manage leads, track sales, and provide better customer service.
Why is CRM a better tool to streamline the business?
To automate customer and sales processes, small businesses rely on basic spreadsheets due to lack of funds or budget constraints. Choosing an affordable CRM platform can significantly improve the company's sales without causing a hole in the pocket.
How does a CRM help to streamline your business operations?
CRM typically includes features like contact management, lead management, quote management, and invoicing which are core operations of any business. It helps sales teams keep track of their to-dos and ensure nothing falls through the cracks. Also, CRM can automate repetitive tasks like, if you automating follow-up emails after each customer interaction.
How does a CRM differ from Marketing Automation tools?
CRM is a comprehensive tool that has sales, marketing, and customer service as its core applications. While Marketing Automation only helps streamline the marketing operations. Marketing automation software is generally focused on Internet marketing, whereas CRM is focused on business operations like sales, marketing, customer support, accounting for your small business.
What favorable outcomes does CRM help a business to achieve?
By using CRM you are able to focus on the core aspects of your business, sales, marketing and even product development. By reducing your time and resources on non-core activities, you can free up resources to invest in activities that generate revenue. An optimized CRM process can reduce the length of your sales cycle, help you strategise efforts based on data insights and let you focus on more important tasks like customer engagement.