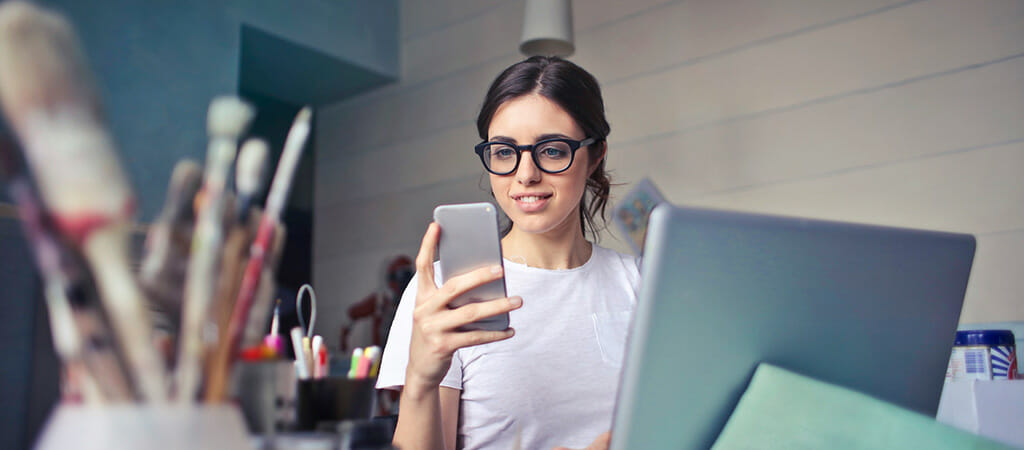 Demystifying Multiple Apps Syndrome with One App
Ride Down The Software Memory Lane
Remember the days when software, be it games or music, came in shiny CD packets and the best way to get your hands on one was to go to the store physically (and not log in to the virtual store) and choose the one you wanted to buy?
Yes, reminiscing 1980's technology can be devastatingly nostalgic; the times when tech giants Bill Gates and Steve Jobs were busy brainstorming ways to transform the technology industry; when Martin Cooper carried the giant mobile in his hand; when the first mobile application was just a dialer (the caller app).
With the advent of the Internet in the 1990s, the consumer found new ways to access software – by downloading bits and pieces of software from various web sources. But the medium of interface with software for the majority of users still remained the same – the Personal Computer.
Fast-forward 10 years and the smartphone revolution hit the software developer head on. They had the challenge to create applications that would fit the smartphone screen and keep the users super engaged at the same time (talk about work pressure). But looking at today's statistics of app users around the world, I'd say they did a pretty great job. Building an app has become easier than ever and comprehensive guides are available to help anyone get started with making new apps.
Today, in 2019, the fact that technology has come so far in such less time, and like every revolution in history, the skirmishes between multiple technology vendors have created such a huge demand for personalized apps, is amazing. The multi-billion dollar app industry today is thriving on the cost of people wanting more apps and less (Don't believe me? Take a look at this entrepreneur infographic yourself)
According to Statista's report, there are close to 3 million Android applications and 2.2 million iOS applications. How come there are so many apps? Well, over the last seven years, with about 33 app categories in Google Play Store and 24 categories in Apple's App store (Source: thinkmobiles), every new app category has a defined purpose, a certain function, and millions of users in that particular category.
Now that you have a brief history as to how we graduated from CDs to PCs to smartphones, it should be no surprise that a mobile app is the key element driving the smartphone business forward.
From fitness apps to gaming apps to social media apps, they have become an integral part of our personal lives. Moreover, our work life is teeming with more application than ever. But all these apps have the same purpose – to organize our lives. Or do they?
Recommended Read: "Cloud ERP v/s On-Premise ERP"
The Other Side
If you're familiar with Dissociative identity disorder aka multiple personality disorder, you might be familiar with the changing mood swings and the turbulent state of mind the patients have to go through. They are torn between choosing the multiple lives they are living at once.
Multiple App Syndrome is something very similar to this. Among millions of apps available on major app stores, you are so torn between using one single application that you end up using too many.
 This inevitably leads to, what today's market loves to call – App Fatigue.
What is App Fatigue?
App fatigue is that annoying feeling when you realize that you have more apps than you should have, when you start getting push notifications from restaurant, news, finance, and gaming apps – all at the same time, when you realize that most of the applications you are getting notifications from haven't been used by you since long.
In the professional workspace, you'll realize that employers are overloading their workers with apps that allegedly help them do their jobs. Think about it! How many times do you check your email in a day, talk to your remote team on slack, share files via Dropbox, check reports using Zoho Reports, spreadsheets for presentations, and the multitudes of tasks that you handle on a day-to-day basis in your own personal To-Do list software?
Too many, right?
Well, I just listed the functions that are performed by people on an everyday basis. If you dig deep, the number of hierarchical levels of the software will grow like anything else.
Do you hear yourself read it out loud? Too many apps, too many of them! Yes, what's the point of using all the apps when instead of making your work life easy, it just puts you in the cobweb where getting out is as difficult as getting in.
Recommended Read: "Business Tools: How many is too many?"
Few App Fatigue Stats & Studies
In an interesting report published by Harman i.e., an Israeli software company located in Boston, there were some revelations that might befuddle you. Let me give you some points so that you have a better idea.
After surveying 881 business professionals worldwide, they came to the metric that the average business professional uses 9.4 apps at work. And this is just the average. If you consider the IT industry, this number rises to 10.4 – worsening the effect of 'multiple app syndrome' and ultimately putting more mental stress and affecting productivity heavily.
If you dig deeper in the report, you'll read that 50% of respondents said they spend a huge amount of time a day coordinating their emails – sending, forwarding and receiving. More exactly, they open their emails 5 times per hour. This particular information might make you realize the importance of your email marketing content, especially the subject and body of the email.
You must have heard about Slack – the all-encompassing working environment with easy integrations and the mind-boggling number of users it attracts on a daily basis.
Recommended Read: "Amazing Slack Statistics"
On a more interesting note, nearly half of them said that they used apps that were not sanctioned by their individual IT department – WhatsApp and Dropbox being among them.
On a report closing note, you'll find that nearly 40% of the respondents said that it took them more than 5 minutes to locate a project they had previously worked upon that as it was buried deep in time. While another 14% said it took much longer than that. One can easily say that it is not a hidden fact that due to the temporary use of so many apps (and not full-scale), the productivity of the team takes a hit.
Related: "Orgzit features that triple team productivity"
Having read the above report, I believe the results sound credible and prove that multiple apps are indeed the reason for declining productivity standards of agile workplaces.
Pavan Verma, who has dabbled in developing complex app architectures and is a firm believer of process-oriented working culture, corroborates the study and adds – 'If the data is collated from different platforms onto one platform, and all the processes on that data are achieved in that platform itself, it can help increase productivity to a large extent'
"While software app developers nowadays are increasingly working towards bringing all features if multiple apps in one, they may not realize that could lead to even more information overload than switching between applications. It's not the single window that is the magic, it's the context and the ability to filter and focus on the right information at the right time that leads to improvements.," he also added.
How Can You Tackle App Fatigue?
Well, App Fatigue can be debilitating when it comes to all the statistics that I have just mentioned. So there has to be a particular set of questions that an organization has to ask before universalizing the use of applications throughout its departments.
Secure: Not only should the app be able to help you get the job done you have been assigned but it should be secure and reliable enough that it doesn't put your data at risk. Data security trumps data entry – all the way!
Recommended Read: "Introducing Orgzit Granular Access Control Features"
Scalable: The app should be able to scale with the growing size of your organization. It should be flexible enough to encompass all your current requirements while at the same time leave considerable scope for upgradations in the future.
Bonus Point: Happy Users? – If your employees do not use the app, there is less chance of implementing it in full scale.
Orgzit is another application that intends to do away with all the unproductiveness that comes along with multiple app usages by giving a one-place encompassing solution to customize your business processes. Give us a holler and we will get back to you right away.