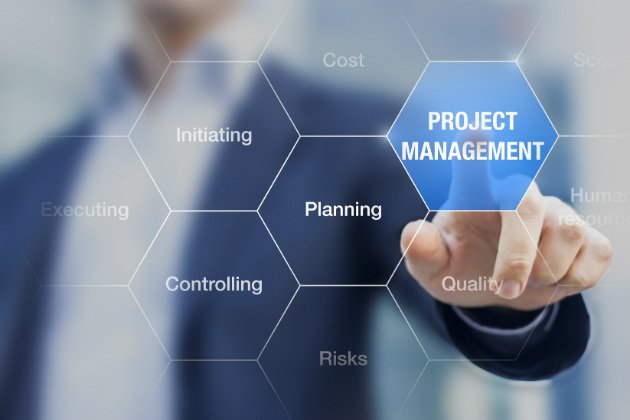 Best Softwares for Project Managers in 2022
Dec 2019 was the month when the first case of coronavirus came into the limelight. We are sitting in 2022 and the situation is as challenging as it could be, if not worse.
The rippling effects of this widespread disease are present in every direction. Apart from health & wellness, the world economy is on its receiving end.
However, due to technological advancements, the economy is going a bit stable. The concept of remote working has become a new cool. Companies are encouraging their employees to work from home, which has somewhat increased the burden on project managers' shoulders.

As per a survey of 2500 remote workers, 99% of them want to work from home for the rest of their professional lives.

For a project manager, remote working may look temporary, but who knows what the future holds in its womb?

With so many aspects to consider, right from time conversion across multiple zones to ensure that every member is happy at work- performing everything manually is simply a big No-No!

Today, in this article, we have brought the software list for project management to enhance productivity. There are different aspects of project management, and after deep research, we have listed the best in every category.

Intrigued?

Scroll Down to know more!
Top Softwares for Project Management and Team Collaboration
1. Team Collaboration Tool- Slack
Interacting with colleagues in an office environment is very easy- just turn your chair around and start discussing. But, in this work from home setup, everything is different!
Slack is an online communication tool that brings all the teammates together in a digital space and allows them to share real-time ideas for swift operations.
Why Slack?
Have real-time conversations with your team members through calls and messages.
Create threads and channels for organizing your chats.
Send notifications via chats for specific mentions.
Add attachments and files (PDFs, videos, and images), making it much more comfortable than mail.
Integrate seamlessly with various tools for managing workflow like Google Drive, Asana, Salesforces, Zendesk, etc.
Pricing
Free- $0/month; Specially designed for small teams.
Standard– $2.67/month; Specifically for small and medium-size.
Plus– $5/month; For large businesses or with additional admin needs.
Enterprise Grid– Custom Pricing Module; for large enterprises or regulated industries.
Android Ratings: 4.1 Stars
iOS Ratings: 4.1 Stars
2. Employee Onboarding Tool- Userlane
Onboarding and Employee Training is an important step. Introducing your team members to complicated software is a strenuous job. Avail an employee onboarding app like Userlane for offering a fully-fledged interacting experience.

Employees can easily monitor any software without any prior knowledge. This, in turn, raises productivity levels immediately.
Why Userlane?
Facilitates remote employees to work seamlessly without requiring any on-site training.
Acts as a guidance layer that goes on top of the application.
Send messages to users for sharing valuable information.
Easily create and manage your interactive guide without any codes.
Gain insights into user engagement for improvising your app experience.
Automated live support while working in the software.
Pricing
Say Hello with an emoji and keep all the interactions going!!

In 2014, Lync (the Microsoft chat for businesses) was rebranded into Skype for Business. The overall notion behind this popular software is to be the hangout with your pals for millennials.
Why Skype?
Initiate, Join, and rejoin a skype conversation for business meetings and converse unique ideas.
It supports real-time collaboration with around 250 people.
Monitor the session, i.e., remove, mute attendees for better communication.
Search your contacts by email, name, or contact number.
Offers enhanced security with ADAL (Active Directory Authentication Library)
Offer integration with 365 Microsoft Office Applications.
View your upcoming meetings and join them with a single click.
Read the words that are spoken during a video or audio call.
Record your audio and video meetings for future purposes.
Pricing
Included in different Microsoft Office 365 packages-
Free– No Commitment
Basic– $1.67 user/month; Annual Commitment
Standard– $8.84 user/month; Annual Commitment
Office 365 E3– $17.68 user/month; Annual Commitment
Android Ratings: 4.3 Stars
iOS Ratings: 4.3 Stars

Team management, especially in remote setup, requires freedom of place and time. And when your team is sitting across nations, the whole activity can quickly turn into a nightmare. Checking member's availability and local timings may compromise your productive hours. This is where time zone management tools come into play.

World Time Buddy is an automated team converter tool. It compares multiple time zones and plans web meetings and conference calls.
Why World Time Buddy?
Features a world clock that compares the present timings of selected locations.
Convert time across multiple zones and present the optimal timings for meetings.
A column of light tiles illustrates work hours for every location, which helps in easy planning of conferences.
Send emails or copy the scheduled meeting timings to the clipboard.
Supports more than 20,000 cities.
Includes Forex Calendar for better scheduling
Sends DST warnings one week in advance
Has an auto-updated DST database/ time-zone.
Pricing
Free– 4 Locations; 1 Group; Limited Calendar; Ad-Supported
Silver– $2.99 per month; 20 Locations (10 per group); Unlimited Calendar; Ad-Free
Gold– $5.99 per month, Unlimited Locations (10 per group); Unlimited Calendar; Ad-Free

Android Ratings: 4.3 Stars
iOS Ratings: 4.8 Stars
/privacy-policy-full
5. Time Management Tool- actiTime
Time management involves time auditing, task-related time estimation, and visual calendars for better collaboration.

A time management tool like actiTime incorporates all these features and helps in improving your team's performance. It's a corporate timesheet tool used by more than 9000 companies worldwide.
Why actiTime?
Records spent hours on various project activities using the start/stop timer.
Compares the actual time performance with the estimated one.
Managers can review who is engaged in which task or project.
Access powerful features like project assignments, reports, charts billing & invoicing rates.
Organize workload efficiently and improve decision-making.
Go offline and synchronize data later across various devices.
Track time spent on multiple assignments, register sick leaves and time offs, and create comprehensive reports covering all accounting needs.
It helps in analyzing costs for various job activities.
Pricing
1-3 Users– Free; Unlimited Functionality
1-40 Users– $7 per user/ monthly billed
41-200 Users– $6 per user/ monthly billed
200+ Users– Fixed Cost for unlimited users
Android Ratings: 4.4 Stars
iOS Ratings: 2.8 Stars

6. Employee Happiness Meter- Chimp or Champ
Studies have shown the direct relationship between Employees Happiness and Productivity.
While working from home, continually observing employees' happiness is as crucial as collaboration. Chimp or Champ is an anonymous happiness meter for project managers to keep an eye on employees' well-being.
Why Chimp or Champ?
It allows PMs to connect with the team easily.
No need for extra logins, passwords, or additional platforms
Every Thursday, the team will be sent a weekly check-in over email for 24 hours to express how they felt during the whole week
Every Friday, the Project Managers would receive a pulse score and actionable feedback from the team members.
Chimp or Champ can be defined in four terms: Frequent, Anonymous, Actionable, and Engaging.
Pricing
Essential– Free
Premium– $2 USD per user, per month.
Enterprise– Tailored pricing module.
Also Read- 10 Hacks for Managing a Remote Team Effectively
7. Productivity Tool- Todoist
In a traditional office working lifestyle, only the after-office hours are categorized in the free timings. But in a remote setup, everybody has complete freedom to manage their day. Todoist, the productivity tool, is quite helpful in the same. Around 25 million people use it for organizing, planning, and collaborating on projects.
Why Todoist?
As a project manager, you can
Capture and monitor tasks the moment they come into your mind.
Create tasks, subtasks, and prioritize the work for smooth operations.
Create deadlines with due dates and reminders.
Collaborate on the projects by assigning the tasks to team members
Set recurring due dates like " Every Wednesday" for easy collaboration.
Track your progress with the help of personalized productivity trends.
Easily integrate with tools like Google Calendar, Gmail, Amazon Alexa, etc.
Pricing
Free plan for starters
Premium: $3 per month; billed annually.
Business: $5/user per month; billed annually.
Android Ratings: 4.6 Stars
iOS Ratings: 4.8 Stars
For accomplishing quality work, jotting notes is very important. Google Keep is a fantastic note-taking app for seamless and productive remote working. Quickly capture whatever is there in your mind and get it automatically transcribed.
Why Google Keep?
Add photos, notes, list to Google Keep
Record a voice memo and get it automatically transcribed.
Color and add labels to the notes for better organization.
Sync your notes across all devices- Phone, Computer, Tablet.
Location-based reminders for smooth day-to-day operations.
Supports Camera, Location, Contacts, Microphone, and storage devices.
Pricing
Android Ratings: 4.4 Stars
iOS Ratings: 3.5 Stars
9. Cloud Storage Service- Google Drive
Cloud Storage tools facilitate secure storage of all files in a centralized location. Google Drive is a perfect cloud-based storage platform for storing large documents, multimedia files, and much more. All the data in the drive is synced across all devices and backed-up safely to ensure no loss.
Why Google Drive?
Robust set of office tools for creating and editing docs, slides, and sheets.
Users can track the edits made by team members in real-time.
Accept or reject suggestions made by other team members
Invite others to view your document by tagging them in the comments section.
Search all the files by content and name of the document.
Set access levels of the data for who can edit, comment, or view.
Enable the users to view documents, sheets, or slides offline.
Easily access videos and pictures from Google Photos.
Pricing
Free– First 15 GB
100 GB: $1.99 per month
1TB: $9.99 per month
Android Ratings: 4.3 Stars
iOS Ratings: 4.8 Stars
10. Finance Management Tool- Xero
An online accounting app helps in managing a company's remote finances. Bill payments, reporting, and inventory are some of its popular features. As a project manager, at times, you need to track various project expenses accurately; this is where Xero steps in. Xero is an easy-to-use, attractive cloud-based accounting solution for businesses of varied ranges.
Why Xero?
Stay ahead of the overdue and unpaid invoices with this powerful solution.
Estimates the correct amount of CIS deductions on invoices.
Reconcile and categorize your bank accounts in a flash.
Create professional-looking invoices and send them via messaging apps or emails.
Convert quotations into invoices with a single tap via the cloud-based solution.
Manage contacts and view useful insights by including various invoices.
View records of all the spendings on projects for making informed decisions.
Have complete visibility of bank account balances, cash flow, profit and loss, outstanding invoices, etc.
Pricing
Starter: $20/per month
Standard: $30/per month
Premium: $40/per month
Android Ratings: 3.5 Stars
iOS Ratings: 4.3 Stars
11. Password Sharing Tool- LastPass
Managing teams when operating remotely is not everyone's cup of tea. This is where software for project management comes into play. The situation becomes much more complicated when the matter is password sharing. Unlike offices, sharing passwords on notebooks with the team members isn't feasible in a remote setup. Sending them via chats or emails isn't very efficient either, as they can quickly get buried away in thousands of emails.

LastPass is a famous password manager tool that helps in locking all your data in a secured vault.
Why LastPass?
Store logins and passwords with the robust vault.
Create online shopping profiles, curate robust passwords, and track personal information.
Just remember the master password and the app autofill app and web browser logins.
Use the app across all devices, including tablets, phones, computers, and much more.
Securely store information like insurance cards and credit card numbers in an encrypted format.
Secure login via fingerprints for secured and simplistic operations.
Multi-factor authentication adds a second layer of protection to the account.
The Premium version offers unlimited sharing of passwords and 1GB encrypted storage.
Pricing
MFA– $3/user, per month
Teams– $4/user, per month
Enterprise– $6/user, per month
Identity– $8/user, per month
Android Ratings: 4.4 Stars
iOS Ratings: 4.8 Stars
12. Document Management Tool- HelloSign
A project manager or a business owner will have to deal with a lot of signatures. From contracts with clients to partners, too many signatures and documents are needed to be held carefully. Document management software will help in protecting documents that are crucial to your business.

Hellosign allows you to scan, edit, and sign documents comfortably and elegantly.
Why HelloSign?
Customize your documents and keep them organized in a central place.
It provides a reliable way to handle signatures and documents.
Sign essential documents timely such as NDAs, consulting agreements, real estate contracts, etc.
It allows you to edit any photo or PDF for adding checkmarks, texts, or signatures.
Upload documents via camera and sign unlimited documents.
Send the signed document via email to the desired recipients.
Pricing
HelloSign– $13/ per user, per month; Billed Annually
HelloSign Enterprise– $24/ per user, per month; Billed Annually
Hello Sign API– $99/ per user, per month; Billed Annually
Android Ratings: 3.3 Stars
iOS Ratings: 4.2 Stars

13. Tool for Productive Headspace- Noisli
Are you working with loud-coworkers or noise-making babies? Whether you're in work from office setup or operating remotely, there comes a situation when your space is full of noises.

Noisli is a perfect tool for productive headspace. The app comes with varied soothing sounds to make your insane long office hours a bit more tolerable.
Why Noisli?
Equips with dozens of sounds from trains to rains and coffee shops.
Creates an aural soundscape for improving focus and productivity.
Adjust sound levels, create mixtures, and craft your perfect vibe.
Eliminate the annoying noises for curating a pleasant environment
The app allows you to play sounds offline for 24/7 access with or without the internet.
Sign up for a free account and have all your music combos sync across all devices.
The timer function helps in effective time management by eradicating all distractions and preventing burnouts.
Pricing
Free: $0; Basic version
Pro: $10 per month; Billed Annually
Business: $24per month; Billed Annually

Android Ratings: 3.3 Stars
iOS Ratings: 4.2 Stars
Take-Away Message
A proper set of tools to manage projects will fetch numerous benefits for your organizations and teams.
There are hundreds of remote team management tools available you might want to consider in this year of pandemic! And to select the best from the rest is a mind-boggling task. This is why we went down the road and gathered the most useful software for project managers.

Remember, with the best technology at bay and specific adjustments, your project's profitability is likely to hit the sky.

Many of these tools can be easily integrated with Orgzit's flexible CRM system. If you use any of these project management and team collaboration tools and are looking for a flexible CRM system to integrate them with.

Signup for a free trial and see what it brings to the table!

Till then, Happy Managing!

Keerti Chandnani
Even in an obscured atmosphere, Keerti glowed like someone who starts her morning with green smoothies and sets of yoga asanas with the intent to do much more than wrangling commas. Driven by the art of storytelling, this Engineer-Turned-Marketer explores every nook and cranny of the product before penning her heart.