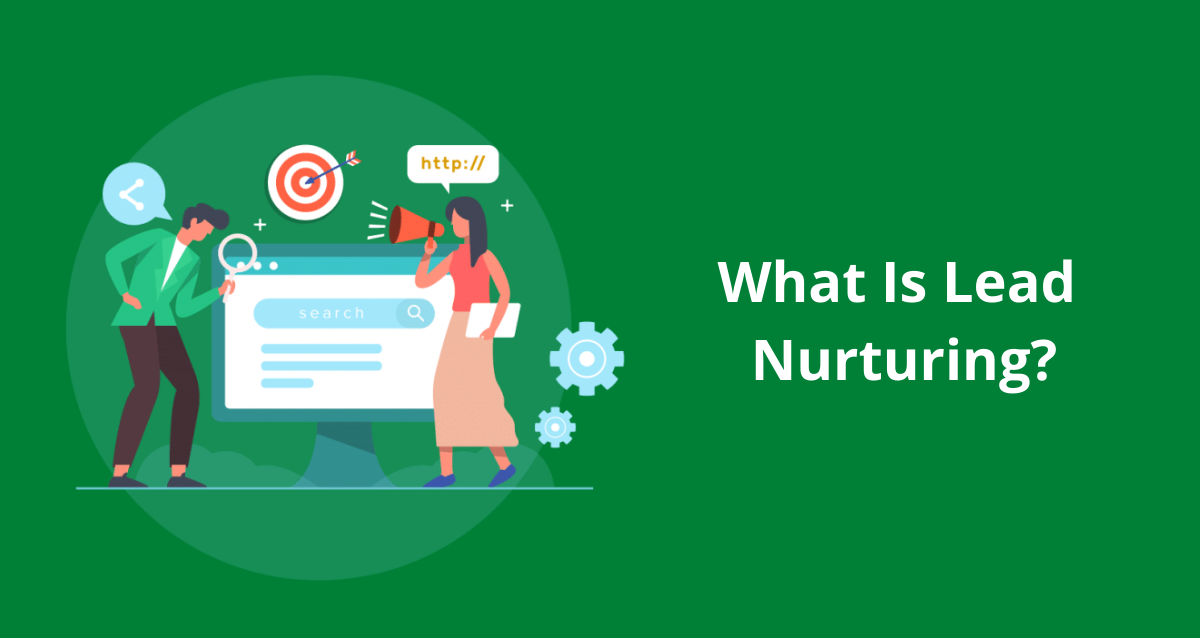 What Is Lead Nurturing?
Sales is a lot like convincing the most popular girl in school to become your date for the school dance. She won't agree at first as she is in demand.
Instead, she would want to know you better, understand your values, see what you have to offer and will eventually come on a decision that you are the right match for her or not.
But in sales, we do not call it – asking for a date for the school dance.
We prefer calling it – Lead nurturing.
This is one of the most essential steps in the sales process.
The relationships you build through nurturing can make closing the deal much easier.
This article will tell you all about lead nurturing, which is an important concept or element of your lead management system.
What is lead nurturing?
When a random person visits your website and shares enough information about themselves which can make them a qualified lead, it is because they are interested in your brand's product or brand.
Lead nurturing campaigns help marketing agents build relationships with prospects, from their first interaction with prospects to the time they have become a frequent return customer.
Lead nurturing campaigns communicate with each prospect and customer as an individual level.
It is important for campaign content- emails, digital ads, direct mail,etc.- to be personalized. To answer your audience questions, you can send content and by that contact, you can help solve their problems and lay the base to offer solutions that result in sales and long-term customer relationships.
Nurturing is less about immediate sales.
It is more about inspiring real engagement and keeping your brand at the top of your audience's minds throughout successfully recurring customer lifecycles.
In simple terms,
Lead nurturing is the process of making effective and meaningful connections with your potential customers i.e. leads with the aim of turning them into customers who pay for your products and services.
The sales team will share helpful content with the lead.
Stay in touch and learn more about them while telling them more about the company.
How to nurture leads?
7 tactics to nurture leads effectively
1. Leverage targeted content
One size does not fit all and it is important for us to know when talking about lead nurturing. As the business goes ahead we should know that strategically nurturing our leads using targeted content can undoubtedly enhance the results of our inbound marketing strategy.
The use of targeted content for lead nurturing may be evident, but it's something that marketers are struggling with. Last year Forrester Research reported that 33% of B2B marketers cite "targeted delivery of content" (i.e., delivering the best suited and targeted content, to the right people, at the right time) as the biggest challenge in their lead nurturing process.
Every process has prerequisites, so does the use of targeted content for lead nurturing. First of all, we need to understand that each of our buyers has unique personas. After that, we need to collect and segregate the targeted content designed based on interests, goals, objectives, and marketing triggers of each of our buyer personas.
Lastly, to help us identify, segment and target our unique buyer personas as we scale our inbound marketing strategy, we need to have a marketing automation platform.
2. Use multi-channel lead nurturing techniques
Earlier, most of the lead nurturing strategies had a set up which had a simple email drip campaigns. That would send out generic emails to a number of prospects.
These days, marketers look for new lead nurturing tactics and technologies that go beyond the limits of email. Nowadays, marketers are executing multi-channel lead nurturing strategies with the help of powerful marketing automation platforms
A good multi-channel lead nurturing approach involves a combination of utilizing multiple tools and mediums to increase the touchpoints with your prospects. For example, you would have to work with tools for marketing automation, email marketing, social media, paid retargeting, dynamic website content and direct sales outreach.
Because of many tactics and tools that are involved, to execute this a good lead nurturing strategy, you really need to ensure that your sales and marketing teams are well aligned and working as one united team.
3.Focus on multiple touches
As we know the journey of buyers for every product and service can be quite contrasting.
Research from the Marketing Lead Management Report says that on average, prospects required around 10 touchpoints with the brand from the time they enter the sales funnel until they finally become customers.
It may interest you to know that another research from Demand Gen suggests that nearly half of marketing professionals include less than five touches for connecting with the brand's customers in the lead nurturing process. If you think you belong to this category, it might be time to enhance your lead nurturing strategies.
As you must have observed, the business with the most successful lead nurturing strategies delivers the content which addresses the common questions.
And concerns that help the prospects to prosper in the buyer's journey. In addition to email marketing, think about how you can use a mix of content types like social media, blog posts, whitepapers, interactive calculators or even direct mails, to nurture your prospects into customers.
4. Follow up with leads in a timely manner
An immediate follow-up call or maybe calls seem to have evident advantages,
But most organizations still lack the speed of responding quickly.
Automated lead nurturing may help you in reaching the larger group of prospects.
But a quick follow up mail or call still remains one of the best ways to convert inbound leads into qualified sales opportunities.
A timely and well-researched call to the lead is far more effective than any volume of cold calling. Based on the prospects' behavior on the website, you do know what are they searching for.
Finally, You have enough information on the prospect to do some initial research about the organization they work for and what role they have in there.
5. Send personalized emails
Email marketing proves to be one of the most effective tactics for lead nurturing. It is also a proven fact that personalized email marketing tends to produce more results than generic email marketing.
When someone downloads your proprietary content, clicks on links in your emails, or visits specific pages on your website, or when they demonstrate a high level of engagement, you can send them triggered follow up through emails.
When the power of marketing personalization is combined with behaviorally triggered messages you can deliver the pertinent messages to the right people, at exactly the right times. For example, when someone is revisiting your website to check out the pricing, you could auto trigger emails with any discount offers to nudge your customers to go ahead with the purchase.
6. Use lead scoring tactics
If you have never leveraged the concept of lead scoring, then let me tell you it is a methodology used to rank prospects against a value system that represents the perceived value each lead represents to your organization.
Assigning the numeric values to certain website browsing behaviors, conversion events or even social media interactions can be one of the methods to do lead scoring.
The score which comes, as a result, is used to determine which leads should be followed directly by a sales representative or which needs to nurtured further down the funnel.
We can say that lead scoring is an effective lead nurturing strategy that most marketers are nor taking advantage of.
7. Be sure your sales and marketing strategies are aligned
A study done by market research firm CSO insights says that, when both sales and marketing share duties for lead nurturing, a significant financial boost is experienced by the companies. As a matter of fact, organizations whose sales and marketing teams are closely aligned experience 36% higher customer retention rates.
If you want both the contribution of both the teams to lead nurturing you'll need to identify when prospects should be transitioned between teams as they progress through the funnel.
When creating your lead nurturing strategy keep in mind that how you can use triggers like lead scoring, page views, workflow enrollment, conversion events or sales contact to transition leads from automation to direct one-on-one outreach.
Therefore, In a sales and marketing service level agreement (SLA), the shared expectations, responsibilities and goals for this collaboration between sales and marketing should be outlined.
Creating a formal sales and marketing SLA will help the two teams hold each other accountable for converting leads.
And effectively nurturing them into paying customers.
5 eye-opening statistics on lead nurturing
Sources used: Demand gen report, Gartner research & Marketing Sherpa
67% of B2B marketers say they see at least a 10% increase in sales opportunities through lead nurturing, with 15% seeing opportunities increase by 30% or more. (DemandGen Report, 2014)
Marketing Sherpa states that 65% of B2B marketers have NOT established lead nurturing.
Lead nurturing emails get 4-10 times the response rate compared to standalone email blasts. (DemandGen Report)
According to Forrester Research, companies that excel at lead nurturing generate 50% more sales leads at 33% lower cost per lead. (DemandGen Report)
According to Gartner Research, lead nurturing can potentially save 80% of your direct mail budget and bring a 10% or greater increase in revenue over 6-9 months
What does lead nurturing actually do?
The process of Lead nurturing allows marketing agents to build the relationships that their prospects and customers actually want. When an individual visits websites and shares their information with you, they are deliberately choosing to become a lead.
They're signing up for nurturing, and opening up a channel of communication with your brand.
If marketers send the right content mix to the right audience at the right time, they can slowly inform prospects about their brand and eventually convince them to become a customer.
It educates your audience
Spamming your customer or target audience with generic emails does not really help in teaching your audience about your brand.
Lead nurturing is more about identifying your audience's needs and then tailoring your content accordingly.
Your lead nurturing campaign should be designed in a way that it should inform your audience in admissible ways. Your audience should be excited to open and engage with each new message you sneak into their message box.
And you should be excited to onboard them on the buyer's journey with the help of your nurturing.
It sets the stage for sales
If you get zero results even after doing the best marketing you could then it was good for nothing.
Best lead nurturing is all about playing long term sales game.
You are not supposed to push anyone into a purchase position instead you have to build an informed and interested audience mix and returning customers and engaging them into your brand.
If you become successful in building trusted relationships with your audiences, there is a strong chance that they will choose you when they finally decide to buy.
Lead nurturing for account-based marketing (ABM)
What is ABM?
In its simplest form, ABM is a strategy that helps in directing marketing resources to engage a specific set of target accounts.
ABM is not only restricted to call for alignment between sales and marketing teams.
It forces teams to align because personalization at the account level requires sales and marketing to be in sync on account-specific messaging. What do you think is motivating them? Higher revenues in a shorter time frame.
Few things lead nurturing can do for ABM strategy
Set your marketing team free with automation
If you automate some parts of the customer journey you can give your sales team more time to focus on the in-person conversations and requirements that mean the most to your target account teams.
Maintain a healthy roster of leads
Lead nurturing keeps targeted account teams engaged with the buying cycles which prevents the loss of revenue and prevents the fear of abandonment.
Improve engagement
It attracts higher engagement with high-quality targeting throughout the entire buying process and by coordinating your messages across multiple channels.
How to get started with your lead nurturing strategy?
Your lead nurturing strategy should get a kick start with the existing customers as they were once "leads" too.
Think about which marketing strategy worked best for them and kept them engaged. Think about what could have been done differently? Refreshing your lead nurturing strategies should be kept into consideration.
Once you know what your new lead strategies need, you need to take the following into account:
1.Campaign types
There are several types of lead nurturing campaigns. The right choice depends on what you'd like to accomplish. Do you want to generate sales leads? Revive inactive leads? Remind current clients that renewals are up soon? The answers to these questions will help you determine the right kind of campaigns to launch.
2.Campaign content
What you need to do is adjust your content choices according to the types of campaigns you're creating. For example, if your campaign is planned to generate sales leads, you should identify and send content that you know prospects will be interested in. You'll also need various kinds of content to send based on where your prospects are in the sales cycle. Think of each piece of content you send as a new chapter in a story you're sharing with your audience.
3.Campaign complexity
Your lead nurturing campaigns will have a number of different routes for your audiences. You can make these tracks either simple or complicated according to your liking — it all depends on what you'd like your audience to engage with, and when.
Nurturing campaigns can have a linear structure, in which prospects progress straight through, or they can branch out to different paths that prospects follow based on their actions, interests, and personas.
4. Nurturing different audiences
If you choose segmentation it will allow lead nurturing campaigns to be highly targeted.
If you want to nurture a specific audience group from new prospects to established customers you can sort them into the same list. Audience location, product interest, and engagement levels can also be the points for segmentation.
Once you've made the rules and filtered your audience according to them, the addition of new prospects to the right segments and lists will be automatic!
5.Lead nurturing for small business
Small businesses tend to have some advantages when it comes to lead nurturing.
Their relationships with customers are ought to be more personal, and they're often able to move faster than large businesses. Lead nurturing campaigns give small businesses the opportunity to differentiate themselves from the competition by introducing themselves
And by introducing their unique solutions to prospects. Lead nurturing gives small businesses the opportunity to stand out in their target audiences' minds.
Why do you use lead nurturing?
The relationships you build through lead nurturing give profits to everyone- salespeople, marketers, customers and prospects. When a new lead comes in, it becomes your responsibility to create awareness about your product in their minds.
Also, it becomes difficult to explain how your product is a perfect fit for their needs.
Every step you take should take the engagement of the audience to the next level of a sales funnel.
It's good for your audience
Lead nurturing gives your audiences ( whether they're new prospects or established customers ) an imaginary hand to hold as you guide them through all your brand has to offer.
The clicks they make and actions they take to paint a picture of their needs, giving your sales team the information they need to strategically send personalized content and solutions that actually address the problematic points and solve problems.
It's good for your brand
Every nurturing campaign is an event to show your brand's audiences who you are and how you can help them. When your sales team successfully stands on the promise of lead nurturing, the result is steadily recurring sales and a growing roster of returning customers.
Final thoughts
Get together your lead nurturing strategies with the help of this article and let your business bloom like a sunflower.
Do tell us if this article was helpful enough.
Do not forget to tell me the interesting campaigns you are going to have after this article.
Also do not forget to check out Orgzit's simple yet very effective solution for lead management and lead nurturing.
Have fun reading it, hope it helps!!!
Daksha Jain
The space between the lines...The pause between the speech. I seek reflection within the content. Won't leave you bewildered but surely you will find something to contemplate.