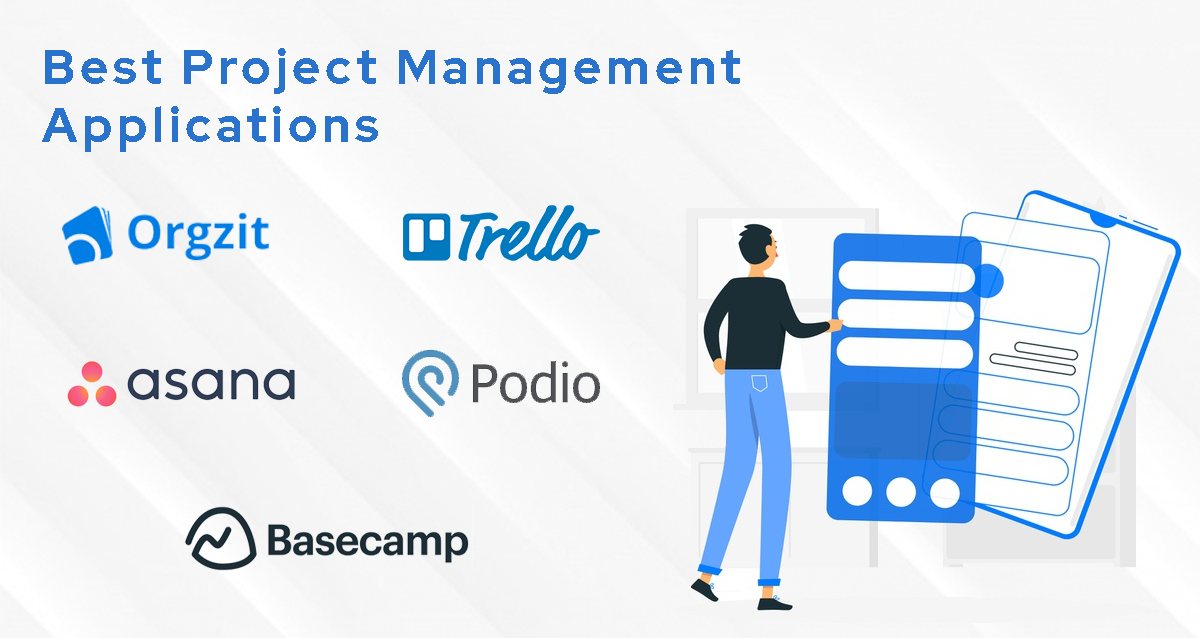 Best Project Management Applications
Project management means getting the result out of a plan!! If you are building a house, a bridge, or a software program, you are essentially working on a project. The process of managing the team, tools, and resources to get your project completed i.e. achieve your goal is called Project Management.
You can look out for your team, meet deadlines, and complete tasks, and deliver quality projects without even being in the office!! Sounds fascinating, right??
But how can you do this?
You can do this by having a great project management application that will boost your productivity!! Just like boost is the secret of Sachin Tendulkar's energy, project management application will be the secret of your success! (psshhhh it is a secret, keep it in your stomach)
Best Project Management Applications
Let me tell you some best project management applications:
1. Trello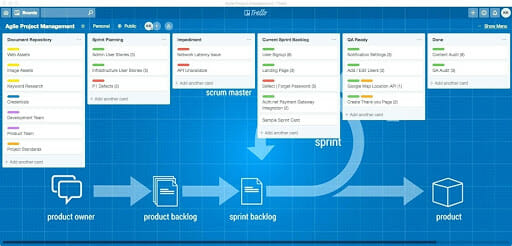 Trello is one of the very well-known applications in the project management industry. It supports Web, Android, iOS. It is an application that can be used for almost everything like managing tasks, project management, and tracking the tasks and even keeping a check-list which is the most essential part while working on a project.
I have listed a few features of Trello that might catch your attention more–
Easy to use and has a guide to teach
Supports cross-platform functionality
It is a Cloud-based application
Not security-focused
Maybe too consumer-oriented for some
Trello gives you the freedom to organize all of your work-based and private tasks through a computer, tablet, or smartphone.
Pros
It is a great application for managing quick tasks.
Easy user-interface
It has useful powerups for additional functionality
Cons
Handling projects with multiple tasks and boards and projects which are comparatively larger can be a bit difficult.
Pricing: The price for paid versions of Trello ranges from $9.99 per user per month to $20.83 per user per month.
2. Podio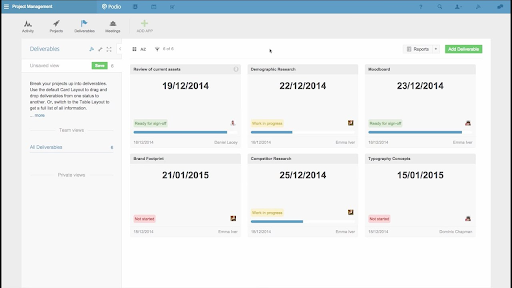 Podio is a very flexible and highly customizable application in the project management industry. A few features which may catch your interest are –
This application lets you Assign tasks, attach files and discuss details within the solution
Allows you to share large encrypted files
Automate the sales pipelines, project budget tracking
Get a summary of the corporate with visual dashboards
Workflow automation
Pros
It is a great application creating business-specific custom solutions
Interface is user-friendly
Custom integrations
Cons
Can be a bit difficult to use for beginners
Not very good for complex projects
Pricing: It starts from $24 per month per user.
3. Orgzit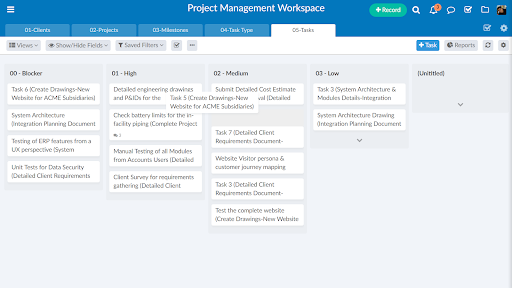 Orgzit is a modern cloud-based solution for building customized workflow automation and collaboration software fast, without coding. Users can build software solutions for a number of business use cases such as CRM, Project Management, Task Management, etc using Orgzit.
Some features that might catch your interest are –
No code solution
Create and assign tasks, collaborate with team members, track projects
Create workflows and customized reports
Integrate with APIs
Collect feedback via webforms
Pros
Allows a one-in-all platform to do everything
Cons
Might come off complex for beginners
4. Basecamp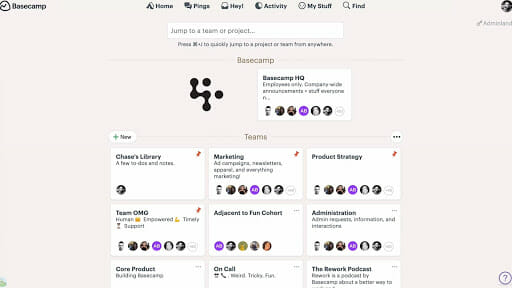 It is an effective tool for collaborating on projects. It also works great cross-platform and can integrate with your legacy systems.
Some features you might like to know –
This application offers you the freedom of creating group chats
It has Message boards, schedules, to-do lists which eases collaboration
It provides you with document and file storage
Role-based access controls for collaborating with multiple clients
Pros
One of the best applications to work with several use cases.
A lot of integrations with other SaaS tools
Cons
Integration can come up as an issue.
Pricing: It has a free version called personal that offers 3 projects and 20 users and then a paid called basecamp business which costs $99 per month.
5. Asana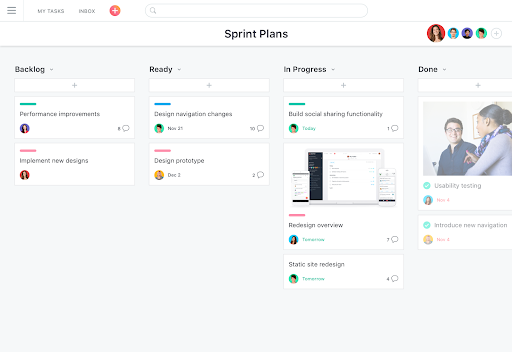 This application from the industry of project management diverts its more focus on tracking and teams. It expands its availability to both iOS and Android.
Here are a few features that will interest you in knowing about Asana –
Easy to use tracking functions
It is a Cloud-based application
It is a Team-oriented product
Lets you create to-do lists
Lets you add due dates, instructions to tasks and even comment on items
Asana offers a set of convenient features to boost team productivity while managing tasks and projects. It works well for simple project management but may not be able to meet complex project requirements.
Pro
Easy to use and get started with.
Provides you with darg and drop functionality for task management
Offers multiple real-time collaboration features to boost team productivity
Loaded with helpful integrations
Cons
The free version has limited features
Not feasible for the complex and larger projects
Pricing: The paid plans range from $10.99 to $24.99 per user per month.
6. Scoro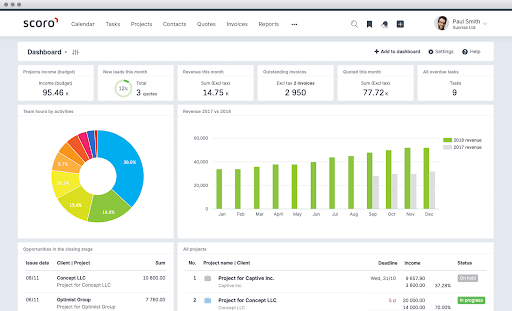 Scoro helps you eliminate the routine tasks and helps you in streamlining your work.
It is a collaborative application.
Here are a few features of Scoro that will attract your attention:
Displays project details, tasks, KPIs, calendar events and more in one place
Lets you stay up to date and see changes in real-time
Enables you to synchronize multiple calendars, quotes, tasks and projects in a single interface
Makes budgeting, invoicing, and advanced reporting easier
The most attractive thing about Scoro is that it streamlines your entire work progress so that you don't have to use multiple tools for different tasks.
Pros
Displays your entire work progress at one place
Supports integration with other SaaS tools and ERPs
Automated reports and dashboards
Cons
It can be overwhelming for small businesses to use Scoro, especially if you require customizations
Pricing: Its price starts from $26 per month. It also gives you a 14-day free trial option.
7. Proofhub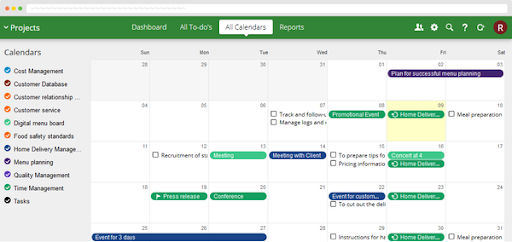 Proofhub proves to be a versatile project management app. It claims to have various features that help your eliminate the need for other task and project management tools. It helps teams centrally manage all projects, teams, and communications.
It has a replacement to offer for conventional emailing and a bunch of other tools, integrating multiple project management features under one roof.
Some features that will build your interest more in Proofhub are:
Advanced reporting
Centralized files and notes
Custom workflow and kanban boards
Online proofing tool
Time management
Pros
It does not have a learning curve.
Tons of customization options
Amazing security features
Cons
No integration with apps like Zapier.
Not feasible for complicated projects
Has a lot of bugs
Pricing: It ranges from $45 per month to $89 per month.
8. Monday.com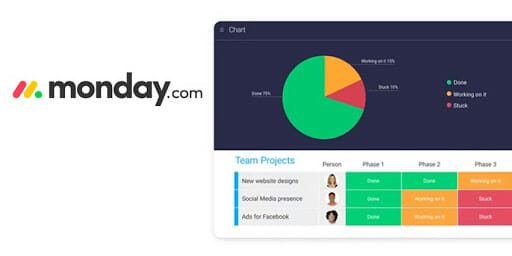 If your wish is to POT, I mean to Plan, Organize, and Track projects under one collaborative space then Monday.com could be the right decision you make.
Features that might interest you more:
It's simple to use and get started with
Provides easy and simple communication
Offers Loads of integrations
Offers flexible workflow automation features for reducing manual work
Manage any workflow or process and be able to address any challenge from the straightforward to the not-so-simple with total ease.
Pros
User-interface is flexible.
Lots of integrations
Cons
It does not offer any free plan
Mobile application needs improvement
Pricing of different types of users can be a little confusing
Pricing: The paid plan starts at $39 per month for 5 users to $79 per month for 5 users.
9. Zoho Projects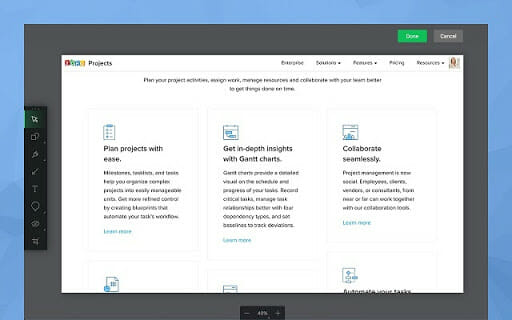 It is one of the best software for very basic and simple project management.
Some interesting features that it possesses are:
Task lists with multiple tasks and milestones
Time tracking and timesheets
Gantt charts to oversee project progress
Document and file management
Pros
Zoho Projects can be integrated with Zoho CRM and other tools to manage almost every aspect of your agency in one system.
Basic time tracking is built-in
In-built chat feature
Cons
The free tier is limited, with just 10MB of storage and a single project.
Pricing: Up to twenty projects $25/month, unlimited projects $99/month; CRM and other additional features accompany an additional price.
10. Teamwork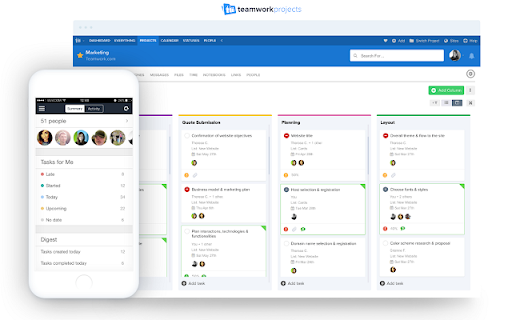 This software is designed in a way that it works smoothly with the tools and forms smarter workflows. It has a very cheerful interface or you can say a very perky interface and it is very easy to use. In this software, you can create projects and generate tasks and achieve milestones.
Some features that might draw your attention towards this software are:
Project planning on Gantt charts
Time tracking and reporting
Customizable features on each project
Gantt' style view of your projects
Gain valuable insights on your team's performance
Assign low, medium, or high priorities to tasks
Pros
Easy to use and has various features.
Tons of options for customization
Lots of in-built features
Cons
It has fewer integrations with the apps.
Faces difficulty in handling complex projects
Not many features available in the free plan
Pricing: It has a free 30-day trial. The paid plan starts from $9 per user per month.
11. Airtable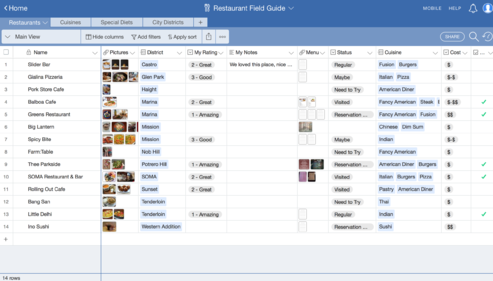 Airtable offers various templates for its users to create and collaborate on workflows, while intelligently managing, optimizing the data for maximal efficiency. So, It is the ideal choice for businesses looking for a project management solution that goes beyond simply tracking tasks.
Features you might find interesting:
Looks like a spreadsheet, works as a database
Not limited to task management, useful for building collaboration software for a variety of business use cases
UI is very good and intuitive.
Pros
Flexible and easy-to-use relational database
Airtable Blocks help you automate daily tasks and improve productivity
Cons
Does not offer role-based access controls
The basic paid plan does not include access to Airtable blocks
Pricing: It has 4 plans. Free, Plus, Pro, and Enterprise. Plus plan starts at $10 per user per month.
Conclusion
The above list covered what we concede to be the absolute best project management software available in the market today. 
While all the project management tools covered in this article offer a number of benefits and will help you improve your team's productivity, each tool might not be best suited for your team. 
In order to best pick the project management tool for your business, you should make a list of features and rank then as 
Must-haves (or features that you cannot live without)

Good to have features (that might be useful in future)

Must not haves – Yes, you should also prepare a negative features list to make sure that you do not end up with something that you do not need. 
Act smart and choose the right project management software for your organization! Make your and your employee's life and work easier, simpler, and filled with productivity.
So, what stops you? Go ahead the choose the best from the best!!