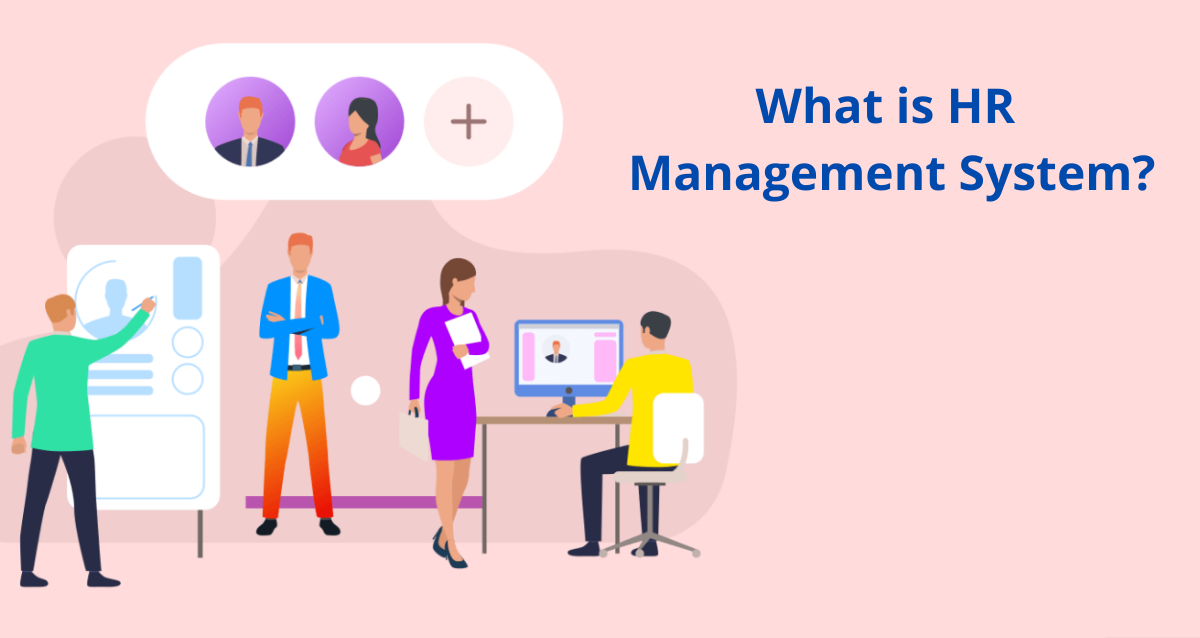 What is HR Management System?
Is your HR Management System helping you manage your human capital efficiently?
Are you facing any problems in managing your growing team?
Are you struggling to get your employee data in a single view?
Do you have your workforce/staff information scattered in various folders/systems which are not going along with each other?
If you do not know the answers to these questions or have never even thought about these, I recommend reading this article in full.
In this article, we are visiting to get an outline of what an HR Management System is and the way it works.

What is HR Management System

Human Resources Management System(HRMS) or Human Resources Information System(HRIS) or Human Capital Management(HCM) is a form of HR software that helps you manage the most critical resource in your business i.e. your people.
A mix of business processes organized and supported by software systems forms the core of an HR Management System.
It ensures easy management of human resources, data and business processes. Businesses can use it to combine their regulatory and other necessary HR functions.
These functions may be recruitment processes, storing employee data, managing payrolls, keeping track of attendance records and benefits administration.
A simple HR Management system is the basic need of every organization to trace the life-cycle activities of the employees and simplify HR work by getting deeper insights with minimal effort.
At organizations having very large team sizes, the HR Management system becomes a necessity. The HR Management system can reduce efforts to record regular activities such as payroll, attendance, appraisals, etc.
What are the functions of HR Management System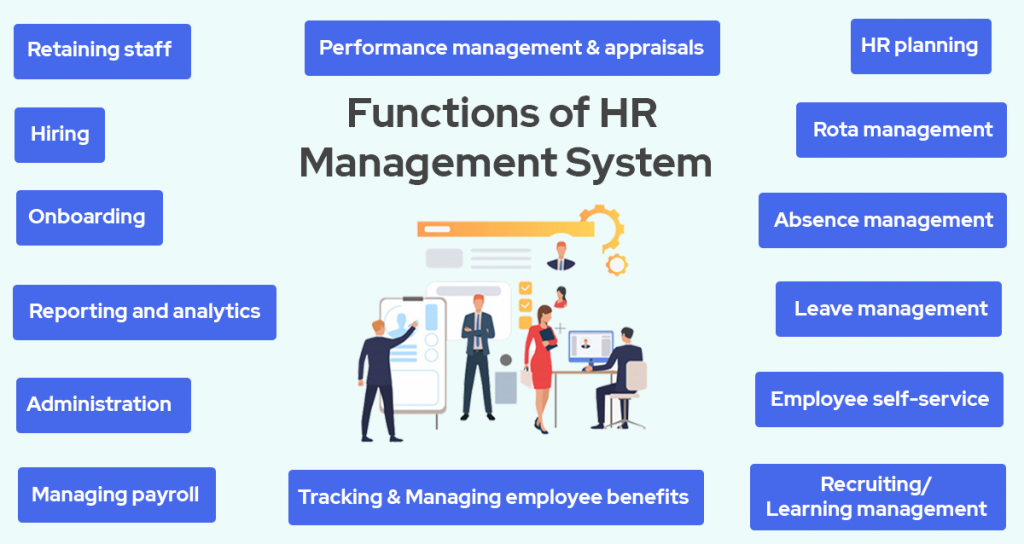 The typical functions of HR departments are almost the same in all organizations. The essential features of an HR Management system are to bring out maximum productivity by optimizing the effectiveness of the employees.
HR management also deals with problems such as training, development, hiring, compensation, motivation, communication and administration of the employees.
Your's company's HR management systems must be designed to help your leadership team ensure maximum satisfaction and productivity of your employees.
Happy people, make profitable businesses. The goal of the HR systems in an organization is to ensure that every employee is aligned and working towards achieving the objectives of the organization.
Core functions of HRMS
Hiring
Hiring the best employees for any position or role in the company is one of the most critical job functions of any human resources professional. A good HR management should help in the hiring and recruitment process – whether it is related to applicant tracking or in ensuring the right branding in front of the people you are interviewing.
This in detail can be explained as reviewing the job applications, helping in giving suggestions on selecting suitable candidates for interviews and pre-employment tests and checks and hiring the best candidate for the respective position.
Applicant Tracking System is one such software that can help in tracking the applicants who are lined up for hire.
Onboarding
Once hiring is done, the next big step for the company is to ensure that the new recruits are easily assimilated into the business – so that they can start delivering on the job that they have been hired for.
This is where an HR management system's onboarding functions can be very handy. The process of tracking whether the new recruits have been adequately trained and imparted with the necessary knowledge regarding behaviors and expectations is a part of onboarding.
The HR team has to coordinate with multiple departments and people for the successful onboarding of a new employee. The HR software system comes to their aid as it helps track and ensure that the training and onboarding of the hired employee is in accordance with the company's policies, rules, regulations, etc.
Managing good working conditions
Every employee has the right to work under the best working conditions.
It becomes the primary duty of the HR Department to offer such working conditions to its employees. These small initiatives can keep the employees motivated and they remain attached to the organization.
Managing payroll
The HR department is responsible for managing the employee's salaries. In short, monthly salaries, payroll taxes, commissions, bonuses, etc. are a part of payroll management. This is something that every business needs to do regularly, whether it has 1 employee or 1000s of employees.
Employee benefits
The non-wage compensations provided to the employees are referred to as employee benefits which are in addition to the salary or wages paid to the employee. Typical employee benefits include sick leaves, reimbursements, social security, retirement benefits, conveyancing, profit sharing, etc.
The HR department needs to account for employee benefits and manage the different benefits that the employees are entitled to.
HR planning
The process of keeping track of future HR requirements and planning to use the existing HR resource capacity in order to fulfill them is termed as HR planning. The managers of the HR team are especially responsible for this task.
Performance management and appraisals
HR deals with a lot of things such as identifying, measuring, developing, managing and evaluating the ongoing employee performance.
Performance appraisals are nothing but regular checks on employee's performance. It is an evaluation of employee's skills, achievements, and growths, and the fields where he lacks. Appraisal meetings are where bonuses, targets and shortcomings are discussed to ensure that the employee's objectives are aligned with those of the company.
Employee self-service
The employees can get direct access to some of the necessary data needed by them. For instance, it can include login passwords or access to various files or documents.
Rota management
Rota management seems to be a bit time consuming and most of the managers hate building rotas. But if you are relying on part-time or hourly staff, rota management becomes the most important admin task.
Leave management
One of the important activities of the HR Management system is to ensure compliance with leave policies. It should make sure the availability of sufficient staff and ensure that the employees are satisfied.
Grievance handling
The management of employee discontent or complaints such as wage cuts, workplace harassment, etc. are termed as Grievance Handling.
The HR team members should take account of handling such grievances and make sure that the staff is working properly without any hindrance.
How an HR Management System Can Benefit an Organization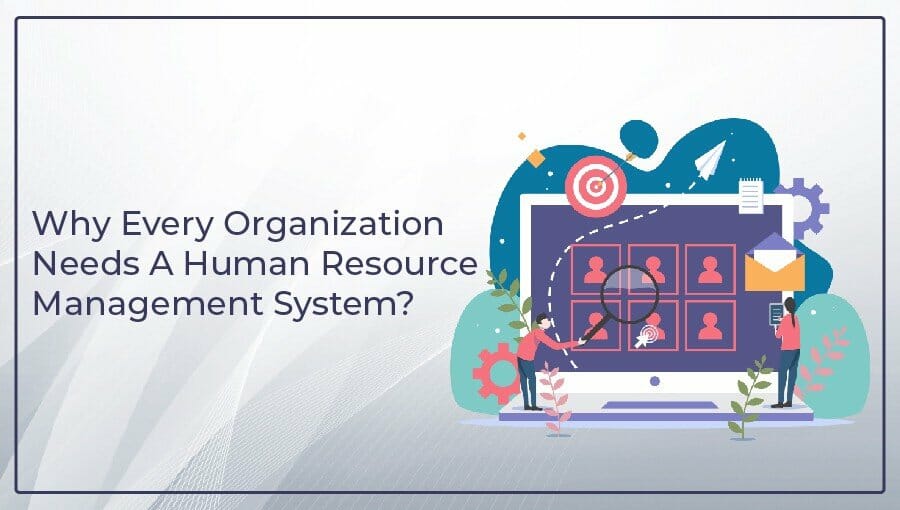 HR Management Softwares can be of great help to large organizations. Small startups can increase their growth rate and productivity. Besides this, almost all successful companies have an HR Management system to control their people management activities.
Benefits of an HR Management System
1. Tasks such as the input of personal information can be handled by the employees. As a result, HR professionals will have time in their hands to do various necessary tasks.
2. HR Management System can protect the company data. It comes with built-in security which includes measures that restrict the data only to authorized users.
3. To get a better user experience, most of the HRMS platforms allow the user to customize their workflow to the needs of the organization
4. Automated reminders and emails can be scheduled and sent to the managers by organizational heads in order to help the manager in tracking time responses through HRMS.
So, by the above-stated points, we get a fair idea that HR Management systems can benefit an organization in several ways.
Assessing the Need for an HRMS Solution

Before selecting any HRMS solution, the management should keep a note of the company's needs. Its processes and the short term and long term goals should also be noted.
The organization can hold a meeting to discuss such goals by selecting representatives from each department depending upon the size and structure of the company.
The meeting can include the listed points which can determine whether the company would be benefited by HRMS solution or not-
1. The HR department is not having time to complete all its tasks.
2. Tracking of the payroll expenses.
3. The company loses its business and money in the HR data/compliance errors.
4. The staff is working across multiple locations and there is no single platform to supervise core HR processes properly.
5. No measure to control unengaged employees.
6. There is no way in which the employee's turnover can be monitored.
7. There is no such opportunity or responsibility of the employees to manage their performance appraisals.
The above-stated points can be discussed in the meeting to ensure if the company is in need of an HR Management system or not.
How to find the right HR Management System for Your Company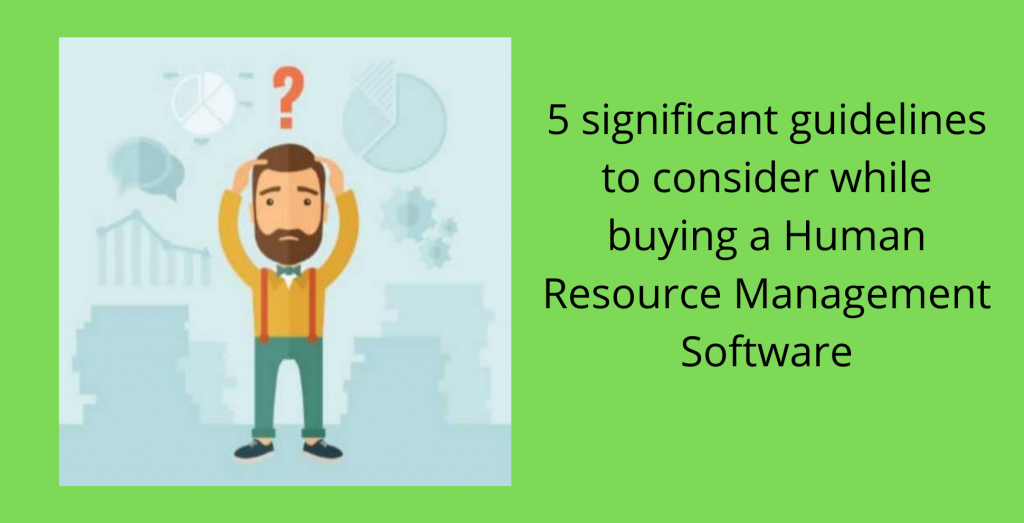 By selecting the best HR Management software, the company can make a huge difference in its future development and success. You can give a new look to your business in the modern market and increase its productivity by installing automated systems.
Nowadays, businesses are looking to develop next-generation HR Management systems to cope up with technology.
You can identify the best HRMS by just keeping in mind a few important guidelines-
1. You must understand the basic features of all the HR software options
2. The way the various HRMS software addresses your company-specific challenges such as your staff dynamics, compliance reporting requirements and organizational structures.
3. You should not just compare the software features but should also account for the benefits of working with one vendor over another. Since the HR system will be a core to your business and might need to be tweaked depending on changing in business or compliance factors it will be important to choose the right vendor who can support your business for the long term.
4. Determining the best user experience out of various HRMS offered by various vendors. Like with any software is as good as the users make it to be. If the UX is not suitable or too complex for your team, you may not be able to realize the full benefits of the system even after adopting it.
5. One should assess the HRMS vendor's company as a whole. You should also look at factors such as customer services, past experiences of working in the same industry as your, and successes along with the company's products and services.
HRMS Security
Information security must always be kept at the top of mind while choosing an HR Management system for your organization.
The data stored in HR Management software, such as proprietary company data and personal information about the staff is very sensitive. It is very important to secure it.
Most of the organizations use software that has secure transmission methods and encrypts the data while transmitting over the internet.
Data security can be assured by following a few simple steps-
1. Passwords can be put to guard information and internal security.
2. There can be various levels of access given to the employees depending upon their needs according to the job positions.
3. Employees can access the necessary information using the Employee Self Service(ESS) portal.
4. Safeguards can be put up to bar terminate the employee's access to the systems.
HRMS security team members can work on such things to ensure the security and safety of the company's data and information.
Go Get Yourself an HRMS, Today!
I hope this article helped you get a good idea of HR Management systems. Further, I hope you are convinced of the primary benefits of the growth and productivity of your team.
Orgzit provides a customizable HR management system that is both easy to use as well as scalable for your growing business needs. Do check out our different solutions for various components of the HR management system.
If this article benefits you and your business, do thank me by sharing and reviewing it. Stay connected for more useful articles.