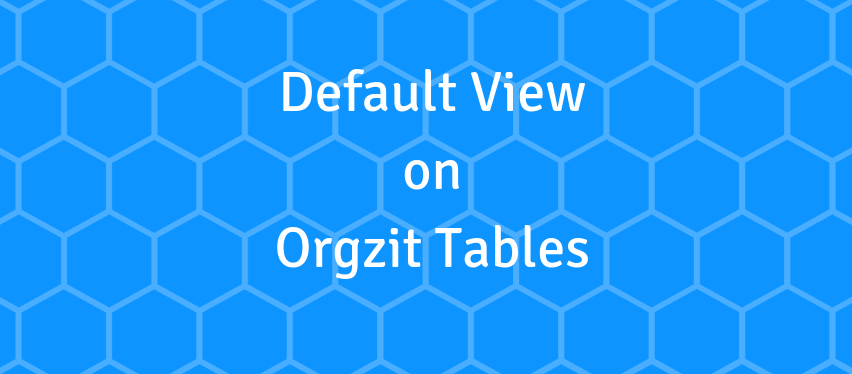 Per table default view to change the way users view data right out of the box
We got very encouraging feedback from our users for the Record Views feature. Thank you! Along with it, we also got some great ideas on how to improve the View feature. One of these ideas was to be able to set different a default view on Orgzit Tables so that users saw the most appropriate view right out of the box. Our team said "Great idea, let's do it!"
We are excited to share the release of a new feature on Orgzit – Default View. With this feature, you can now set up a different default view for your Orgzit Tables. Once the workspace administrator sets the default view, it is applicable to all users by default.
Here are some scenarios where you may want to setup a default view:
You prefer to view the data in a Kanban view rather than tabular views. By setting up the default view to Kanban, you get a really simple Trello like view.
Even with Tabular view, you can also use default view to control which columns users see by default.
In future, we plan to have more views such as Calendar and Gallery views and you will be able to set these as the default view as well.
How it Works 
The default view can be setup for each Orgzit Table (aka Orgzit App)
The default view is an optional setting
The default view feature currently only works on the web application, and not on the Orgzit Android app
The default view can be set by any workspace administrator
The default view is applicable for all users of that Orgzit Table
The default view can be set to a system-defined view (these are default views created by the system) or a custom user-created view (only shared custom views can be set as the default view)
The default view is applicable only if the user has not selected a different view for the Orgzit Table (either by applying a different view from the Views dropdown or by changing the columns displayed using the "Show/Hide Fields" button); once a user has selected a different default view, the system remembers that setting in the browser's settings.
Below is a quick demo of how you can set the default view for an Orgzit Table.
Hence, using the default view, we can now set up a default view for every table in your workspace. Hope you enjoy using this new Orgzit feature and it helps boost your productivity!
Karan Asthana
Karan is a multi-tasker at Orgzit working on a variety of things ranging from crafting Launchers to Customer Success to developing the Android application. Karan has a B.Tech in Information Technology from JSS Academy Of Technical Education