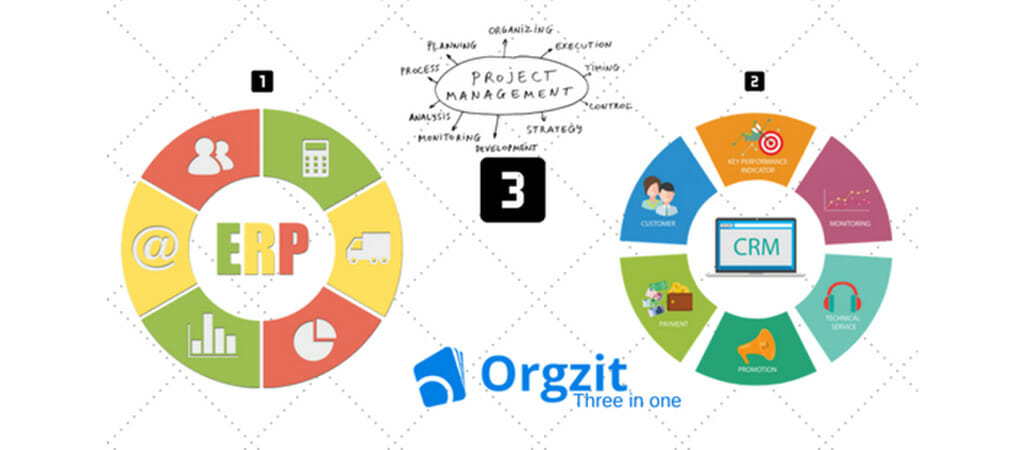 CRM vs ERP: The difference
When it comes to software, buyers and vendors both have one goal in mind – to buy and sell respectively. But which software? So, to know that we are here to help you, to know when to use CRM and when to use ERP, basically to learn the facts about CRM vs ERP.
The buyer states his requirements and the vendor offers him a multitude of solutions to choose from. Therefore, with the increase of software discovery platforms and vendor review sites, buyers exploiting this choice to the fullest, somewhere blurring the lines between use case specific software and custom software.
This is indirectly encouraging custom software companies to focus more on use case-specific apps while use case specific software companies are inclining more towards custom developments. So, this tipping of scales has left the buyers completely perplexed. Here are a few questions that not only have driven huge traffic to Quora but also allowed marketers to come together and help improve the definition. Or have they?
What is CRM? How is it different from ERP?
What are the responsibilities of a project manager?
Which is the best CRM and Project Management tools?
And the list goes on!
But instead of making the definition clearer, it looks like it has further diluted the basic understanding of these three terms.
So, Today, we will look at these three software giant terms and try to break down how they enable the functioning of an organization.
The One Everybody Knows About – Customer Relationship Management (CRM)
Customer Relationship Management (CRM) is an approach that involves managing a company's interaction with potential and current customers. It extensively uses data analysis about customers' history with a company, and improve business relationships with customers, with the utmost focus on customer retention and ultimately driving sales growth.
What Is CRM Software?
Customer relationship management, also known as CRM, is software that helps sales teams and companies organize their interactions with prospects, customers and provides visibility across the organization for better support of a company's goals.
Why Do You Need CRM Software?
Keep track of customers and their purchasing behavior
Identify business opportunities and new sales leads
Streamline the sales process and reduce repetitive work
Automate marketing processes, e.g., email or online advertising campaigns
Manage social media accounts and campaigns
Facilitate better support for current customers
Did we answer some of your Quora queries here?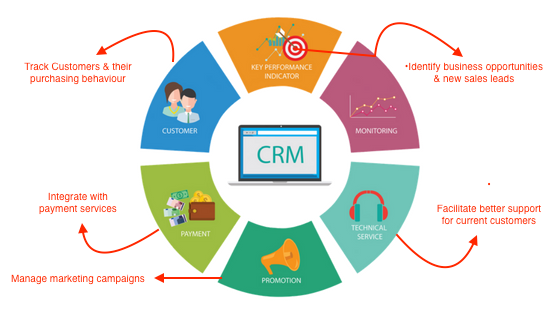 What is ERP?
The acronym ERP stands for enterprise resource planning. It refers to the systems and software packages used by organizations to manage day-to-day core business activities, such as manufacturing, supply chain management, finance, payments, and in today's ERP world, even the CRM.
Why do I need ERP?
You have a complex set of business processes for your business and tracking these processes are highly inter-related and inter-depended.
Accounting Takes Longer and Is More Difficult
Sales and the Customer Experience Are Suffering
Your IT Is Too Complex and Time-Consuming
You are using too many different software which do not talk to each other
In short, most ERP systems will have CRM components, or the ability to integrate with a third-party CRM system.
Confused how ERP differs from a CRM?
There is little doubt that many people still don't understand the basic difference between CRM and ERP. Since there is verbose chatter about the former, the latter bears the brunt of utter confusion and makes people think twice before going for an ERP or a CRM.
Let us quickly go through some points that will make this confusion more clear?
Let us have some knowledge on CRM vs ERP.
| | |
| --- | --- |
| CRM software can be used for front-office activities like: | ERP software can be used for back-office activities like: |
| Manage the sales pipeline | Distribution process management |
| Calculate time spent on converting leads to closing deals | Supply chain management |
| Streamline your sales processes | Automate employee life-cycle |
| Automates customer service | Standardize critical business procedures |
| Organize marketing efforts | Assess business needs |
| Track a customer's interactions with your business | Manage human resources |
I guess this image should make CRM vs ERP clear for you –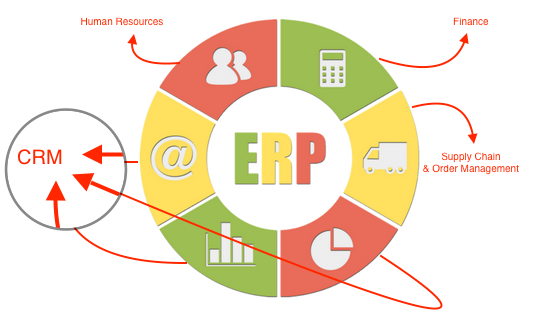 The One Everybody Takes For Granted – Project Management
Wikipedia defines project management as – 'Project management is the discipline of initiating, planning, executing, controlling, and closing the work of a team to achieve specific goals and meet specific success criteria'. Let's see what constitutes project management –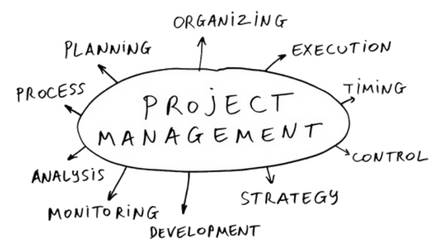 What Is A Project?
The definition of a project in the Business Dictionary is – "planned a set of interrelated tasks to be executed over a fixed period and within certain costs and other limitations." A project, then, could be something outside or in addition to the company norm for a typical business day. Perhaps a business upgrade, financial need, or client request may be the catalyst for a project's origination.
The parameters of a project will include a clear goal to reach, so by nature, projects include a start and finish line to accomplish a unique, particular outcome. So, This short-term undertaking will require a specified timeline, clear scope, designated budget, and human capital resources that include a project team and manager.
Who Is A Project Manager?
A project manager is a person who leads the project team who together accomplish the project goal. While anyone who holds the title of manager has ongoing duties for the duration of his/her tenure at a company, a project manager's leadership is temporary to accomplish a distinctive purpose.
What Is The Goal Of Project Management?
The function of project management is to ensure that with the joint effort of the project manager and the project members, the project –
Stay On Budget
Finishes On-Time
Stays In-Scope
Recommended Read: "Top 5 Project Management Tools Businesses are using in 2017"
If you're still confused about what does your organization need, we can give you a quick call and help you better understand your needs and see if Orgzit can be the right fit for you.
Summary
As you can see, companies need both a CRM and an ERP system to maximize business growth. One improves sales, and those revenues facilitate business processes. Then, an ERP system optimizes those business processes.
Apart from the above differences, there is one thing common in the two software and that is they both aim to increase the profitability of the company.
Give Orgzit a chance to clear any more doubts you have, we are happy to help!!
I hope this article was helpful if it was, do share it with your friends and colleagues.
Happy business!!
Daksha Jain
The space between the lines...The pause between the speech. I seek reflection within the content. Won't leave you bewildered but surely you will find something to contemplate.